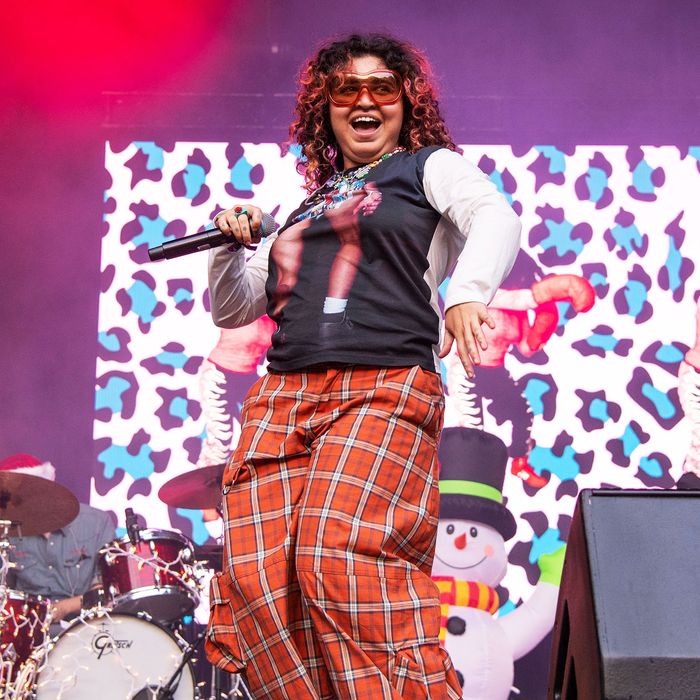 Photo: Amy Harris/Invision/AP/Shutterstock
On the night before Lollapalooza, Remi Wolf leaned back on the greenroom couch at Park West, the Chicago venue she had just packed with fans. Decked out in a skintight black-and-white long-sleeve pants set — as well as her trusty white Crocs, Jibbitz and all — the singer is noticeably more subdued than one might think, given her eclectic personal style and cheeky Spotify artist bio.
"I think people expect me to be very out there and crazy and really fun, which I am at times," she says between sips of Liquid Death sparkling water. "I think my actual Remi-being is a little shy and more reserved, unless I'm cracked open. But for the most part I'm pretty locked up."
Wolf's meteoric rise has been both exciting and exhausting for the 26-year-old musician. Days before our chat, on the first birthday of her song "Liquor Store," she released a note to fans about the making of the song and her struggle with addiction and maintaining sobriety. "[The response was] a lot of outpouring of love, and a lot of people relating to my story and my experience," she says. "A lot of people [wrote], 'I've been trying to get sober for so long, thank you,' which is awesome."
Below, Wolf discusses attending her first adult wedding, giving a piece of herself — literally — to her fans, and lying about her birth chart.
You posted a message to your fans on Instagram and Twitter on the anniversary of "Liquor Store," about your "winding, dirty, nonlinear journey" with sobriety. What made you want to share something so personal?
I was feeling emotional about it, and I know that I wanted to share something about the process of that song because it was such an impactful song, for me and for the album. Overall, I feel like it's a critical song to my artistry. So I just wanted to share more. I feel like a lot of the time I can come across online as nonemotional or hypercharacterized, and I just wanted to give people more of a sense of my humanity.
How was the reception to that? 
It was so shockingly amazing. So positive and love-filled. Not a single mean thing was said at all, which is crazy for the internet. I cried for 30 seconds.
What are you going to do between playing Lollapalooza and completing the European leg of your tour?
I'm going to a wedding, which is exciting. My first "adult" wedding. I've only been to family weddings. It's a friend wedding, which is crazy.
I'm also about to go to my first "adult" wedding.
What are you wearing?
I'm wearing my high-school prom dress that I cut off. What are you wearing?
Honestly, might just wear this. Maybe with a heel.
You could do the Balenciaga Croc heels.
Fuck yeah.
Whose wedding are you going to?
I'm actually going to Still Woozy's wedding.
I want to ask you about a lyric in "Sexy Villain." When you sing "Aqua girl with the rising Leo," is that your birth chart?
It's actually half-fake.
What's fake?
The Leo.
So what are your actual Big Three signs? 
It's Aquarius sun, Cancer moon, Pisces rising.
When you were in Seattle, you cut a lot of your hair off [onstage, after it got stuck in a pair of in-ear monitors]. How big of a lock are we talking? Did you ever find out who got it? 
Yes, I did, he posted on Instagram. His name's Tyler or something. So hey, Tyler, or whatever your name is. It was like a five-inch lock. A lot of hair.
You were a Forbes "30 Under 30" honoree last year. What would you like to accomplish before making the "40 Under 40" list?
I would like to win a Grammy. That's a recent goal. A Grammy is just a nice seal of approval. Awards are fun. It's so hard on the rise, it's a constant grind. I would like to get to a point in my life where I'm satisfied with who I have around me and just be super locked in, comfortable, and chill.