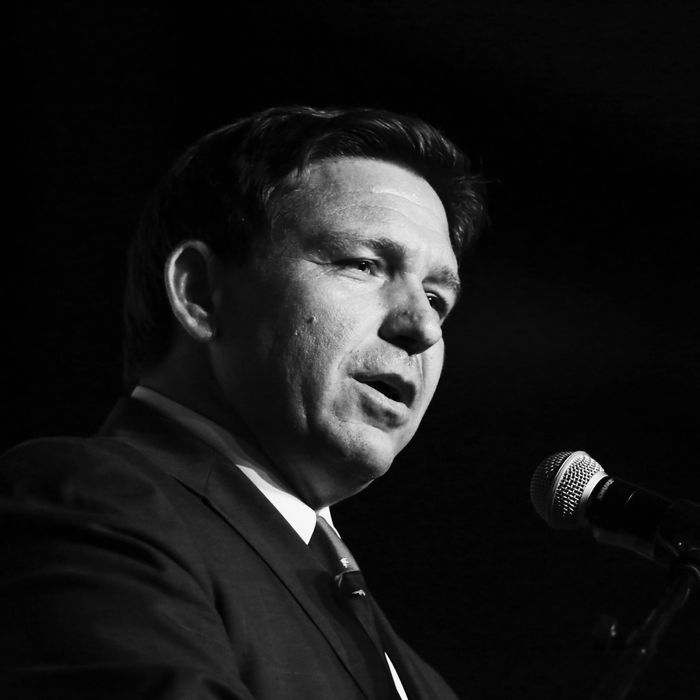 Ron DeSantis, who does not have BDE.
Photo: Eva Marie Uzcategui/Bloomberg via Getty Images
Harrowing allegations surfaced about Ron DeSantis last night, ahead of an appearance by the Florida governor at a Turning Point USA rally in Arizona. DeSantis, seemingly gearing up for a 2024 presidential run, was stumping for Blake Masters (gunning for the U.S. Senate) and gubernatorial candidate Kari Lake; she made the disgusting claims in her introductory speech. "I don't know if you've heard of this, but he's got BDE," the election-fraud enthusiast said. "Anybody know what that means? Ask your kids about it later."
Absolutely no need to drag the children into this; I will tell you what BDE means. For those of you who have managed to evade the term these past four years, BDE is an acronym for "Big Dick Energy," defined by the Cut's own Allison Davis below:
BDE is a quiet confidence and ease with oneself that comes from knowing you have an enormous penis and you know what to do with it. It's not cockiness, it's not a power trip — it's the opposite: a healthy, satisfied, low-key way you feel yourself.
DeSantis fails to check a few critical boxes (quiet confidence; ease with oneself) and is, in my opinion, on a power trip fueled by the belief that he can beat Donald Trump. Quite possibly true, but also an undertaking indicative of a higher-than-average level of cockiness. Also, remember that time he goaded a bunch of students into removing their masks at a press conference? Devised inventive new ways to alienate kids for their sexual orientation and gender identity? Self-satisfied, maybe, but for bullying the youth — personally, I think that's disqualifying all on its own. DeSantis only has BDE if you are willing to bend the culturally accepted definition to its breaking point or scrap it entirely, the latter being Lake's approach. "I call it Big DeSantis Energy," she continued. "He's got the same kind of BDE President Trump has."
I guess it is true that Ron DeSantis has Ron DeSantis energy, though I'm not sure such a redundant point needed to be made out loud, unless this was always just a bid at virality. Above all, I hate to be thinking about Trump's supposedly small and toadstool-shaped penis on a Monday morning, but here we are. Is this conservatives' most evil trick yet?