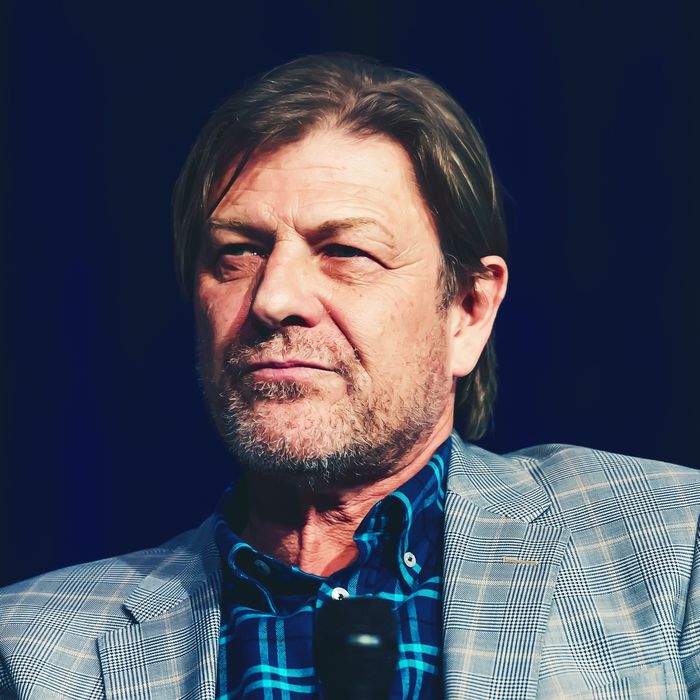 Photo: Gilbert Carrasquillo/Getty Images
Sean Bean is a veteran actor. He has died in every way imaginable onscreen, from death by arrows in Lord of the Rings to a good old-fashioned beheading in Game of Thrones. He knows that one does not simply film an action sequence without a stunt coordinator. And yet the actor has decided to go on the record saying he doesn't really see the point of having intimacy coordinators on set for sex scenes.
In a recent interview with The Sunday Times, Bean suggested that intimacy coordinators would potentially have a negative impact on his performance. "It would inhibit me more because it's drawing attention to things," he said. "Somebody saying, 'Do this, put your hands there while you touch his thing.'" It's unclear whether Bean has actually worked with an intimacy coordinator in his career, but he continued. "I think the natural way lovers behave would be ruined by someone bringing it right down to a technical exercise."
Bean went on to reminisce about the good old days sans intimacy coordinators when he shot 1993's Lady Chatterley's Lover. He called the shoot "spontaneous," adding, "It was a joy. We had good chemistry between us and we knew what we were doing was unusual." (I'll wait until I hear that from Bean's co-star in that film, Joely Richardson.) He compared that to his recent experience filming a nude scene for Snowpiercer, which he claimed had been cut for air. "Often the best work you do, where you're trying to push the boundaries, and the very nature of it is experimental, gets censored when TV companies or advertisers say it's too much," he said. When the interviewer noted that intimacy coordinators provide a level of protection for actors, specifically in the wake of Me Too, Bean said, "I suppose it depends on the actress." Speaking of the Me Too movement, the actor also reportedly mused on the difficulty of being a man in the modern era. "Certain aspects of a man's character are frowned upon now as being discriminatory or boorish. But I think you've got to be careful we do not lose sight of what a man is," he said. "A lot of men these days are made to feel like apologists for their sexuality and their masculinity. And I think that's something that men have to retain and celebrate as much as women celebrate their femininity." Okay.
Thankfully, regardless of Bean's disapproval, intimacy coordinators have become an increasingly normal and necessary part of Hollywood. And many of his fellow actors — including his Snowpiercer co-star Lena Hall — spoke out in support of the on-set role. In his original interview, Bean had specifically mentioned Hall as the co-star he was filming an intimate scene with, saying that she "had a musical cabaret background, so she was up for anything." Hall responded on Twitter directly, clarifying the nature of the scene and dismissing his assessment of her background. "Just because I am in theater (not cabaret, but I do perform them every once in a while) does not mean that I am up for anything," she wrote. Hall clarified that "Sean is an awesome actor" who "made me feel not only comfortable but also like I had a true acting partner." Still, she said she welcomed intimacy coordinators on set, and even floated the notion of productions bringing in a "trauma coach" to help support actors filming traumatic scenes.
The discussion quickly moved beyond the cast of Snowpiercer. Emma Thompson was asked if she agreed with Bean's assessment — she didn't. "Intimacy coordinators are fantastically important," she said during an appearance on an Australian radio show to promote Good Luck to You, Leo Grande. "Intimacy coordinators are the most fantastic introduction in our work. And no, you can't just 'let it flow.' There's a camera there and a crew. You're not just in your hotel room, you're surrounded by a bunch of blokes, mostly. So it's not a comfortable situation, full stop." She then took a dig at Bean, saying, "I don't know who the actor was, but maybe he had an intimacy coordinator accidentally at home."
Rachel Zegler posted her thoughts on Twitter, noting that she had an intimacy coordinator on the set of West Side Story. "They showed grace to a newcomer like myself + educated those around me who've had years of experience," she wrote. "Spontaneity in intimate scenes can be unsafe. Wake up."
Other big names like James Gunn also voiced support for the position, as did his brother Sean Gunn — he compared actors claiming they "don't need an IC" to "not 'needing' a lifeguard" — and Kumail Nanjiani, who responded to James's post writing that intimacy coordinators "make for a better scene, because everyone [is] comfortable and that's when you do your best work." The topic even came up during the Interview With the Vampire series' presentation at the Television Critics Association press tour, where star Sam Reid said working with an intimacy coordinator on set was "really important."
Midnight Mass star Rahul Kohli tweeted, "While ever so slightly embarrassing at first, [intimacy coordinators] are essential for protecting our safety, making us comfortable, and opening up a constructive dialogue between the actors and director when scenes call for 'intimacy.'" He also encouraged young actors not to do "ANYTHING you're uncomfortable doing." Jameela Jamil tweeted that intimate scenes "should only be technical," adding, "Nobody wants an impromptu grope."
This post has been updated.