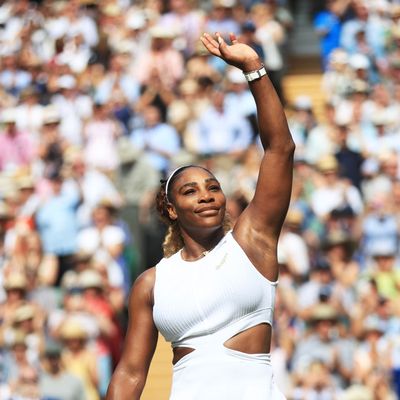 Serena Williams
Photo: Adam Davy/AFP via Getty Images
At almost 41 years old, with 23 Grand Slam titles in her rearview mirror and four Olympic gold medals stashed somewhere in one of her many homes, Serena Williams is retiring from tennis after the U.S. Open wraps next month. She made the announcement in an essay for Vogue, explaining that she now prioritizes expanding her family over training, and she subtly shades my least favorite football guy in the process.
"Believe me, I never wanted to have to choose between tennis and a family," she writes. "I don't think it's fair. If I were a guy, I wouldn't be writing this because I'd be out there playing and winning while my wife was doing the physical labor of expanding our family. Maybe I'd be more of a Tom Brady if I had that opportunity." For sliding that Brady jab in there — I've lost count of the number of times this man has publicly "retired" in the past year alone — I personally salute Williams, but there are other reasons too.
In her decades on the court, Williams has won more trophies than she can keep track of (please see her Architectural Digest tour from February 2021). She has 73 career singles titles and has amassed more than $94 million in prize money. She is one of the most decorated tennis players of all time and is widely acknowledged to be one of the greatest athletes ever. In 2017, she played in and won the Australian Open while pregnant. "I went from a C-section to a second pulmonary embolism to a grand slam final," she notes in the essay. "I played while breastfeeding. I played through postpartum depression." And she also always did it while pushing back against the game's antiquated, sexist, and racist standards. The idea of leaving the sport, she writes, doesn't make her feel relieved. "It's like it's not real until you say it out loud," she says. "It comes up, I get an uncomfortable lump in my throat, and I start to cry." But even though "it's the hardest thing" Williams says she "could ever imagine," she is "ready for what's next."
Which, based on the essay, sounds like having another child and focusing on her venture-capital firm, Serena Ventures, with which she says she hopes to redirect some of the VC pool to women. Having learned a few years ago that 98 percent goes to men, she says, "I kind of understood then and there that someone who looks like me needs to start writing the big checks. Sometimes like attracts like. Men are writing those big checks to one another, and in order for us to change that, more people who look like me need to be in that position, giving money back to themselves." Williams says she doesn't know what to say when asked what her legacy will be, but "I'd like to think that thanks to opportunities afforded to me, women athletes feel that they can be themselves on the court. They can play with aggression and pump their fists. They can be strong yet beautiful. They can wear what they want and say what they want and kick butt and be proud of it all."
"Over the years, I hope that people come to think of me as symbolizing something bigger than tennis," she continues. "I'd like it to be: Serena is this and she's that and she was a great tennis player and she won those slams." And she helped change a whole sport.