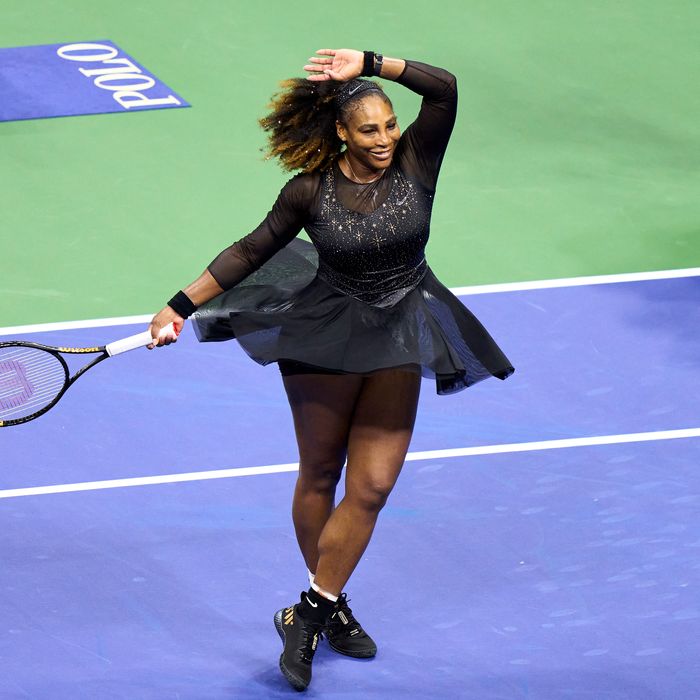 Photo: Diego Souto/Quality Sport Images/Getty Images
What Serena Williams wears on the tennis court is secondary to the mastery and skill she exhibits on it. But we would be remiss not to acknowledge her cultural impact on the world of fashion, most recently gracing the cover of Vogue — an acknowledgment of her influence — to announce her decision to "evolve" away from tennis.
So as the legend stepped out onto the court for the opening night of the U.S. Open, it came as no surprise that she did so in a look that was impossible to look away from. Dripping in diamonds from head to toe in a custom set by Nike, designed in part by the athlete herself, Williams emerged to a roaring crowd in an outfit inspired by competitive figure skating. The bedazzled bodice, a nod to the open night sky she was playing beneath at Arthur Ashe Stadium in Flushing, was coupled with a six-layer skirt meant to represent Williams's six previous wins at the tournament.
In her hair, jewels were nestled and glistening throughout in a subtle crown of sorts. On her feet, a custom pair of Nikes featured a diamond-encrusted swoosh and 400 hand-set diamonds spelling out "mama" and "queen" on the deubrés of her laces, a collaboration with Williams's eponymous jewelry line.
Mere feet away in the stands, Williams's daughter, Alexis Olympia Ohanian Jr., wore white beads in her braids just as her mother did for her U.S. Open debut over two decades ago. Every detail seemed to be part of one larger narrative.
Throughout her career, Williams has used her wardrobe as a vehicle to tell her story. After the birth of her daughter, who was delivered through C-section, Williams wore a black catsuit with a red waistband, meant specifically to "keep blood circulation" after the tennis star had trouble with postpartum clots. The suit caused a kerfuffle among officials, who are apparently living decades in the past, and was banned from the French Open. Just days later, Williams wore an outfit with a show-stopping tutu created by the subversive late designer Virgil Abloh in a collaboration between Off-White and Nike. She seemed to say she would play by the rules but was daring to make her own along the way.
In that match, her sneakers, just as they are now, were imprinted with the word queen, a title that has followed her on and off the court. A queen indeed.