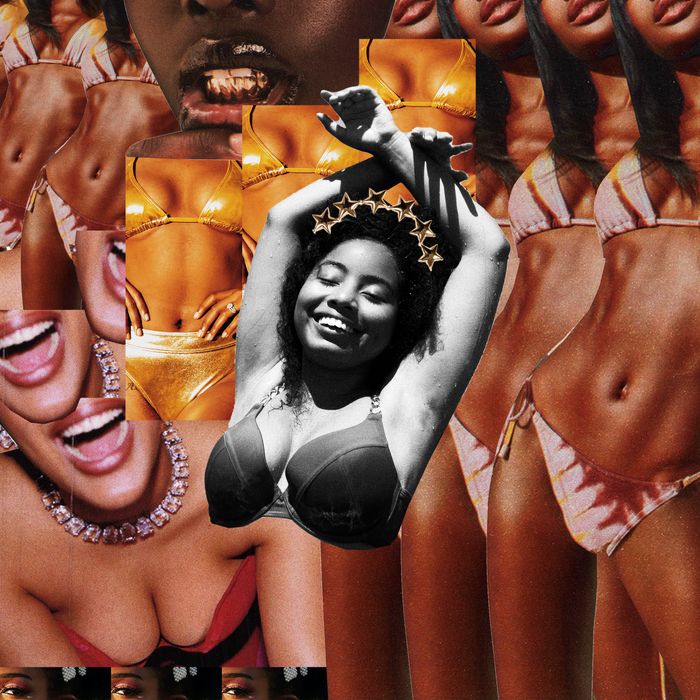 Illustration: Marylu E. Herrera
This week, a woman moves in with her boyfriend and explores oral sex for the first time; 23, in a relationship, Uganda.
DAY ONE 
8 a.m I'm up earlier than usual on a Sunday, but I'm too excited to sleep. My boyfriend, R, and I are going furniture shopping for our new place that we're moving into. We've never spent a night together — he has roommates and I am not very comfortable there, and I live with my brother who acts like I am 15 — so this is going to be great for our relationship … I hope.
9:45 a.m. R texts that he's waiting outside. He hugs me when I meet him. I know he wants to kiss me, but any form of intimacy out in public isn't acceptable in our country. We get on a motorcycle taxi and head to town.
1:40 p.m After shopping, we have a late lunch at a café and talk a bit about what to expect as we start living together. R says he's happy with anything. I think he probably really means that he's excited that we get to have sex more than twice a month, and without the fear of someone busting into the room. I'm really excited about that too.
5 p.m. R holds my hand as we walk home. As usual, we get the biggest judgmental look from my religious neighbor. I get that look one at least once a day from her, usually because of what I am wearing. R says, "We start forever tomorrow." He's sweet like that sometimes. I really hope it's true, though.
10 p.m. I'm talking to my childhood friend on the phone. She's not the biggest fan of R, and tells me it's a bad idea to move in with a guy who's still studying and only working part time. I tell her I've already decided on this. She hasn't been in my life lately and only comes in to judge. I go to sleep angry thinking about what she said.
DAY TWO
7:30 a.m. It's finally moving day. Last night, I kept wondering if I really want to live with R, or if I just don't want to live with my brother anymore. If I'm being honest, maybe I just want to have more sex? R was my first, about a year ago. We've had sex about 12 times. Yes, I've been counting.
10:00 a.m. At my graphic-design job, I keep staring at the clock at work, willing it to move faster. I still feel nervous that things might not work out, and I'll just end up moving back in with my brother.
2:45 pm R texts me a picture of our newly installed bed. "I can't wait to see you in this tonight," he says. Suddenly all the nerve-wracking thoughts in my head vanish and I can't wait to get to "our home."
4:30 p.m. I finally get there. We quickly finish setting everything up since there is not much — it's really small and cozy. This is my first time having my own space, since I've been sharing a room with my three siblings since I was a kid. I make us a quick dinner and we sit down for a movie. We only make it five minutes before we fall into bed. It's different this time. We take our time. For the first time ever I actually come during sex and not just the foreplay.
9:45 p.m. We have a quickie in the shower, and then we're back in bed. We make plans to have some of our siblings over for brunch this weekend. My little sister is the only one who knows I moved in with a boyfriend. The rest think my roommate is a childhood friend. The secret nags at me, but I don't have the strength to deal with them.
DAY THREE
7:05 a.m. I try to get up for work, but it feels impossible. We might have gone a bit overboard last night. I mean, we probably stayed up until 5 a.m. having sex and talking. I don't regret it. Who knew I was so loud — both sexually and conversationally?
2 p.m. It's a lazy day at work, and my mind keeps shifting to last night. We did a lot of things we've never even tried before. Things were more powerful in bed. I've always liked a more dominating kind of guy. At the beginning of our relationship R treated me like a breakable doll. It was sweet, but I love this side of him just a bit more.
3 p.m I leave work early to pick up my little sister up for lunch at my place. I love saying that, "My place!" My mom says something about visiting "my place" sometime. I say "sure," knowing I'm never letting that happen. She would have a cow if she knew I was staying with a guy.
10 p.m. We drop our siblings home. It was fun — I love that you get no judgement from the little ones. We turn in early tonight.
DAY FOUR
8 a.m. My boss is in the office today, so everyone tries to look busy. In reality, it's a very slow morning. I wish I was back in bed. I am not a morning person.
10 a.m. You would think that now that R and I live together, we would text less. But nope, we almost text more now. I love it … I love him.
1:45 p.m. My mom calls me. She needs money for a family event coming up. I don't have any extra cash lying around right now, so I tell her I'll see what I can do.
5 p.m. I'm making dinner for R while he's in class. He's getting a degree in medicine. At first, when he started school I was a bit insecure because of all the girls around him, but now we've been dating for four years.
10 p.m. Apparently making dinner for R turns him on — something about us being domestic, he says. The second he comes home and smells the food, we're on the living-room floor. We've had more sex in the last few days than we have in our entire relationship. After, when we're lying in bed, I think about my mom's call. Should I ask him for the money? It's not a lot, but it still makes me uncomfortable. I just go to sleep.
DAY FIVE
6:30 a.m. My alarm goes off and I just want to go back to sleep. R is cuddling me; he doesn't have to be up till 7:30. I drag myself out and head for a quick shower.
2 p.m. It's freezing since it rained all day.  My joints are not agreeing with this weather. I ask my boss if I can leave early today because I'm in pain.
4:45 p.m. I'm home and feeling better. I love lazy days like this. My friend V texts. I have been avoiding him because he's liked me for as long as I remember and does not hide it. We made out the first month that R and I were together, but there was just no chemistry. Now he wants us to meet …
5:30 p.m. Our mutual friend drops by once R is home. We talk and laugh and have a few drinks. Our first visitor! Now I really feel like a homeowner.
9:00 p.m. It's an early night for us since it's so cold tonight.
DAY SIX
6 a.m. I have an early work meeting, which means I have to be up even extra early today. Not fun.
10 a.m. I'm reading some articles online about love and relationships, including a step-by-step guide to giving BJs. I've never done that with R. I think I would like to try it, and I text him saying so. He calls me right away. Yes please! As long as you're comfortable with it, he adds. He's so sweet.
1 p.m. My mom calls again. She needs the money by tomorrow. I tell her I'll get her something by the end of the day.
3:00 p.m. V is in the financial industry, so I end up calling him. He says he'll get me the money. I tell him I'll pay him by the end of the month. He says I should pay him back by having dinner with him instead. I tell him I'll think about it.
9 p.m. Neither of us has the energy to cook, so we just have tea and bread for supper. I think we are both anxious about the BJ. I have seen it in movies and pornos and it doesn't seem that bad. We get his pants off and I get on my knees. It's not half bad and he really, really enjoys it. I love putting that look on my man's face.
DAY SEVEN
8 a.m. It's finally the weekend, so I get to sleep in a bit. It's also our four-year anniversary, so R brings me breakfast in bed.  Before I'm even halfway through R is kissing my neck. Anytime he touches me, I'm turned on. Before long,  our clothes are off and we are going at it.
10 a.m. We start our binge movie-watching. Our love for movies and TV is what originally connected us. We could sit around from morning to night watching movies.
5:30 p.m. R tells me has a surprise: He made reservations at a place I really like! I get ready excitedly. I put on a dress I got from my older sister and even I have to agree I look gorgeous. There's so much excitement and anticipation, it almost feels like our first date.
8:30 p.m.  By the time we get back home, I can tell he is as horny as I am. The whole night felt like really long foreplay. It doesn't help that I didn't wear any panties, which I told him just as we locked up to go.
10:15 p.m. We broke our own record tonight. He went down on me at least three times. I had never let him do that before because it's something I've been self-conscious about, but it feels like the perfect time to try new things.
11:30 p.m. I desperately need a shower. I check my phone first. V texts: "Is tomorrow good to meet?"  I tell him I won't be meeting him. I really want this to last with R, and as long as it feels good with him, I'm staying right here.
Want to submit a sex diary? Email sexdiaries@nymag.com and tell us a little about yourself (and read our submission terms here.)