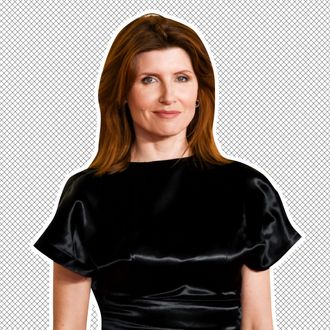 Photo-Illustration: by The Cut; Photo: Shutterstock
"I feel like I'm floating a bit at the moment," Sharon Horgan tells me. She's in New York to talk about her new Apple TV+ series, Bad Sisters, and despite the jet lag she's battling after flying in from England, the down-to-earth vibe that made her a star is still palpable.
Horgan was raised in Ireland on a turkey farm, and from her home base of London, she has written, produced, and acted for the past two decades. Her signature dry humor made her a household name in the U.K. with her breakout sitcom, Pulling, and she won over American audiences when she starred opposite Rob Delaney in Catastrophe, a bittersweet comedy about an accidental couple.
Bad Sisters marks Horgan's first project to premiere from a first-look deal with Apple TV+ and her company, Merman Productions. The series, adapted from Malin-Sarah Gozin's Flemish series Clan, follows five sisters living in Ireland. Four of them become suspects in the gruesome death of their sister Grace's (Anne-Marie Duff) abusive husband, John Paul (Claes Bang). Horgan, who wrote and produced the series, plays Eva, one of the more protective older sisters, who is just as protective of her nightly glass of red wine as she is of Grace.
Below, the Bad Sisters star and showrunner spoke to the Cut about why siblings are the best and the worst (but mostly the best) and if she has ever considered killing someone.
You have two sisters and two brothers, and Bad Sisters is all about a unique sibling dynamic between five siblings. What is the best and worst part about having that many siblings?
When I was younger, you never knew if you were going to be able to finish your food or not before someone else got to it. And for that reason, I eat at a disgustingly fast pace now. It's vile how quick my food leaves my plate and goes into my face. The best bit is that they're my best friends. And there's nothing they can do about that. I'm set for life — instant camaraderie, instant party. We're all going away next week with my mom and dad, and I'm so excited about it.
You still go on holiday with your whole family? That's impressive.
It doesn't happen very often, and because of COVID, it's been nearly three years. We all get together. We always do it as a few days' trip.
I could probably do four days maximum with my family. How about sisters in particular since that's the show's focus — what are the ups and downs of having multiple sisters?
There's not a huge amount of bad, really. I can tell them my darkest thoughts and be really honest. I don't see them enough. That's bad. One lives around the corner and one's in Ireland, but even for the one around the corner, family, work, all those things get in the way. Both are hilarious craic, my sisters. They can't hold their drink, and watching them come apart is one of my favorite sports of all time.
There's a murder at the center of Bad Sisters. Have you ever wanted to kill someone? 
Yes. I lived with a friend's boyfriend, and he was what you might call "a piece of work." He was like a cockroach — he just moved in and wouldn't leave. Even when he split up with the girl I was living with, he stayed. There's definitely a film in it. He was slowly trying to mindfuck me. I would be getting ready for work in the morning wanting to dash out, and he would be having long, luxurious, hour-long baths. He walked around naked. He fucked with your stuff. Eventually, it worked — I left. But yeah, I really, really wanted to kill him or have someone kill him.
When you posted the trailer for Bad Sisters on your Instagram, you said it was nerve-racking "showing something new." What is particularly nerve-racking about this show?
It's not even just that it's a new series; every time Rob Delaney and I would do a new season of Catastrophe, we were shitting our pants. When it's something new that isn't like anything I've done before — this is a thriller, it's an hour long, it's an adaptation — I feel nervous about that. People kind of expect you to make the same thing over and over, to have those bones. To do something new and put yourself out there is stressful. It's scary, but at the same time, there's no other way around it. You have to challenge yourself, take yourself out of your comfort zone, or you don't learn anything.
We're our own worst critics, but has anyone else not liked anything you've created in the past 20 years?
I've been really lucky. I always make sure I pick something for the right reason, and that reason is that I love it and I've got something to say. I did make something years ago, off the back of Pulling, which was way more slapstick than I've ever made before, and people didn't know what to do with it. They were a bit angry with me, and you know what, it wasn't that great.
How do you stay organized with all the different projects you have going on and your different roles on them? You co-created Shining Vale on Starz, you do voice-over work on Fox's animated series HouseBroken, you created and star in Bad Sisters, and you recently filmed a BBC drama with Michael Sheen called Best Interests. What's the secret sauce? 
I have three assistants, if I'm honest. A couple of them are part time and one of them is my co-founder at Merman, Clelia Mountford. She's like our executive assistant, and I don't know where we'd be without her. But I have a diary that's heavily monitored and color coded. I find it exhilarating to work on five things in one day. It's only sometimes when I get a bit behind, I think, What the hell am I doing? This is nuts. But the alternative would be to not do it all, and that would also drive me nuts.
What's the main thing you need your assistants to be aware of in order to keep you working at this pace?
I just need them to be aware of how useless I am. Don't ever underestimate how dizzy I am! Before I got this great team around me, I got to the point where I'd suddenly see something in my diary when I was supposed to be on the other side of town meeting someone, and the thought of them there waiting on me — I would have 27 heart attacks. So just never assume that I'm going to remember where I need to be.
Is there someone you'd love to work with but haven't yet?
I love Pamela Adlon. When I was filming the Nic Cage film The Unbearable Weight of Massive Talent, we Zoomed and did a little "What could it be?" kind of thing. I've done that with a bunch of women I absolutely fucking love, like Natasha Lyonne. You have to wait for the right thing. I'm developing something with Tina Fey at the moment that I absolutely love. I had the pleasure of working with her before. I really want to work with Julia Louis-Dreyfus; I'm pursuing her. There are directors I want to work with too — I love Paul Thomas Anderson, Yorgos Lanthimos, Jane Campion. In the film world, there's lots I haven't done. That would be fun new territory.