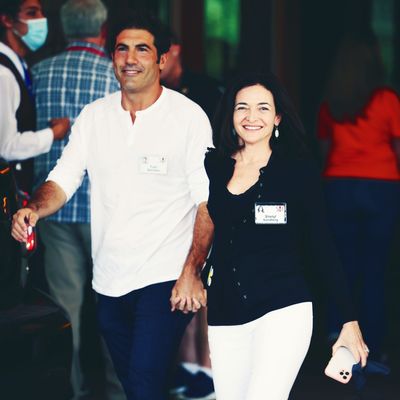 Photo: Kevin Dietsch/Getty Images
Shockingly, the world did not stop spinning this weekend to watch J.Lo and Ben Affleck's big plantation wedding, because guess who else got married? For one, Sarah Hyland. But also Lean In author and outgoing Meta COO Sheryl Sandberg, who married Tom Bernthal, a strategic consultant, former NBC News producer, and brother of actor Jon Bernthal.
Sandberg and Bernthal celebrated their nuptials during a weekend-long event in Teton Village near Jackson Hole, Wyoming. The celebration was reportedly western-themed to honor the couple's love of country music and opened with a welcome party at the Mangy Moose saloon, where Lenny Kravitz played a private show for the couple's guests. According to People, Bernthal wore cowboy boots and jeans for the ceremony on Saturday (though he looks a smidge more dressed up in a photo that both he and Sandberg posted over the weekend). Page Six claims the nearby Four Seasons hotel was fully booked and filled with Secret Service agents thanks to the heavy presence of D.C. insiders — including Secretary of State Antony J. Blinken. Jon Bernthal was seen playing touch football at the resort the day of the ceremony, which one source claimed he did "in a big ol' cowboy hat!" — a truly excellent mental image.
Sandberg and Bernthal first appeared together publicly in 2019, four years after Sandberg's first husband, Dave Goldberg, died suddenly while the couple was on vacation. Sandberg and Bernthal got engaged in February 2020, with a ring that had each of their five children represented with a tiny diamond underneath the setting. The kids were part of the bridal party — Bernthal called the event "our wedding as the seven of us" — and one of the wedding's officiants was Rob Goldberg, who had introduced the couple after his brother's death. Sandberg told People that having Rob there was "as close to Dave's blessing" as they could get.
Sandberg announced in June that she'd be stepping down as Meta's COO in the fall after 14 years in the role. In the past few years, as the company has become mired in controversy surrounding its role in the spread of misinformation and a leaked internal report revealing Facebook executives were aware of its detrimental effects on mental health, Sandberg has largely distanced herself from the company publicly, though she will remain on the board of directors after her departure. According to a Wall Street Journal report published the day after her announcement, Sandberg had been under investigation at Meta for using corporate resources to plan her wedding to Bernthal. As of May, Meta said that the review was still ongoing. Citing the wedding and her plans to focus on philanthropy, Sandberg said when she announced her departure that it was "time to write the next chapter of my life."