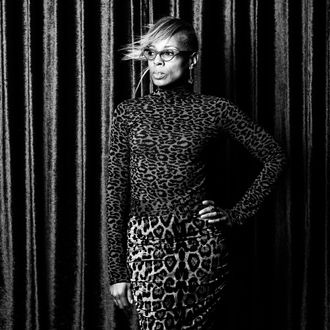 Photo: Whitten Sabbatini/The New York Times/Redux
One of the biggest mysteries in the decades-long case against R. Kelly has been the identity of the minor who appears in the singer's most notorious sex tape. On Thursday, a woman known as "Jane" testified in federal court in Chicago that, when she was 14, the singer sexually abused and urinated on her in a video that was mocked in a Dave Chapelle skit and sold on street corners for $10 in the early aughts. Along with allegations that Kelly abused her hundreds of times over the course of a decade, Jane claimed that her aunt, a singer who worked with Kelly, encouraged her to sit on the R&B star's lap and rub his head after introducing them. That testimony reignited a family rift that has spanned two decades.
The now-37-year-old Jane's testimony is part of Kelly's federal child-pornography trial and comes a few months after he was sentenced to 30 years in prison on sex-trafficking charges. The aunt she was referring to, Sparkle, whose real name is Stephanie Edwards, said in an Instagram video posted Friday that her niece's words were "not true" and part of the family's ongoing attempt to discredit her. Jane's "mind-set and willingness to tell lies" comes "from her mom," Sparkle says in the video, "but now she's old enough to start bearing some level of responsibility for her actions."
"I'm saying this again to say not all that you heard yesterday from my niece is true," she adds. "I don't want to hinder this legal process; I don't. But to testify that I had my niece sit on Robert's lap and rub his head and have her ask him to be his godfather is an absolute fucking lie."
Sparkle has always admitted to introducing her then-12-year-old niece to Kelly, a decision she has said she's haunted by. She previously told the Cut that, when Kelly was producing her first album in the late '90s, she thought the singer could also help her niece, an aspiring rapper, launch a career. Sparkle stopped working with Kelly shortly after but said that, a few years later, she watched the tape in which Kelly allegedly abused her niece. She called the police after showing her sister and brother-in-law, who she said didn't want to take any action. Sparkle has spoken out about the incident multiple times since, including in a 2008 trial in which Kelly was acquitted of child-pornography charges, while her niece's parents have long denied it ever happened. This meant Kelly avoided charges for more than two decades.
In the early aughts, Jane, then known as "Minor 1," told a grand jury she wasn't the victim in Kelly's video, as did her parents, and she didn't take the stand in the 2008 trial. Prosecutors claimed Kelly bribed the family to keep quiet, and when he was acquitted, jurors said Jane's absence had influenced their decision, according to the Chicago Tribune. When Jane's parents confronted Kelly after seeing the video he told them, "You're with me or against me," according to court documents. "Minor 1's mother did not want to go up against Kelly's power, money, and influence by not following what he said," the filing says.
Unlike the 2008 charges, which centered around the one video, the current child-pornography charges involve multiple tapes in which Kelly allegedly abuses five minors. The singer continues to deny any wrongdoing despite already being convicted for a pattern of beating, raping, and holding minors hostage, and he still faces two more criminal trials. If he's convicted, Kelly would face a minimum mandatory sentence of 55 years in prison.
In her Instagram video, Sparkle says her niece's allegedly "false statements" are yet another example of how her parents refuse to take responsibility for standing by Kelly despite knowing about the alleged abuse. She wants to have a relationship with her niece and have a heart-to-heart about what happened, she says in the Instagram video, but "I'm very clear that day ain't close."