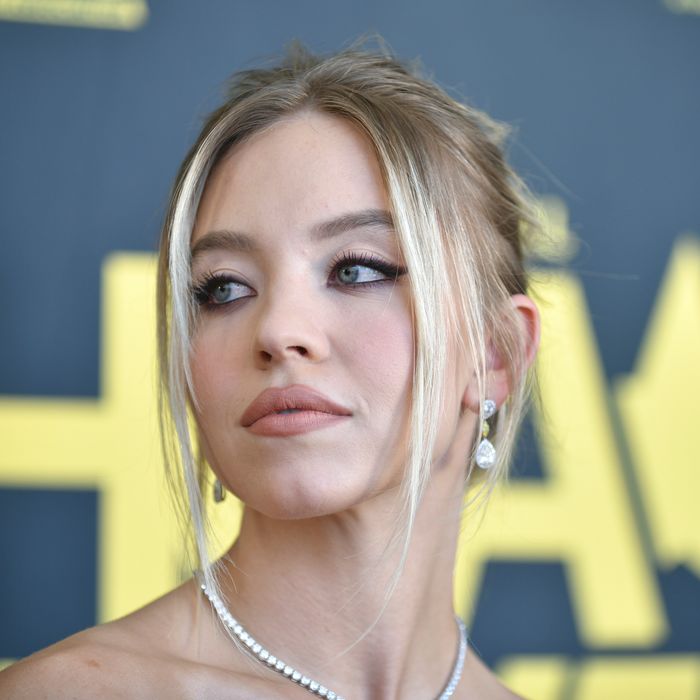 Photo: Rodin Eckenroth/WireImage
Are Sydney Sweeney's family members Trump supporters? This is the question that kept internet sleuths and Euphoria fans up over the weekend. It also made Sweeney a new conservative talking point.
Speculation began after Sweeney posted photos from a "surprise hoedown" celebration for her mother's birthday. The party included mechanical bull riding, line dancing in a barn, a cowboy booth–themed birthday cake, and … parody MAGA hats? That last accessory raised some serious eyebrows, and they weren't even included in Sweeney's post. The hats actually made an appearance on a post by her brother, Trent Sweeney, who clarified that the red baseball caps read "Make Sixty Great Again" not "Make America Great Again." (Whether or not that's much better is … debatable. The red hat may never recover.)
Fans, especially those who missed the writing on the red hats, were skeptical of the event and quick to label her family as Trump supporters. Memes joking that her family had been at the Capitol on January 6, as did the Euphoria memes, began almost immediately. It didn't take long for Sweeney to notice the backlash to her mother's country-themed party. She took to Twitter to quell the rumors, but it might not have the effect she intended. "You guys this is wild," she tweeted over the weekend. "An innocent celebration for my mom's milestone 60th birthday has turned into an absurd political statement, which was not the intention. Please stop making assumptions. Much love to everyone and Happy Birthday Mom!"
As many noted, the statement doesn't include a denial about her family's political affiliations. And fans pointed out that the "political statement" was made by one of Sweeney's family members, who was spotted wearing a Blue Lives Matter T-shirt. Still, as others said, her family's alleged politics doesn't really have anything to do with Sweeney.
Regardless of the actor's denials that the party had anything to do with politics, tweets accusing fans of attempting to "cancel" Sweeney for her family's alleged political affiliations have taken on a life of their own, so much so that conservative pundits have come out to defend her. Tomi Lahren quote-tweeted Sweeney's statement, adding, "Never bow or apologize to the mob."