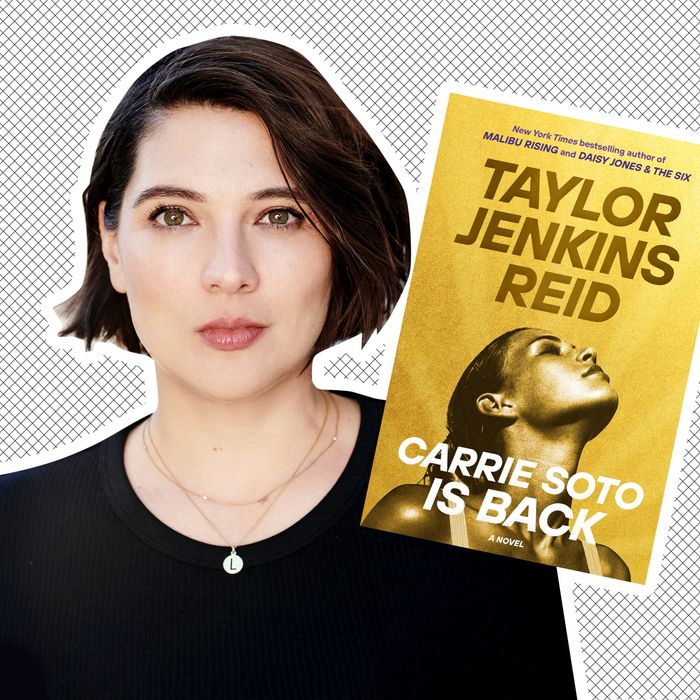 Photo-Illustration: by The Cut; Photo: Michael Buckner
Taylor Jenkins Reid's work is seemingly everywhere — splashed across social media, best-seller lists, and probably your bookworm friend's bedside table. In ten years, she's written eight novels including The Seven Husbands of Evelyn Hugo, Daisy Jones & the Six, and Malibu Rising. Two of her books are being developed into feature films and two more are being adapted for television. Her latest, Carrie Soto Is Back, is available August 30.
While Reid has achieved traditional commercial success, she's also gained something many authors and publishers have yet to figure out how to successfully manufacture: internet virality. Her books are consistently recommended on TikTok, and their adaptations are often trending topics on Twitter. And while there is so much content online about her work — from fan cams and rankings of her books to songs inspired by her characters — there isn't that much out there on the author herself.
If you ask Reid, she'll tell you she's a "sloth." When she's not working, which admittedly is rare, she wants to be eating chips and watching TV in her sweatpants. She also spends a lot of time thinking about love: "I love love," she told me during a recent Zoom call. "I love reading about love. I love watching movies about love. I love romantic comedies. Love is the genesis for everything that happens on some level, and I think it's always going to be in my work." And while her publishing speed may seem unusually rapid, she has no plans to slow down anytime soon. "I've been at this for ten years, and I feel like I have more ideas and more excitement. There's not enough time in the day for all the things I want to write," she said.
As an author, Reid has covered a wide range of topics and experimented with different styles. Far from the winding tales of an old Hollywood star and her relationships, a fake oral history of the fast life of the 1970s music scene, or a day in the life of a complicated family on a Malibu beach, Carrie Soto Is Back is all about tennis. There's classic Reid in there — compelling moments of romance, investigations into parental dynamics, and dealing with fame and female ambition — but in her latest novel, we hear her voice on the page as we've never heard it before as she takes us on the vulnerable journey of a controversial sports icon's comeback from retirement. It's all about Carrie Soto, like her or not.
You're building a bit of a Taylor Jenkins Reid Bibliographic Universe across your novels with all the recurring characters. We met Mick Riva in The Seven Husbands of Evelyn Hugo. Then we got to know his children in Malibu Rising. Now, in Carrie Soto Is Back, we're reading about Carrie, the "other woman" in Malibu Rising. Did you always know you wanted to write a whole novel about Carrie?
I had no idea. Because these books work so well as a set, it sometimes might seem from the outside like I have a master plan, but I don't really know what I'm doing. I can only see a few feet ahead of me at any given time. When I'm working on a book, I have blinders on. It's like all I can see is that book.
I was reading Andre Agassi's Open as a way of just getting a couple of details right for Brandon Randall in Malibu Rising. I just really loved that book, and I thought, Oh, I wish I could do something like this. I wish I could write a sports memoir, but the idea of doing it for Brandon was totally uninteresting to me. So Carrie Soto happened very organically, but of course now when I go look at Malibu Rising, I think to me she really leaps off the page in the scenes that she's in. So maybe on some level, I knew there was more to her.
Unlike Evelyn Hugo or Malibu Rising, which have plenty of twists and turns, Carrie Soto felt more linear. You're tracking her progression through these games, and it was a more focused-sports novel with the anticipation building around whether or not she's going to win. Why was this the way you wanted to tell this story? 
In hindsight, Evelyn Hugo, Daisy Jones, Malibu, and Carrie are four stories told in very different ways. I think what's great about Carrie Soto is that it's much cleaner than a lot of the other stuff I've taken on. It's not about a big band over a period of time. It's not about one woman's life from being a child until she's 80 years old. It's one woman, one claim — does she do it or not?
It allowed for a simplicity of structure that, on the one hand, was really easy. On the other hand, you have to keep that propulsive. There's no big twist here. There's no big mystery. So I have to make sure that you are very invested in whether Carrie wins or not and in the people around her.
I have to ask, do you play tennis?
No. [Laughs.] I mean, I have played tennis, but I don't think I've ever won a game, let alone a set or a match. It's the only sport I've ever voluntarily played. I found out, as an adult, how to love something you're not good at — and I think tennis is that for me.
I had to learn it all for this book, and I'm very insecure about it. Did I learn it right? I don't know, guys. I'm an imposter. I'm trying really hard. I'm trying to learn as much as I can so that I can give you a good time. That's always my hope, but sometimes people are like, "Um, I wouldn't have used that word," and I'm like, "Okay. You know better."
I really want to talk about the internet's reaction to your work. Are you familiar with BookTok?
I am familiar with BookTok.
Are you on it? Do you see any BookTok videos about yourself?
I try very hard to not see BookTok videos. I have to create clear walls between me and what people think of my work — whether good or bad. I have seen various videos that people have made about my work because eventually they do make their way to me, but I have not allowed BookTok to permeate my "FYP," as they say.
Why are those boundaries important to you?
There was a period of time after Daisy Jones when I felt very fatigued of seeing myself. There was a lot of "Here's what someone thinks about my book," and it just felt a little bit like you're not supposed to walk around all day looking in the mirror. My books are not me, but they are how I feel about the world, and I just felt I couldn't get a lot of separation between the person I actually am and the person I'm being told I am because of people's interpretations of my work — good and bad.
I learned very early on that if somebody absolutely hates your book and they think it's the worst thing they've ever read, you probably shouldn't listen to them. It's also not the best book in the world. I can't go around believing that. That's not good for my growth.
The rest of the people are probably saying, "Yeah, you're pretty good. You're okay." I already know I'm okay. I don't believe I'm the best. I don't believe the worst. There's nothing for me in engaging with people's fervent love for me or fervent hate for me because if I believe either one of them, I will lose what I need, which is the fire in me that wants to be better and believes I can be.
You've previously said that you hope your best book is one you haven't written yet.
Yes. Look, I can't control people's reaction to the book. I can't control book sales, so I'm not out here to say that the most popular book that I will ever write is ahead of me. That'd be great, but it might not happen. I have to believe that if I am sitting down at the computer, it is because I have the potential to write a book that, for me, is more creatively satisfying and more challenging and closer to my ideal than before.
Why do you think your work resonates so deeply with the TikTok generation? 
I know that there are all generations of people on TikTok, but I also know that young women are using TikTok to talk about books. What I hope might be true is that young women are coming to my books and feeling seen, understood, not alone, and hopeful. I don't wanna sound sappy, but if that's not the point in publishing, I don't know what is.
Your books are also known for making people emotional. There are so many videos on the internet of people reading your books — it doesn't even matter which one — and crying. The most recent book of yours I cried to was Carrie Soto. Your writing is emotional for us. Is writing an emotional process for you?
Yes. Very much. If I don't cry when I finish the end of a book, I know I've made a wrong turn. When I finished the end of the first draft of Carrie Soto, I didn't cry, and I knew I messed up somewhere. I knew something significant was missing. That turned out to be Nikki Chan. I just didn't render her and her relationship with Carrie the way it needed to be the first time out of the gate. By the time I figured that out at the end of the second draft, when I finally wrote the end as people now will know it, I was wiping my tears away as I typed.
A few of your books are being adapted for TV and film. Have you been engaged with the creative process of these adaptations, and what is that like for you?
My level of involvement depends on the project, and it also depends on my partners. Sometimes I'm the only one who can see how to make it work in the adaptation. I'm the one who wrote the book and the one who really wants it to happen. And so I'm like, "No, guys, it's gonna work. Let me do it. Let me just sketch it out for you." Whereas, with Daisy Jones, Scott Neustadter took over that project and did a phenomenal job. He didn't need me. He was very nice and included me, but he didn't need me. He had a vision for it, and it honors and deepens the book.
I want to talk about your characters and their different racial and ethnic backgrounds because that is something you explore across your novels and it's also something that people have differing opinions about. In this new book, Carrie Soto is Latina; her assistant, Gwen, is Black; her biggest rival, Nikki, is Asian, and they all discuss how those identities might make what they're doing harder. Why are these things that you keep writing about?
I am a white woman, but the people I love and engage with on a daily basis, they're not all white women. The people that influence me, who I'm talking to on an intimate level, some of the closest women in my life are not white. So I'm gonna go out there and continue to make stories that only center white women and relegate a woman who I see in her full humanity — because she is one of my best friends in the world — as the second-tier character? No, that doesn't feel right to me.
I am a white woman living in a society that caters to white people, and my ability to understand the life of someone who is a woman of color is very, very limited because of the way that society caters to my gaze. I lie awake nights literally unable to sleep because I do not know what the right thing to do is. I just approach it with the feeling that the women of color in my life deserve to be the center of stories.
The most important thing I can do to make that happen is to recommend and uplift and support women of color. That is my main priority. Me writing a woman of color does not replace the active work I have to do, and I spend a lot of time recommending books by women of color and blurbing books by women of color. Some women of color read Evelyn Hugo and say they felt really seen and appreciated it. Some women of color read Evelyn Hugo and say I had no right to do that. Both are right. There's no easy answer there.
Relatedly, in Carrie Soto, there's a lot of Spanish. What made you want to include that in the book? Do you speak Spanish? If you don't, how did you ensure that it was accurate? 
It was important to me that if I'm going to write about a man from Argentina for whom Spanish is his first language that I not just filter him through a particularly American English as a first language gaze. Realistically, Javier is going to speak Spanish. Javier's Spanish is also not necessarily going to be the easy Spanish that most non-Spanish speaking Americans would know. I specifically did not translate it in the book because I believe, using context clues, you know what it says. I don't wanna erase the first language he spoke, so that was important to me.
I am very bad at languages and can read Spanish but cannot speak it. I am very fortunate in that I have a Spanish-speaking editor who took a lot of time and helped me through it, specifically through Argentine Spanish.
Since you started to mention it, what are some of the books you recommend?
There's a great debut that came out this summer that I really, really loved. It's called Dele Weds Destiny, by Tomi Obaro. It's about three Nigerian women. They were friends in high school, and now they're reuniting because one of their daughters is getting married in Nigeria. It's a great story with well-drawn female friendships.
Poorna Bell has a great debut, which is called In Case of Emergency. I would compare it to Bridget Jones or Queenie. You've got this young woman protagonist who just is really trying to figure herself out, but she's so charming and funny and makes so many mistakes. You just love the character so much and you're rooting for her.
Right now, I'm reading Siren Queen, by Nghi Vo, which is about a movie star who's a woman of color in classic Hollywood, but it goes on a very different path.