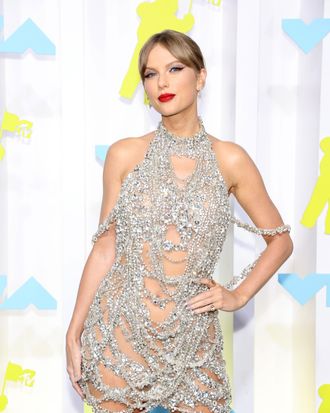 Photo: Arturo Holmes/FilmMagic
The VMAs have given us very little thus far (beyond a plethora of leather and a motley crew of looks) but I'm willing to overlook all of that thanks to one woman's unexpected appearance: Taylor Allison Swift.
Taylor won video of the year for a video she directed herself and dropped the news that her new album is coming out October 21st. Big night!
She decided to turn up, dripping in crystals from head to toe in "Mirrorball" fashion, and her presence alone is enough to turn this bus around. She is a speck of glistening, glimmering light on an otherwise dark, devoid-of-taste black carpet.
I don't care what anyone says about her, I am a Swiftie through and through, and frankly, you should be too. Who else has the power to make us cry for ten minutes straight about a high-school heartbreak we thought we'd healed from? Who else would bless us by bringing Dylan O'Brien onstage when she accepted her Moon Person award for the "All Too Well" music video (yes, she got through her speech uninterrupted this time). We have no choice but to thank her for both her emotional service in general, as well as her fashion service on this God forsaken night.
I might venture to say she was the best dressed star on this carpet, which given the material we were served in this New Jersey venue, might not be saying much. But Taylor, at the very least, gave us something fun to look at. From her rhinestone-adorned eye makeup, to her iconic red lip, even down to her silver, strappy shoes, she was a sight for very sore eyes. Thank you, Ms. Swift, for single-handedly saving the VMAs.