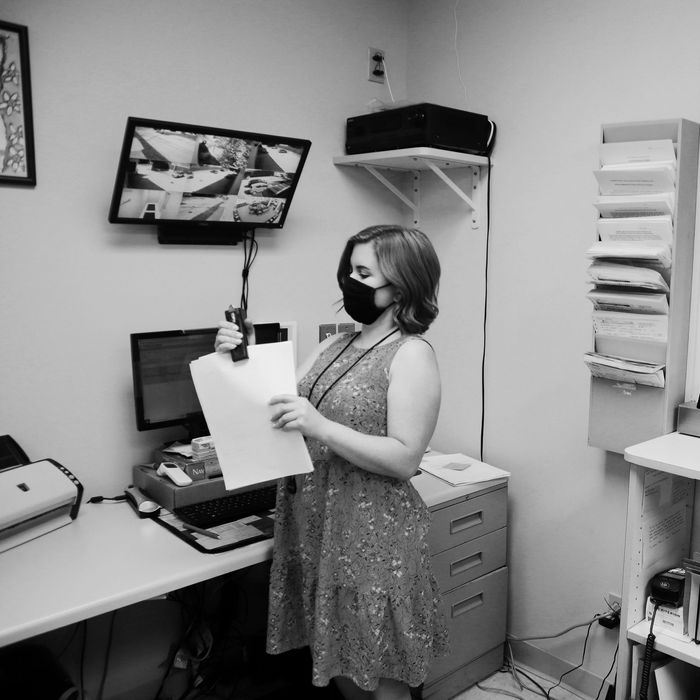 Photo: Leah Willingham/AP/Shutterstock
Earlier this year, Katie Quinonez, the executive director of Women's Health Center of West Virginia, had her eyes on a vacant lot next door. Purchasing the lot would allow the state's only abortion clinic, located in the city of Charleston, to expand. Quinonez says the owner of the lot rejected the clinic's offer, however, because the local West Virginians for Life chapter had been renting it, and the owner wanted to give the anti-abortion group until the end of the year to raise enough money to buy the property.
It was a frustrating reminder of the logistical challenges the clinic would face if it were ever to close and later attempt to reopen. The overturn of Roe v. Wade opened the door to an imminent ban on abortion in the Mountain State, making it crucial for Quinonez to plan the clinic's next act. She's reimagining what kind of care it can offer the community, from expanding the reproductive-health services it already provides — including cancer screenings and STI testing — to offering new care such as gender-affirming hormone therapy or PrEP for HIV prevention. "We're committed to staying open for as long as humanly possible and continuing to provide these services," Quinonez said, "because the majority of people who access those services are people who couldn't access that care otherwise."
West Virginia ranks 41st in the U.S. when it comes to the number of women's-health providers in the state, according to America's Health Rankings. Quinonez says it's critical for the clinic to stay open even in the event that abortion is outlawed so it can serve low-income patients. The clinic accepts sliding-scale payments for gynecological care because many West Virginians are uninsured or underinsured.
The staff at Women's Health Center also offers a pregnancy and parenting support program that provides diapers, baby formula, and baby clothes, among other needs. There's a crisis-pregnancy center next door — one of the bogus clinics meant to dissuade patients from getting an abortion and which are often neither staffed by medical professionals nor bound by federal patient-privacy laws — that requires parents-to-be to attend religious classes in order to obtain material aid, according to Quinonez. "They are not a real resource for people," she said. "They're also just straight-up lying to patients." (The center didn't respond to the Cut's request for comment.) If the "antis" chapter, as Quinonez refers to West Virginians for Life, purchases the vacant lot, the clinic will be flanked by anti-abortion opponents on both sides.
Even before Dobbs, crisis-pregnancy centers, which often advertise free pregnancy tests, ultrasounds, and counseling, outnumbered abortion providers three to one even in states where the procedure is protected. With abortion clinics shuttering their doors and Republican-controlled state legislatures funneling money toward these sham clinics — which are looking to expand into intercepting pregnant people before they self-manage their abortion or leave the state to seek care — that disparity is only set to grow.
Some abortion clinics in states that banned the procedure this summer have since closed down, set up crowdfunding campaigns, or moved their operations. North Dakota's only abortion provider, Red River Women's Clinic, moved this month to a new location in Moorhead, Minnesota, just a mile away from Fargo, where it had been based since 1998. New Mexico will be the new home of Whole Woman's Health, which previously had four clinics in Texas, and of Jackson Women's Health Organization, previously the only clinic in Mississippi and the plaintiff in Dobbs.
For other providers, staying put is the goal. Despite the financial hardships it can present in the short term because of the loss of revenue from abortion services, pivoting to other health services can be a viable option in the long run, as the staff at Choices: Memphis Center for Reproductive Health knows. The clinic will cease providing abortions on August 24, the day before Tennessee's trigger law goes into effect, but will continue to offer other reproductive-health services, while a second location focused on abortion care will open in Carbondale, Illinois, next month. Carbondale was a deliberate choice, says Choices executive director Jennifer Pepper, because it's a three-hour drive from Memphis and Nashville in addition to being on the Amtrak line that goes from New Orleans to Chicago.
Choices, which opened in 1974, aggressively began expanding the number of health services it offered about ten years ago. It started with the launch of HIV-prevention testing and family planning for HIV-positive individuals and has since added a midwifery practice and gender-affirming care. Today, the clinic is the only nonprofit provider that offers abortion and birth services under the same roof.
"It's the same person who needs those services at different times in their lives," says Pepper. When the staff first had conversations about opening a birth center, it felt unprecedented. "One day, former executive director Rebecca Terrell came to us and asked, 'Why don't we provide birth?' And even me — we said, 'Abortion clinics don't do that,'" Pepper recalls. "She said, 'Why not?' And none of us had a great answer." The program worked out, and Choices is on track to offer birth services to about 400 patients a year.
The clinic's growth is connected to operating in a region where there's a dearth of reproductive-health services and other types of care for certain populations. The majority of the clinic's patients are Black, from Tennessee, and between the ages of 18 and 34. Last year, around 68 percent of patients received financial assistance from Choices, demonstrating the need for health providers that offer support to low-income patients. Clinics are often female patients' only source for medical care, and one in three low-income women depends on providers like Choices to get contraception, according to a 2019 Kaiser Family Foundation study.
In Atlanta, the Feminist Women's Health Center is also looking to expand the slate of reproductive-health services it offers. Georgia's six-week abortion ban has greatly limited the number of patients the clinic can help, according to executive director Kwajelyn Jackson. The ban's implementation was as unprecedented as it was chaotic — an appeals court allowed it to take effect immediately instead of waiting about 28 days after its ruling, as is standard practice. Jackson said her team was forced to turn away patients, many of whom had traveled from surrounding states where abortion had been banned entirely or much earlier than Georgia's previous 22-week limit. With fewer patients coming in for abortions, the clinic is thinking of how to evolve to meet more of its community's needs. "Can we accept state or federal grant money that would support the family planning we already do?" she asks. "Could we offer tubal ligation and vasectomies? Could we be a space where people get fibroids removed?"
Keeping a clinic open in the face of an abortion ban is as much proof of the providers' commitment to the populations they serve as it is a logistical decision, anticipating a future in which abortion becomes legal again. Reopening a clinic is time consuming, costs hundreds of thousands of dollars, and requires navigating hostile zoning laws and unfriendly landlords, among other challenges.
Texas offers us a clear picture of what could happen if these independent clinics were to close down: Twenty-two of the 41 clinics in the state shuttered after a law passed in 2013 requiring clinics to operate like ambulatory surgical centers and employ providers with admitting privileges at local hospitals. While the Supreme Court struck down the measure in 2016, only four of the shuttered providers came back. Over the span of three years, leases ended, staff members took new jobs, and equipment was tossed. Texas is now one of seven states that no longer have any clinics offering abortions post-Dobbs, according to the Guttmacher Institute.
"Even if abortion services have to be paused for an indefinite amount of time, it's really critical to keep clinics open," Quinonez says. "That way, they'll be in a position where they can resume abortion care immediately." Women's Health Center of West Virginia was forced to stop providing abortions immediately after the Dobbs decision because of an 1882 law criminalizing the procedure. It was able to resume following a court injunction in mid-July, but the pause wasn't without consequences. Quinonez said the team lost one of its three doctors, who came to provide care from out of state, after they were offered a full-time opportunity in a more abortion-friendly location.
While abortion is legal in West Virginia for the moment, state lawmakers are gearing up to pass new legislation that mirrors the 1882 measure. Quinonez says it's a waiting game for her clinic, which would be put in a precarious financial position if a total ban passed. While the clinic offers a wide range of reproductive health care, Quinonez says abortion services make up about 40 percent of its revenue. She and her staff are thinking of ways to close that gap by offering new services and fundraising. Last month, the clinic began offering gender-affirming hormone therapy and PrEP (Kanawha County, where the clinic is based, is in the middle of what the CDC called "the most concerning" HIV outbreak in the nation). The threat of having to reduce staff — or, worse, having to shutter the clinic — hangs in the air. But Quinonez is determined to make it work.
The staff at Trust Women in Oklahoma City already stared down those threats and decided to keep the doors open. One month before the Supreme Court decided Dobbs, when Roe v. Wade was still the law of the land, Oklahoma banned abortions starting at fertilization and allowed private citizens to sue providers — a more extreme version of Texas's SB 8. The clinic stopped providing abortions but has continued to share information for Oklahomans seeking them. It's a legal gray area that has frustrated the clinic's director, Kailey Voellinger, who says she hasn't been able to get any guidance from the state government or law-enforcement agencies. Is telling patients about self-managed abortion "aiding and abetting"? How will the state enforce its 1910 law banning abortion?
Voellinger says Trust Women, which has a sister location in Kansas, will remain a resource for Oklahomans by offering a wide range of preventative and prenatal care, selling low-cost emergency contraception, and distributing free menstrual products. "Oklahoma is a very marginalized, low health-access state," she says. Nearly 22 percent of women there are uninsured, and the state has struggled with a shortage of OB/GYNs for years. It also has one of the highest maternal-mortality rates in the country with about 20 percent of patients living in maternity-care deserts.
As the clinic pivots to help meet these needs, it's actually expanding. Voellinger is looking for a mid-level provider who can help with contraceptive and gender-affirming care. She says she's already identified a promising candidate, and if all goes well, that doctor will start work this fall. "We know there's support for our work in the community," Voellinger says. "Our main goal is caring for people the way that we can."