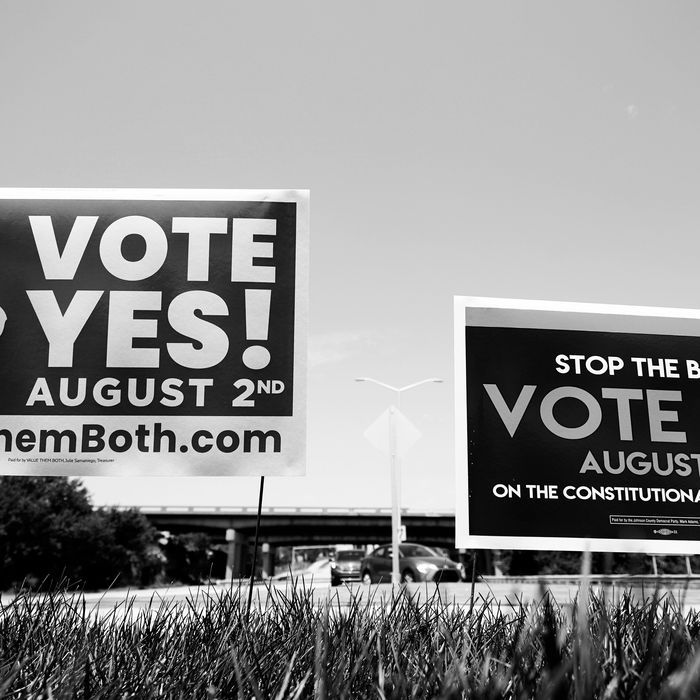 Photo: Kyle Rivas/Getty Images
A record number of voters sent a clear message to Kansas lawmakers on Tuesday: Abortion rights must be protected in the state constitution. Their rejection of the Value Them Both Amendment was a major win for the pro-choice movement and proof of how, even in areas flush with Republican voters, Americans are angry about the overturn of Roe v. Wade.
The ballot measure, which would have amended the state constitution to say explicitly that it does not protect the right to an abortion, was defeated with 58 percent of the vote. That means Kansas lawmakers won't be able to pass further restrictions on abortion care unless they demonstrate the state has a "compelling interest" and narrowly tailor the regulations. The state is expected to remain a critical hub for patients from nearby states that banned the procedure in the aftermath of Dobbs v. Jackson Women's Health Organization, including those coming from Arkansas, Missouri, Oklahoma, and Texas.
Voter turnout in the primary election broke records. Kansas secretary of State Scott Schwab estimated it was close to 50 percent, compared to 34 percent and 27 percent in the 2020 and 2018 primary elections, respectively. About 70 percent of Kansas voters who registered after the Dobbs decision came out on June 24 were women, according to the progressive data firm Target Smart. And though it was mostly urban and suburban voters who rejected the amendment, Alesha Doan, a University of Kansas professor who studies the intersection of reproductive-health care and public policy, pointed out that county-by-county results show between 30 and 50 percent of voters in rural communities rejected it as well.
"The action the Supreme Court took on the issue of abortion was extreme. There was no basis for overturning Roe v. Wade. And then to have states move forward in such a hostile manner against people's rights has been a jarring experience for many people," she said. "Living in a state and a culture where you have elected officials saying, 'We are taking away your rights. We're increasing dramatically the state's control and surveillance over people's bodies' — it is such an affront to so many people. It's a feeling of 'Enough is enough'."
The resounding "No" vote also overcame amendment supporters' attempts to further skew the odds already in their favor: In Kansas, Republicans make up about 44 percent of registered voters, while Democrats and unaffiliated voters account for 26 percent and 29 percent of the electorate. Lawmakers scheduled the vote on a primary day instead of the general election. Supporters also put forward misleading claims in their campaign, including that abortion was entirely unrestricted in Kansas and that lawmakers didn't intend to ban the procedure. Voters even received texts from a conservative-aligned, Nevada-based technology firm the night before the election falsely claiming that a "Yes" vote would protect "choice."
All those efforts failed.
"We hope anti-abortion lawmakers in the state legislature take to heart the message sent to them by their own constituents: stop meddling in matters that belong solely to Kansas families," the independent abortion clinic Trust Women said in a statement. "We know, however, that this will not be the last word in our struggle for reproductive justice, and that our work to expand meaningful access to abortions across the state of Kansas and the region is just beginning. We cannot be content with the status quo."
The anti-abortion amendment was a response to a 2019 Kansas Supreme Court ruling that found the state's bill of rights "protects a woman's right to decide whether to continue a pregnancy." This doesn't mean abortion is unregulated in the state, however. Current restrictions — including a 22-week ban, a 24-hour waiting period, and a parental-notification requirement, among others — remain in place.
The Sunflower State leans conservative, having not voted for a Democratic candidate for president since Lyndon B. Johnson in 1964; in 2020, Donald Trump won the state by a 56-42 margin. Kansas also has a deeply entrenched anti-abortion movement that plays an outsize role in state politics. Politicians with extreme anti-abortion views have made it into elected office through primarying moderate Republicans, gerrymandering, and other strategic politicking, Doan said. But Tuesday's vote proves that those far-right views don't represent how most Kansans feel. The results closely mirrored a 2021 survey conducted by Fort Hays State University, where about 50.5 percent of respondents said they believed that "the Kansas government should not place any regulations on the circumstances under which women can get abortions."
Since 2014, Alabama, Louisiana, Tennessee, and West Virginia have amended their state constitutions to clarify they don't grant the right to abortion. All of them banned most abortions after the fall of Roe. In the midterm election, five other states — California, Kentucky, Michigan, Montana, and Vermont — will also vote on abortion-related ballot measures, and Kansas offers lessons for these upcoming fights.
Ashley All, a spokesperson for the anti-amendment Kansans for Constitutional Freedom, said in a press conference on Wednesday that the "No" campaign worked because it forged a coalition of organizations that spanned the political spectrum. She added that it was essential for the campaigners to have conversations with people who saw abortion as a complex moral, and sometimes religious, issue, but still believed in personal autonomy. That this organizing was done by community-based groups was crucial as well, Doan said.
"The messaging resonated with Kansans because it was a local effort," she said. "Up until a month or two ago, the groups that were opposing the amendment were out-resourced and out-organized. There was a resource gap between the two sides, but nonetheless it was an on-the-ground fight. The coalition opposing the amendment was really good at talking about the importance of turning out to vote."
Had the "Yes" vote won, conservative lawmakers were expected to bring back a bill criminalizing abortion that had failed to pass earlier this year. The measure would have allowed for prosecution of abortion seekers and health providers, and made no exceptions for instances of rape, incest, or to save the pregnant's person life. "While the outcome is not what we hoped, our movement and campaign have proven our resolve and commitment," the pro-amendment Value Them Both Coalition said in a statement. It concluded: "We will be back."
Kansans for Constitutional Freedom said on Wednesday that despite the amendment's defeat, it expects Republican lawmakers will still attempt to introduce anti-abortion legislation next spring. And when they do, the coalition that beat them at the ballot box will be ready and waiting to mobilize again.