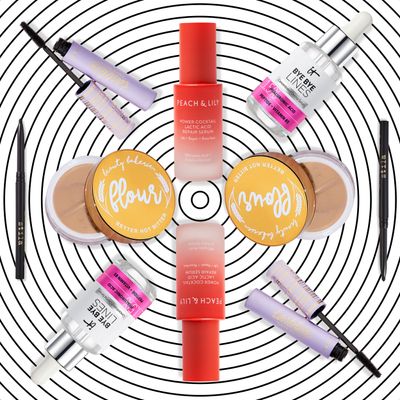 Photo-Illustration: The Cut; Photos: Retailers
This week, Ulta kicked off its "21 Days of Beauty" event, which includes discounts on skinlike foundations and blushes. Keep checking back because every day unlocks a new sale. If that sounds overwhelming in a good way, it is. So we put together a guide of the best products that are on sale each day, starting today, through the last day of the sale, September 17.
August 30
This non-stripping cleanser revives dry skin while gently removing makeup, dirt, and debris. It's loved among the sensitive-skin community because of how gentle and balancing it is. I use it post-workout because it deeply cleans out all of my sweat without making my skin barrier feel stripped. It leaves the skin hydrated, soft, and clean — a skin-care lover's magic trio.
August 31
Overdue for your monthly brow wax? No problem. This wax fluffs each hair for a natural appearance. It's great for a no-makeup makeup look.
September 1
The Luna has been an OG cleaning tool on the market for a while. The device deeply cleans the pores with its unique and gentle brush head. Users love how easy it is to clean; it doesn't put debris back onto your skin.
September 2
A great transition scent as the seasons shift.
September 3
If you had too many late nights this summer (same) and your under eyes are in need of some major hydration, this eye cream will do the trick. It's filled with albizia extract to combat dark circles and shea butter to smoothen and nourish the eyes.
September 4
Estée Lauder's foundation formulas are undefeated when it comes to getting undertones right without feeling too cakey on the skin. This SPF-infused foundation is a buildable, skinlike liquid that is a great hybrid between makeup and skin care. It leaves a luminous glow while simultaneously nourishing the skin with ingredients like chia-seed extract.
September 5
This is one of the easiest eyeliners to apply, and it lasts all day long without smudging. Stock up on multiple shades at once.
September 6
The price tag on this moisturizer is a bit expensive, but it's worth every penny, especially when it's on sale. It's a thick cream that soothes the skin, leaving it feeling plump and bouncy. It's made with SPF 23, so it doubles as a sun-protection product.
September 7
Summer may be ending, but we still need a foundation that can withstand the humidity and heat. Reviewers love this foundation because of its lasting wear in any climate. The bamboo-stem extract creates a smooth, blurring effect, so it's basically an Instagram filter in a bottle.
September 8
Before TikTok, Tarte was known for two things: its Shape Tape concealer and its mascaras. This mascara is an original holy grail for all makeup lovers. A little goes a long way to achieve voluminous lashes that last long and aren't smudging all over the place.
September 9
We're no longer in our 2016–7 peak highlighter phase, but a little highlighter never hurt anyone. This one is subtly shiny and leaves a glow that's just enough, but if your heart desires a dramatic-highlight look, it's buildable enough to give full glam.
September 10
Become an at-home makeup artist with these five brushes that cover everything you ever really needed: powder, foundation, concealer, eye shadow, and crease. They also come with a compact case that is great for traveling.
September 11
Anastasia Beverly Hills's brow products have been deemed the best ones on the market for years. They're defining, smudgeproof, and they come in shades for everyone. This Dipbrow pomade instantly gives the appearance of fuller brows while defining them, and it's waterproof, so it can withstand just about anything from sweat to a dip in the pool.
September 12
A good vitamin-C serum is a must-have for every #shelfie. This one is a powerful blend of ingredients, from THD-ascorbate vitamin C to vitamin E to even the skin tone out. I saw results after just one use.
September 13
This setting powder is a cult favorite because it does everything from minimize pores to smooth out the under eye. Ironically enough, though the brand is the Beauty Bakerie, nothing about its products is cakey; this is lightweight and kisses oily skin good-bye.
September 14
We're in our blush-girl era. Before there was a plethora of blushes to choose from, there was M.A.C. And this original color is still the one. It's blendable and leaves the complexion with a rosy glow.
September 15
Thirsty skin loves this serum. What makes it different from any other hyaluronic-acid serum is the simultaneous plump and deep hydration. It's almost like a serum and essence in one.
September 16
If you're like me and you wear eyelash extensions, then you're probably in need of a lash serum that can bring some life and some length to your natural lashes. Even if you don't wear extensions, this peptide-and-caffeine-infused lash serum thickens and conditions lashes to enhance their appearance.
September 17
A lactic acid that shows results but isn't too harsh on the skin is hard to come by. Insert: Peach & Lily's Lactic Acid Repair Serum. This product severely helped me with fade hyperpigmentation, and when paired with the brand's Glass Skin serum, it leaves a smooth finish to my skin.
For more from the Cut Shop team, follow us on Instagram and Twitter, where we share our best new finds, favorite styling tricks, and more.