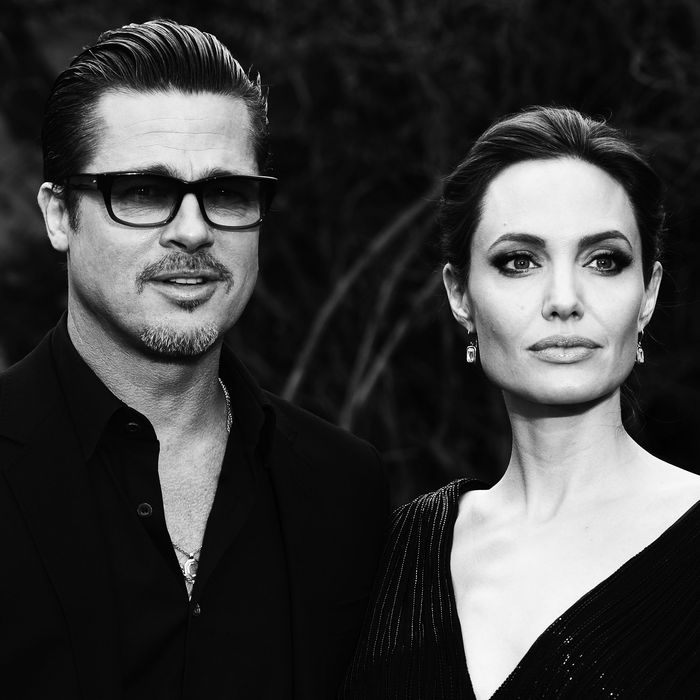 Photo: Anthony Harvey/Getty Images
Back in April, an anonymous Jane Doe with "public status" filed a lawsuit against the FBI under the Freedom of Information Act, demanding that the bureau turn over information related to allegations of physical and verbal assault by her "then-husband" against her and their minor children on a private plane "several years ago." A judge reportedly refused to seal the lawsuit, prompting public speculation that the Jane Doe and her then-husband in question were Angelina Jolie and Brad Pitt. The stories aligned: In September 2016, Pitt was under investigation by the FBI for allegations of physical abuse after an alleged altercation between him, Jolie, and their son Maddox, then 15, during the family's private flight home to L.A. from France. Days after the alleged altercation, Jolie filed for divorce and sought sole custody of the couple's six children. Sources close to Pitt denied any physical abuse had taken place, and a few months later, the FBI closed its inquiry into the actor, with a spokeswoman from the bureau saying it had "conducted a review of the circumstances" and would not pursue further investigation.
Now, in her new suit, Jolie — who multiple outlets confirmed this week is the Jane Doe in question — wants to know why the bureau declined to file any charges, calling the response to her FOIA request "legally insufficient" and challenging the FBI's alleged "withholding of additional records." Below, everything to know about the suit and how we got here:
In 2016, Pitt allegedly verbally and physically assaulted Jolie and their children on a private plane, prompting Jolie to file for divorce.
In September 2016, multiple outlets reported that Pitt was under investigation for child abuse by the Los Angeles County Department of Children and Family Services following an alleged altercation on the Jolie-Pitt's private plane during a flight home from Nice, France. Per TMZ, an anonymous person reported Pitt to DCFS, claiming that he "attacked" the couple's son Maddox after he verbally intervened in an argument between Jolie and Pitt. A source close to Pitt told People that Pitt (who became sober after the incident) was "drunk" and that there was "a parent-child argument which was not handled in the right way." The source said the argument "escalated more than it should have" but denied any physical abuse on Pitt's part. "He did not hit his child in the face in any way," the source said. "He did not do that; he is emphatic about that. He put his hands on him, yes, because the confrontation was spiraling out of control." Days later, Jolie filed for divorce, seeking sole custody of the couple's children. By November 2016, DCFS cleared Pitt of any wrongdoing, and Pitt and Jolie reached a still-disputed custody agreement in which Jolie retained sole custody while the kids, who now range from 14 to 21 years old, continued "therapeutic visits with their father."
New details about the altercation were revealed this week, per FBI investigative records.
On Tuesday, Rolling Stone obtained redacted FBI investigative records from 2016 that reveal new details about the alleged altercation, including interview summary in which Jolie told investigators that Pitt yelled at her and shook her, that he "grabbed her by the head" and "pushed her into the bathroom wall." Jolie alleged that Pitt repeatedly punched the plane's ceiling during an outburst, scaring the couple's children, who she said asked if she was okay, prompting Pitt to respond, "No, she's not okay. She's ruining this family. She's crazy." According to Rolling Stone, one of the children called Pitt a "prick," prompting Pitt to lunge toward him "like he was going to attack." Jolie apparently "jumped up" and grabbed Pitt's neck with her arms "like in a choke hold" in response; she said Pitt then threw himself back, injuring her back and elbow in the process. Jolie also told investigators Pitt pushed her again after she suggested she take the children to a hotel when they landed. "You're not taking my fucking kids," Pitt allegedly replied. Jolie claimed Pitt drank over the course of the flight, allegedly pouring beer on Jolie and causing $25,000 worth of damage to the plane by spilling red wine. Jolie told investigators that Pitt's alleged behavior left her feeling "scared" and "like a hostage" and showed them her injuries, including a "rug-burn type wound" on her right hand. When asked about a "scratch" on Pitt, Jolie reportedly told investigators it might have been from her. Per the FBI documents, the fact that both Pitt and Jolie sustained apparent injuries factored into the agency's decision not to charge Pitt.
In her anonymous suit, Jolie said she wanted to "better understand" the FBI investigation and help her children receive "medical care and trauma counseling."
As Pitt and Jolie's legal battles continue — including Pitt suing Jolie in February for selling his winery to a Russian oligarch — Jolie filed her anonymous lawsuit in order to "better understand the FBI's investigation and obtain information necessary for her children to receive medical care and trauma counseling." In the suit, which Jolie kept anonymous to protect her children from the "physical and mental health risks" of public exposure, Jolie alleged that the FBI had "publicly announced" it was closing its investigation into Pitt without notifying her of its decision to do so. (A spokesperson from the FBI told Entertainment Tonight that agency policy "prohibits comment on public litigation.") Amanda Kramer, the attorney who originally filed the suit, told the outlet in April that "victims and survivors should be able to access federal agency records of crimes they experienced or reported, as is common at the state level, so they can advocate for health and trauma care and legal protections for their children and themselves." Meanwhile, sources close to Pitt told ET that the FBI found no wrongdoing in regard to the private-plane incident and that both Jolie and Pitt had "been given information regarding this investigation."
According to a report from the outlet Puck, Jolie amended her complaint earlier this month after learning that the FBI agent investigating the 2016 incident had prepared a statement of probable cause and presented it to the U.S. Attorney's office in Los Angeles before the bureau announced it was closing its investigation into Pitt. Neither Pitt, Jolie, nor the FBI has publicly commented on the suit since Jolie's identity as Jane Doe went public. For her part, Jolie has been tight-lipped about the situation, alluding to the alleged altercation in a 2021 interview with the Guardian, in which she said she was "sworn to silence" about her "legal situation" and her domestic-abuse allegations against Pitt. Confirming that she feared for the safety of "my whole family," Jolie said in 2021, "I'm not the kind of person who makes decisions like the decisions I had to make lightly. It took a lot for me to be in a position where I felt like I had to separate from the father of my children."