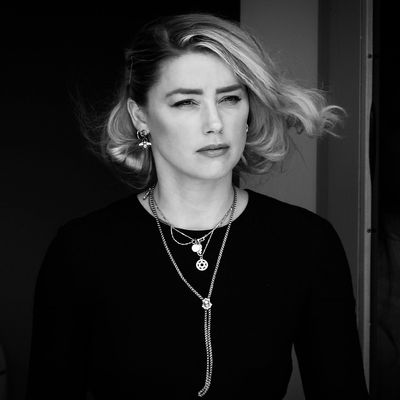 Amber Heard
Photo: Win McNamee/Getty Images
Despite a verdict having been reached in the contentious Depp v. Heard defamation battle in June, new information continues to find its way to light. Over the weekend, for example, more than 6,000 pages of court documents were unsealed, as reported by The Daily Beast. Their contents do not significantly move the needle on the case's outcome: A jury found that Heard had defamed Depp at three points in a 2018 op-ed that identified her as a "public figure representing domestic abuse" yet never actually accused the actor of anything. But it was a decidedly different verdict than the one a U.K. judge reached in 2020 after reviewing much of the same evidence and concluding that Depp had abused his ex-wife at least 12 times. Now Heard owes the actor over $8 million, a sum she seems unable to pay.
Since the jury returned its decision, Heard — who plans to appeal and has already set that process in motion — has claimed that Fairfax Circuit Court judge Penney Azcarate had barred certain pieces of critical evidence that were included in the U.K. case. It's unclear whether the unsealed docs speak to those details, though, as The Daily Beast notes, they "do not appear to reflect too well on Team Depp." The actor, for example, fought to exclude testimony from actress Ellen Barkin, whom he had previously dated and who said in a deposition that an enraged Depp once threw a wine bottle in her direction. He also tried to wipe text messages about drowning and burning Heard from the record, along with testimony from most of the psychologists and therapists who told the court they believed Heard had suffered intimate-partner violence from Depp.
Below, some of the biggest takeaways from the cache of court filings.
A metadata expert apparently believed Depp had submitted manipulated photo and audio evidence.
At trial, the jury considered testimony from a Depp witness who raised the possibility that Heard had edited photos viewed in court. That witness, Norbert "Bryan" Neumeister, a metadata expert, did not claim Heard had fabricated the cell-phone photos of her bruising but rather that they had been opened in Apple's Photos app on a computer. Still, the possibility of any editing didn't sound good, particularly given the Depp camp's long-held suggestion that Heard had faked her injuries.
According to The Daily Beast, though, court docs suggest that Depp might have been the one who manipulated his images. That's according to Julian Ackert, a forensic expert at iDiscovery Solutions, who testified in court but didn't get the opportunity to speak about Depp's evidence. The docs report that he said under oath that Depp's camp had submitted into evidence photos and audio clips with "anomalies that call into question the authenticity of the multimedia documents." Often, the "created" and "modified" dates came years after Depp claimed certain incidents had occurred. For example, one picture of his face bearing bruises and scratches the actor said he got from Heard around March 2015 allegedly had creation and modification dates in July 2019. Some didn't have creation or modification dates at all, and, according to Ackert, "missing creation dates and/or modification dates that postdate the facts can be a sign of digital evidence manipulation." Heard's team did request the original files, but the motions were denied.
Depp allegedly tried to submit Heard's nudes as evidence.
Heard's team alleged that Depp had "inappropriately" sought to include nude photos of her as evidence, along with information on her "brief stint as an exotic dancer years before she met Mr. Depp." According to the documents, the implication was that "Ms. Heard was at one time an escort."
For her part, Heard reportedly included Cialis (an erectile-dysfunction drug) and Valtrex (used to treat both oral and genital herpes) on a prescription list for Depp, which his attorneys interpreted as a sign that Heard "clearly intends to take this trial down a number of unnecessarily salacious rabbit holes, including and especially with respect to Mr. Depp's medical history."
Depp claimed he was not alleging harm by Heard "based on a specific physical or mental injury."
Per The Daily Beast, Depp's team shielded him from undergoing a psychiatric evaluation on grounds that he "does not allege a specific cause of action for intentional or negligent infliction of emotional distress; does not assert that Ms. Heard's actions caused him a specific psychiatric injury; and does not claim that Ms. Heard's actions caused him to experience unusually severe emotional distress." That stands at odds with the narrative Depp presented at trial, in which Heard factored as a serial abuser in both a physical and emotional sense. On the stand, Depp also spoke of a specific incident in which he used his bloody stump of a finger to write threatening messages to Heard on the walls in blood. Depp described it as "probably the closest" thing to a "nervous breakdown" he has ever experienced.
In February 2022, Depp's team reportedly objected to a request from Heard's team that the actor "please describe in detail each and every incident" in which he said Heard physically or emotionally abused him, including "dates, times, and location as well as a description of the communications and actions leading up to, through, and following such alleged violence or abuse." Heard supplied that level of detail in her courtroom testimony, but in the documents, Depp declined to comply. The counterclaim argued the request was "unlikely to lead to the discovery of admissible evidence," according to The Daily Beast, "and that it seeks documents and communications that are irrelevant, immaterial, or unnecessary to the issues in this Action."
Depp moved to exclude certain unsavory texts from the court record.
Although Depp's friendship with Marilyn Manson came up frequently during the trial, the unsealed court docs reportedly show that Depp fought to keep his texts with Manson out of court. According to the New York Post, Manson — who is similarly suing his ex-girlfriend Evan Rachel Wood for defamation after she and others alleged sexual abuse, grooming, and rape at the singer's hands — texted Depp in 2016 about an "amber 2.0" situation. "Lindsay just puled [sic] an amber on me…please delete," he wrote. Depp reportedly texted back, "I been reading A LOT of material on that and sociopathic behavior…it is fucking real my brother!! My ex-cunt is goddamn TEXTBOOK!!!" Then Manson, who is currently married to a woman named Lindsay Usich, wrote, "I got a serious police amber type scenarios with L's family. I'm fucking stressing. I don't know if you are back but I need asylum somewhere because I think the cops might be headed my way." Depp reportedly worried that this exchange with Manson would make him appear "guilty by association."
The unsealed docs supposedly also concern missing texts in which the actor referred to himself as a "lunatic" and a "fucking savage." Those descriptors appeared in an apology Depp had allegedly sent Heard after (again, allegedly) assaulting her on a plane in 2014. After that incident, Depp's ex-assistant Stephen Deuters texted Heard, "If someone was truly honest with him about how bad it really was, he would be appalled," referring to Depp. "I'm sad he does not have a better way to really know the severity of his actions yesterday. Unfortunately for me, I remember them in full, in full detail, everything that happened. He was appalled, when I told him he kicked you, he cried." Depp reportedly sent Heard an apology, explaining that his "illness somehow crept up and grabbed" him again, an apparent confirmation of Heard's assertion that Depp was under the influence at the time. According to The Daily Beast, though, Depp's legal team couldn't find the texts on the actor's iCloud, raising the possibility that they had been "deleted." And though they were admitted as evidence in the U.K., they weren't allowed in the U.S.
Heard's attorneys urged her to go for a larger divorce settlement.
Heard's attorneys reportedly encouraged her to go for a larger sum in her divorce settlement, emphasizing that she was potentially entitled to "tens of millions of dollars" from Pirates 5 alone because Depp shot it while the pair were married. From the beginning, Heard attempted to rebut the criticism that she had invented a false abuse claim to get more money out of her more famous ex-husband by saying she was donating the sum to charity. (At trial, it emerged that she hadn't actually done that yet.) When she declined to follow her lawyers' advice, they reportedly praised her for being "amazingly true to your word, that this is not about the money." Judge Azcarate removed that particular divorce-related line of evidence from the jury's consideration.
Heard's team wasn't allowed to include some of Disney's alleged warning to Depp's then-agent.
According to the Post, Heard's attorney, Elaine Bredehoft, was also barred from questioning Depp's former agent Tracey Jacobs about the aftermath of a TV appearance Depp made while allegedly drunk and high "to the point that Disney studio executives called Ms. Jacobs asking, 'What the hell was wrong with your client?'" Heard's team said it was a similar story with the filming of Pirates 5, during which Disney execs allegedly warned Jacobs that Depp's substance use was not 'going to be tolerated,' that they were 'not going to put up with this,' and that 'there was no love between Johnny and Disney, given the Pirates 5 situation.'" At trial, Depp insisted Heard's op-ed was the reason that his relationship with Disney had soured and that Captain Jack Sparrow was written out of any future Pirates of the Caribbean movies. Heard maintained that Depp ruined his professional prospects himself.