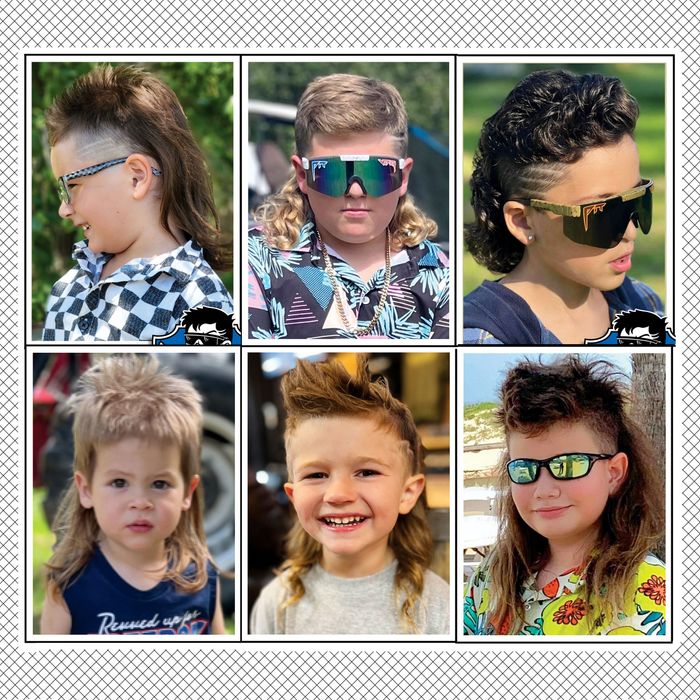 Photo-Illustration: by The Cut; Photos: USA Mullet Championships
It's that time of year. Summer is rapidly dwindling, you're wondering if you should get a trendy haircut for the fall, and, wouldn't you know it, the USA Mullet Championships are right around the corner! Coincidence? I think not.
On Monday, voting began for the Kids' Division of the 2022 USA Mullet Championships, a competition that pits dozens of young mullets against each other for the prize of Mullet Champion. Scroll through the contestants, and you will find a treasure trove of hair and reflective-eyewear inspiration.
Thanks to these looks, I now understand that a mullet is a world of opportunity for artistic expression. The competition's website lists ten subsections of the mullet, including the Kentucky Waterfall, the Pompadour, and the Extreme Mullet (!!!), though frankly we need more categories if we are to comprehend the range on display here.
Would you like to carve your astrological sign into the side of your mullet? Look no further than Miles, whose mullet includes a lightning bolt shaved into the side. Or Landry and William, who have both incorporated American flags into their mullets:
If you thought you knew everything there was to know about bangs, please gaze upon Emmett's tiny fringe, which is giving every photographer in Bushwick a run for their money:
Should you feel moved to support any of these inspired looks, you can vote for your favorite child mullet on the competition's website. Then, screenshot it and take it to your hairstylist immediately.