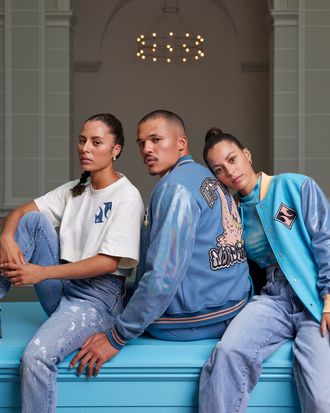 Photo: Courtesy of Nordstrom
What is it?
Nordstrom, in partnership with Virgil Abloh's estate, has brought together some of the late designer's most notable projects in one cohesive collection. You'll find new pieces inspired by archival elements of his fashion brand Off-White, his creative studio Alaska Alaska, his art gallery Canary Yellow, and Church & State merchandise from the buzzy "Virgil Abloh: 'Figures of Speech'" exhibition on display at the Brooklyn Museum.
On sale are oversize graphic tees, which we've come to expect from Abloh's camp, as well as quote-stamped accessories like baseball caps, low-top sneakers, and the instantly recognizable Jitney bag in a Carolina-blue shade that's featured throughout the collection. Also for sale is a slew of bead-embellished ready-to-wear — like slinky slip dresses and a degradé coordinates set. Off-White's signature checked print presents itself in the form of fitted blazers with bold shoulders and button-up shirtdresses emblazoned with the designer's stamp across the side.
(This is Nordstrom's latest "New Concepts@Nordstrom" pop-up to present curated shopping experiences for the store's shoppers; the series has included brands like Dior, Thom Browne, and Fear of God.)
Do I Need This?
Yes. Aside from owning a little piece of fashion history, when you purchase something from Concept 018 you're supporting the Fashion Scholarship Fund's Virgil Abloh™ "Post-Modern" Scholarship Fund. Nordstrom has committed to contributing to this initiative with both monetary donations and a mentorship program that connects Black students with Nordstrom executives.
How Do I Get It?
Prices for the capsule collection range from $65 for some T-shirts to $3,365 for a bomber jacket. You can shop the full assortment online or in store at one of Nordstrom's 15 locations.
What Are People Saying?
Over the course of his career, Abloh amassed a cult following of dedicated fans, and as a result, pretty much everything he's linked to generates a good amount of buzz. The new curated collection at Nordstrom is no different. The Instagram comments on the retailer's posts about the launch show the excitement. On TikTok, creators of all sizes are venturing to nearby stores to peruse the product offerings and share how the experience feels like "you're entering a little workshop where all the designs are coming to life." Others are showcasing the meticulous details on some of the items, like the Dickies pants with graphic drawings throughout the fabric.
For more from the Cut Shop team, follow us on Instagram and Twitter, where we share our best new finds, favorite styling tricks, and more.