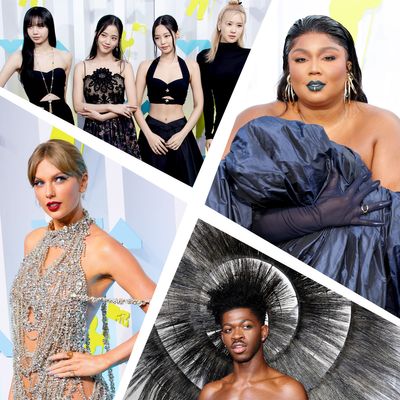 Photo-Illustration: by The Cut; Photos: Getty Images
The stars and star-adjacent, niche micro-celebrities arrived on the black carpet at the 2022 MTV Video Music Awards tonight wearing clothing. Sure, some showed up to serve (looking at you, Lizzo) but others showed up to seemingly sell watches, like Murda Beatz, and live out their sweaty, teenage dirtbag eras, like the bazillion attendees draped in all-black leather in the extremely humid New Jersey heat.
As is tradition at the VMAs, it's hard to nail down one, cohesive theme. After all, this is the same carpet Lady Gaga blessed us with her iconic meat dress on. In fact, it's hard to know if all of these stars are headed to the same event. Formality is thrown out the window and self-expression reigns supreme, and if that means looking like you just rolled in from a backyard barbecue like Nev Schulman or Prada dressing you in Severance-core like DJ Khaled, so be it.
We noticed a few trends on the black carpet, like the apparently agreed-upon gothic attire over half the attendees showed up in; the strands of hair draped over the face that drove us absolutely crazy a la Anitta and Dixie D'Amelio; the exposed left breasts that jiggled their way down the carpet (Lil Kim did it first) and the obscene amount of leather sure to cause a local baby powder shortage.
Given the chaotic nature of this award show, we've broken it down into equally chaotic categories to help you sift through it all.
Best Dressed
We have to give it to Lizzo in Jean Paul Gaultier. Because, honey, look at the material.
Best Dressed Runner Ups
A close second are the icons from Blackpink: Lisa, Jisoo, Jennie, and Rosé, wearing Celine, Dior, Chanel, YSL, respectfully.
Most Cher
Lil Nas X in Harris Reed.
Look That Saved the Night
Taylor Swift serving Swifties their dose of "Mirrorball." We are happy to see you Tay Tay.
A Look We Love
Kamie Crawford in Hanifa. Period.
Most Robust Use of Prints
Red Hot Chilli Peppers members — Flea, John Frusciante, Anthony Kiedis, and Chad Smith — all arrived decked out in prints.
Most Y2K
Cyn Santana arrived in a look that was basically cut-and-paste from the early aughts, down to the two streaks in front of her face.
Most VMA-Themed
The VMAs have always been about pushing fashion forward and Conan Gray delivered in this Harris Reed look.
Most Convenient
Chloe Fineman teamed up with threeasfour and Instacart to come up with this look. Apparently the dress has lots of pockets to hide snacks.
Best Fall Fashion Inspo
We were confused when Jack Harlow showed up in almost 80-degree weather wearing a full leather look. But then realized, you have to dress for the season you want. And this is Hermès.
Best Accessories
Dove Cameron's nails, manicured by Juan Alvear.
Most Office Appropriate
DJ Khaled in a gray, Prada button up. It doesn't get more subversively tame than that.
Best Back to School Inspo
Bob the Drag Queen is the embodiment of the dark academia aesthetic. Bob is the main character in the library at Hogwarts.
Most Punk
Avril Lavigne, duh. No one else can compare to the queen of angst.
Most Chaotic
We aren't sure what is happening with Samy Hawk's look. But he looks like he is having fun. And that is all that matters.
Most Likely to Stick to a Couch
We had to include Jack Harlow's second look, only because it looks like it would make squeaky noises when he walks by.
Most Likely to Save the World
Chloe Bailey looked like a superhero in her silver gown, and we are here for it.
Most Prom-esque
Sabrina Carpenter served up a look that was both saucy and sweet, which is exactly what I was going for at prom.
Most Holy
We are worshipping Becky G's stained glass/tarot-inspired dress. How could you not?