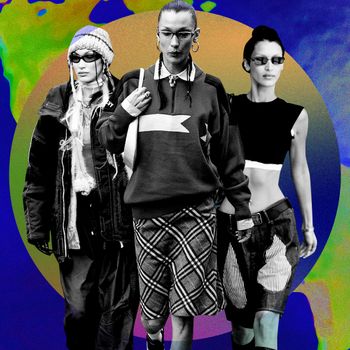 Photo-Illustration: by The Cut; Photos: Getty Images
In May, a Twitter account called @kaiageber (not to be mistaken with that of the actual model Kaia Gerber) tweeted, "the weird girl aesthetic, is it anti-fashion?" Before we could answer the question, we needed to first understand: What is "weird girl aesthetic"?
So what is it?
If weird-girl aesthetic were a cult, Bella Hadid would be the leader. Hadid dresses in a mix and match of colors, textures, designers, and fashion eras, which is, sure, weird. But she is not the only one. There are also Iris Law, Sydney Lynn and Devon Lee Carlson, Charlotte D'Alessio, Courtney Mawhorr, and Claire Carmouche, whom @kaiageber used as examples, showcasing side-by-side visuals of their formerly minimalist selves against looks of them shrouded in layers of fabrics, combinations of colors, and prints paired with bold makeup. The account asked whether they were "trying too hard just to look ugly."
On the surface, weird-girl aesthetic looks like maximalism, with styles that were popular in Y2K. It favors pieces that don't exactly go together but work anyway. Think a baby tee paired with a miniskirt — then add leg warmers, then a knit hat, then top it all off with some dad sneakers. They're all thrifted in different colors and patterns.
But if you dig deeper, the look is not simply maximalism or piling on clothes. Clara Perlmutter, known as @tinyjewishgirl on TikTok and Instagram, argues that the maximalist style is loud while the weird-girl aesthetic is understated but quirky.
The look is also keenly referential. It's not about getting just any baby tee; it's about getting the right baby tee. For Perlmutter, that means revisiting her childhood interest in music videos on MTV Hits and the costume design of films and TV shows such as Sex and the City, Josie and the Pussycats, Hedwig and the Angry Inch, and The Fifth Element.
She says there's an "underrated undercurrent of sexiness in a lot of our senses of styles." The aesthetic tends to gravitate toward sheer and formfitting pieces and, of course, cutouts.
It's starting to make it's way into high fashion. Marc Jacobs's brand Heaven featured baby tees in bright colors with offbeat graphic designs and chunky shoes, all heavily borrowed from the aughts and Japanese subcultures such as the Harajuku style captured in FRUiTS, a niche streetwear magazine. (In fact, a Heaven campaign was shot by FRUiTS founder Shoichi Aoki.) Fashion commentators such as TikTok user Alyssa Mosley and fashion historian Mina Le credit Heaven as a driving force behind the popularity of the aesthetic.
So, really, what shifted in fashion?
It's part of our natural trend cycle, according to Le, while Perlmutter argues it's linked to the pandemic. Before turning to TikTok as an outlet to express herself, Perlmutter had been wearing pajamas every day. "I think this style movement is about a celebration of self and all that we've overcome and a means of communicating who we are and what we're about after being so socially shut off from one another." Could be. Or perhaps people we're simply over the minimal clean-girl aesthetic, and this is fashion's answer to party-girl chic. Either way, it's cute, and if you'd like to re-create it, keep scrolling.
So how do I get the look?
How do you shop for an aesthetic that's kind of everything all at once? The look relies heavily on individuality, so go back to your favorite cult classics and early-aughts music videos and see how people dressed. Then mix it all together. To get you started, we found some quintessential weird-girl pieces you can shop today.
If you can incorporate the aesthetic into your look in even the tiniest way, let it be with this bag.
Ease into the look with a teeny top you can pair with almost anything. The weirder, the better.
This looks like a skirt you could've picked up at Wet Seal or Bebe in 2002.
Because you need something to wear with your miniskirts and platform boots.
Reminiscent of the early-aughts popcorn-textured tops, this is only improved with the matching hat, which is very in line with the aesthetic.
This black tube top leans into the sexier side of the look, and it's perfect for layering in very weird ways.