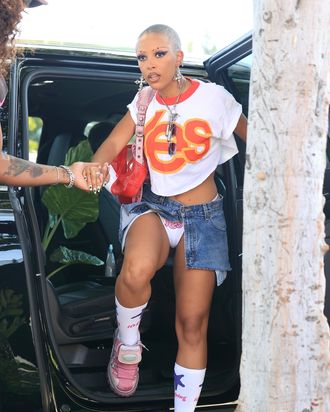 Photo: ShotbyNYP/Backgrid
Take a page from Doja Cat's book and free the thong! The world is burning, who cares if your undergarments become part of the outfit? In fact, they should. Be bold; let your underwear become outerwear.
The singer (who also recently shaved her head and eyebrows) was photographed at a plant shop wearing a white cropped shirt that said "Yes" with a matching white thong, also inscribed with the same word. Both are allegedly from her forthcoming and unreleased clothing line, It's Giving.
I'm not interested in nor am I in the business of shaming women for their crotch shots like the tabloids did to Britney incessantly during the early aughts. Women deserve to flash whatever undergarments (or lack thereof) whenever and wherever they please. In this instance, though, this statement set of panties was meant to be seen, poking out of and through a repurposed and snipped-up pair of jeans, alongside its matching shirt. And so, we will appreciate them as such.
After all, Doja isn't the first celebrity to lean into the statement thong. Kourtney Kardashian's stylist, Dani Michelle, Instagrammed a set of underwear presumably belonging to Kardashian embroidered with her then-fiancé's name — "Travis," if you're somehow unfamiliar — from La Perla ahead of the duo's wedding.
Making a statement in fashion is increasingly more and more difficult, and as the world continues to grow warmer due to the climate crisis, the one way to remedy both of those problems is to wear less clothing and rely on your underwear to essentially be the outfit — i.e., just say "yes"!