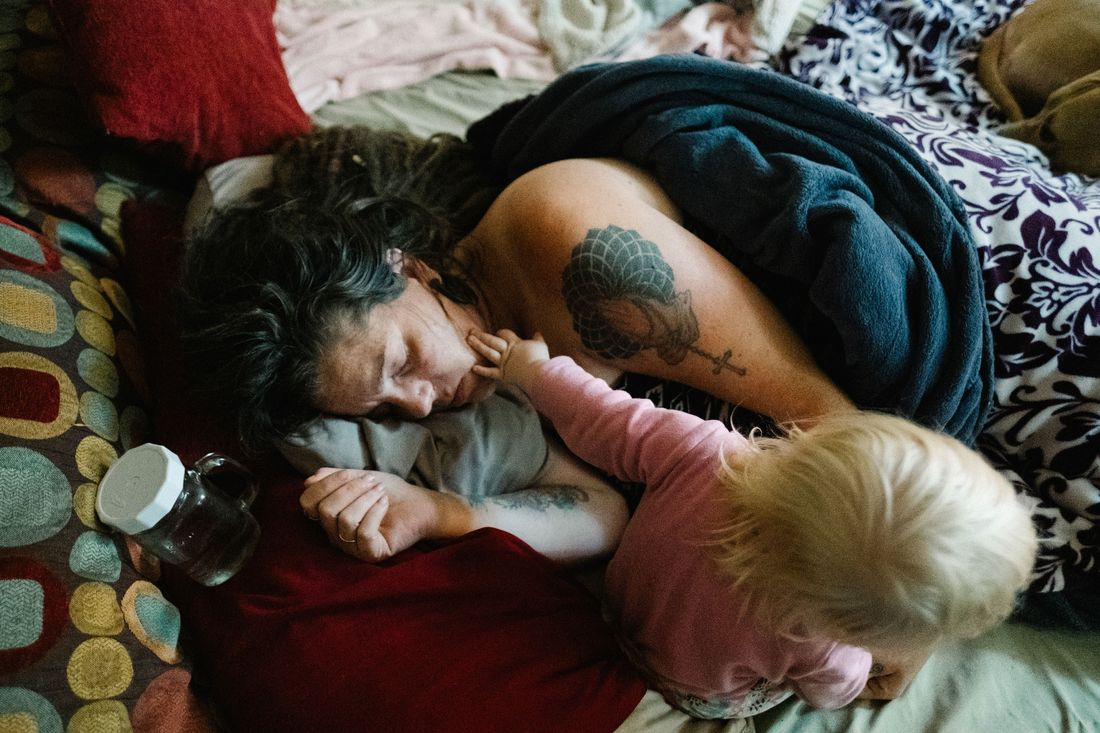 A participant's toddler comforts her while she rests during her medical abortion at home.
Photo: The Abortion Project
The visual language of abortion is still often defined by coat hangers and graphic close-ups of fetal remains, tropes that don't reflect the reality of contemporary abortion care. Over half of abortions in the United States are administered medically, with pills that can be taken from the comfort of home. As full-spectrum doulas — who support all outcomes of pregnancy, including abortion — Heather and Sarah noticed that these misperceptions created anxiety and confusion for the people they supported. Determined to show the reality of the experience, Heather and Sarah began a project to photograph their clients as they have their abortions, while providing doula support in the process. Since 2019, the two have documented seven abortions around the country, collecting the images in zines that they distribute through their website.
Heather: In 2019, shortly after Sarah and I met at a training event, I got unexpectedly pregnant. My partner and I knew right away that we wanted to have an abortion. Even though I was training as a full-spectrum doula, I wasn't prepared for my abortion. It would have helped me so much to actually see what people actually go through. I was hit with how similar having an abortion is to giving birth to a live baby. I felt like I was having contractions just like I did giving birth. I had my abortion in a hotel room with Sarah and another friend, who was also a doula. Sarah took pictures with her cell phone, which was really powerful to me, because as a birth photographer, I know how amazing it is to have images of those experiences in your life to not only process, but to share your story.
After my abortion, Sarah and I knew that we wanted to do something together that showed what abortion actually looks like. We wanted to not only destigmatize it, but to demystify it and let people know what they could expect for their abortion, so we founded the Abortion Project.
Sarah: We get a lot of referrals from people who I have supported in the past and from local abortion funds. Usually when people find out they're unexpectedly pregnant, they kind of panic and don't know what to do. When people think about accessing abortion, they think it's just a quick trip to a clinic, but it's so much more. As full-spectrum doulas, we're not just there for emotional and physical support, but really helping people with navigating the system itself, connecting them with clinics and abortion funds. When you're stressed out, it's so hard to make decisions, and it's really important to have someone by your side who has experience to walk you through your options.
After someone has made their clinic appointment, we start talking about a care plan. We do our best to prepare them beforehand, making sure that they have enough food in their house or helping them plan child care if needed. Whether it's a live birth, abortion, or a miscarriage, we're asking a lot of the same questions. Every experience is so incredibly individual, and there's so many different feelings that somebody can have. Someone who is having a miscarriage could feel relief, or someone who's having an abortion could be feeling an incredible sadness.
Heather: There is nuance to following the language each person uses, whether they're calling the pregnancy a baby or "the pregnancy" or by a name. There is a process to feeling out each person that isn't necessarily asking questions, but taking their lead and following. For an abortion specifically, we'll ask who they want to be present, what they want to call the pregnancy, and what they want to do before and after the abortion, ritual-wise. We also ask how they manage stress and pain in their day-to-day life, because that can be really telling of how they're going to want to be cared for during their abortion experience.
Heather: Sarah takes the lead doula role while I am photographing a lot during the experiences, but I try to jump in as much as I can. It's really amazing working with two doulas because we pick up on things the other may have missed.