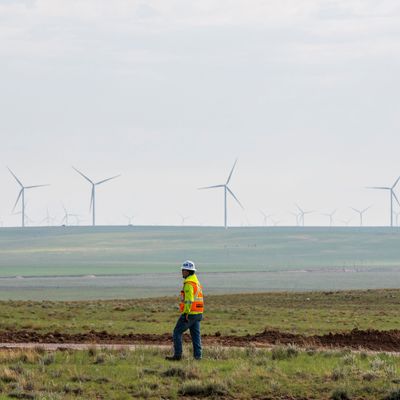 A construction worker at a wind farm in New Mexico.
Photo: Cate Dingley/Bloomberg via Getty Images
Between the wildfires burning from this summer's heat waves and the megadrought ravaging the American Southwest, it's as clear as ever that the planet is overheating. Yet despite the staggering amount of evidence of climate change, the U.S. has long failed to act: In June, the Supreme Court restricted the EPA's power to regulate carbon emissions. Shortly after, President Biden's domestic agenda — which included lowering health-care costs, reducing inflation, and enacting sweeping climate reform — appeared dead in the water after West Virginia senator Joe Manchin, a centrist Democrat known for tanking progressive legislation, declined to back it after nearly a year of negotiations.
But in late July, Manchin surprisingly reversed course, and Senate Democrats hammered out a $369 billion climate and tax package as part of the Inflation Reduction Act of 2022, containing the country's most ambitious and pro-climate legislation to date. The Senate passed the bill on Sunday, with the House expected to reconvene on Friday to clear the measure before sending it to Biden to sign into law. Experts suggest the deal will reinstate the U.S. as a global power in the fight against climate change and revive international efforts to reduce global warming, which have lagged in the months since Russia invaded Ukraine as spiking oil and gas prices have increased demand for fossil-fuel infrastructure.
Below, everything you need to know about the deal:
The proposed bill aims to tackle climate change by promoting clean energy.
Under the bill, billions of dollars in tax incentives will go toward bolstering clean-energy industries, including wind, solar, and geothermal companies. Companies will receive money to build wind turbines, solar panels, and batteries, and money will also be allocated to programs that cut agricultural emissions. (Still, without tax credits to offset the cost of constructing long-distance power that can bring wind and solar power to remote rural areas — something that previous drafts of the bill had included — experts warn that many of these renewable energy projects won't get built). According to the New York Times, the bill also provides financial incentives for companies that have shuttered their nuclear plants to reopen them; they'll also be incentivized to capture emissions to prevent them from entering the atmosphere and warming the planet.
Consumers, too, will receive financial incentives to make greener choices. Included in the bill is a rebate for homeowners who reduce their carbon emissions by installing a heat pump and — for those making under a certain income — a $4,000 tax credit for purchasing a used vehicle or a $7,500 tax credit for purchasing an electric one. Sixty billion dollars will be allocated to address the particular toll pollution takes on low-income communities and communities of color.
The bill will drastically reduce the United States' greenhouse-gas emissions.
Senate Democrats estimate that the new bill will slash greenhouse-gas pollution to 40 percent below the level it was in 2005 by 2030. This would nearly meet the 50 to 52 percent reduction target Biden set last year in accordance with the pace climate scientists recommend the world follows to keep global warming under the threshold at which the risk of disasters, including fires, droughts, and floods, significantly increases. "Without this bill, we'd be hopelessly far from our climate goals," Jesse Jenkins, an assistant professor at Princeton University and macro-scale energy-systems engineer, told the Times.
Republicans are, unsurprisingly, opposed.
Even with Manchin on board, Senate Republicans unanimously opposed the package. Wyoming senator John Barrasso has called the deal "nothing short of an attack on the American family," arguing that Congress should instead achieve its goals of reduced inflation and lower energy costs by "[cutting] spending and [unleashing] American oil and gas production." (Questionable strategy in a climate crisis). Nevertheless, Senate Democrats avoided a Republican filibuster by passing the bill through reconciliation, a process that allows Congress to enact legislation with a simple majority in the Senate.
This post has been updated.