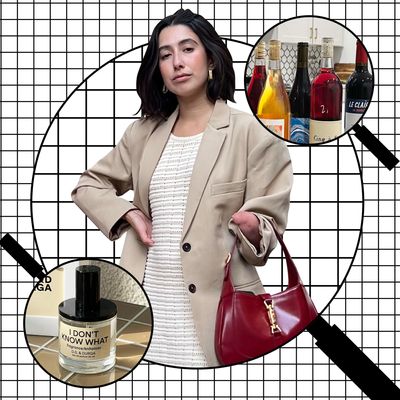 Photo-Illustration: by The Cut; Photos: April Lockhart
April Lockhart is making it her mission to normalize "disabled fashun girlies" on your feed, chronicling her outfits across social media. Lockhart believes that good style is "unique to the person and compliment worthy," she explains over Zoom from her Nashville home. "I feel my best when I'm in something bold that feels authentic to me. Confidence is a part of it. Things that fit well personality-wise and physically."
Lockhart is an avid online shopper but also obsessive about visiting every good thrift store and boutique in Nashville. (Her favorite is Modiste.) She is usually eyeing blazers, button-ups, and sweatshirts. (She prefers to shop in the men's section.) Pro tip: For denim and pants, she keeps a good tailor on hand, which she says is "life changing." Agree.
Where did you get the inanimate object that brings you the most joy?
This Robert Sonneman chrome lamp that I found on eBay. I had actually seen a similar lamp at a vintage store in Nashville and became obsessed with finding it. I don't have an eBay shopping strategy, but I did negotiate with the guy a little. I said, "This has been up for like two months — give me some kind of deal."
When I moved into my home a year and a half ago, I made a mood board of everything I wanted on Google Slides. I draw inspiration from the '70s, a bit of mid-century modern, and the '80s. I love chrome pieces. In my office, I have a chrome bookshelf, and I have little silver pieces running throughout the house. I like mixing wood and leather textures. My husband and I made this coffee table; we did a video, and the whole process took us about two months.
Where did you get your nightstand?
I got my nightstand at Urban Outfitters. I don't really have a story, but it's cool. On it I keep the Rhode Peptide Lip Balm or Vaseline. My nighttime routine changes all the time, but I used to struggle with acne-prone skin. I was doing the most, so I've pared my skin-care routine back quite a bit: I really only use cleanse, serum, and moisturizer. Now I'm using an Eadem cleansing balm. I also love the Youth to the People kale cleanser, the Tata Harper regenerating cleanser, and the Caudalie beauty elixir.
Where did you get your favorite vintage pieces?
I got a pair of perfect vintage Levi's from Passport Vintage in ATX. There is actually a lot of good thrifting in Nashville such as Music City Thrift and UAL. When I was living in New York, I swore by Housing Works; one of my old co-workers found this amazing pair of Celine loafers five years ago for $50. I found things throughout the years like Prada slingbacks, a little Dolce & Gabbana dress. East Nashville Antiques has great vintage-furniture pieces, and GasLamp Antiques has great furniture here.
Where did you get your favorite scent?
D.S. & Durga. It's called I Don't Know What. It's bold but light. This is my fragrance. It's great for every day — it's not overpowering. I've tried different fragrances: I love the Le Labo Bergamote 22 and DedCool Fragrance Milk. I alternate depending on my outfit, mood, and where I'm going, but this is what I always go back to.
Where did you get the item you splurged on the most?
I got my Gucci Jackie shoulder bag in the most gorgeous red in Paris. It was a spontaneous purchase. I don't do spontaneous things often, but I got all this tax money back, and the Euro was equivalent to the dollar, which basically made it free. I wanted that bag for a long time. It's so timeless, and it's the first designer bag I've bought myself. If you're gonna buy it new, go get the Champagne and have the in-store experience.
In my bag, I always keep something hydrating for my lips. I also carry the Rhode or Summer Fridays lip balm, my wallet, a mini beauty elixir to refresh my skin throughout the day, my glasses, and a hand cream. Occasionally, I'll keep a tester fragrance with me if I'm feeling like I'm going to be sweaty that day. And sunglasses too — I like Poppy Lissiman.
Where did you get the item you'll never get rid of?
A Mads Nørgaard denim jacket I got on a girl's trip to Copenhagen. I definitely try to shop abroad because it's so fun to bring back pieces you can't get here. Copenhagen has the best stores. I went with my college roommate, who was Swedish, and she was showing me everything Scandinavian. The department stores are also great.
Where did you get the one thing you always travel in?
I always travel in an Anine Bing sweatshirt; it's so comfortable. I've had Away luggage forever, and it's lasted me. I prefer hard suitcases to soft ones, especially when I'm traveling far or abroad. My Dagne Dover backpack is one of my travel essentials; I've had its pieces forever, and they always look brand new. It's impossible to get them dirty, which is ideal for travel.
Where do you get your favorite items to gift?
Lisa Says Gah for fun, unique pieces. I also go to Woodland Wine Merchant for the best natural wines. When it comes to my girlfriends, I'm always gifting fun and funky orange wines. I love Swick Wines too.
Where did you get your favorite item to layer?
Anine Bing; it's the Quinn Blazer. In the fall and winter, I don't layer more than three pieces usually, but that blazer is my go-to for every season. I grab it when I'm going anywhere just in case. I'll usually wear it over a dress in the summer or over sweaters in the winter and fall. It's really just my catch-all item.
For more from the Cut Shop team, follow us on Instagram and Twitter, where we share our best new finds, favorite styling tricks, and more.