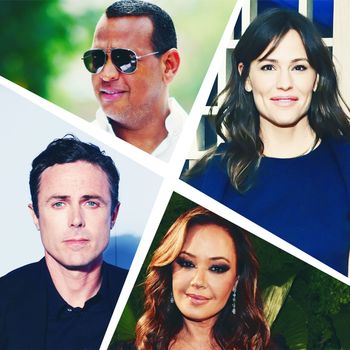 Photo-Illustration: by The Cut; Photos: Getty Images
Have you heard the news? If you haven't, you may want to check your internet connection. Twenty years after their first failed engagement, Ben Affleck and Jennifer Lopez are officially married (again). The couple hosted a lavish ceremony at Affleck's fake-plantation estate in Georgia over the weekend, surrounded by family and friends. Well, mostly. There were a few notable absences from the wedding, including Affleck's own brother, Casey. Luckily, the tabloids have been working overtime to track down the locations of countless people in Bennifer's orbit during their wedding. Here, what we've learned.
Casey Affleck, Oscar-winning actor and brother of the groom
Casey reportedly missed the wedding due to "family, parental obligations at home," as revealed by a source to People. As paparazzi quickly tracked, he was busy hitting up Dunkin' Donuts on Friday, just as family and friends were reportedly enjoying a rehearsal dinner. On Saturday, as J.Lo and Ben were exchanging their vows, Casey was reportedly taking his teenage son Atticus to soccer practice, helping a kid with a broken arm, and taking his girlfriend, Caylee Cowan, out for ice cream.
He later posted a message of congratulations to the happy couple, welcoming Lopez to the family via the most personal and binding form of communication there is: Instagram. "Welcome to the family," he wrote. "Get ready for some real dysfunction!"
Leah Remini, ex-Scientologist activist, longtime BFF of the bride
Despite accidentally outing Bennifer as a couple on Instagram, Remini was also MIA. According to TMZ, she couldn't make it because she was focused on getting her daughter, Sofia, ready to go to college. It turns out the Bennifer wedding was a real who's who of celebrities who didn't have to spend time with their kids that weekend.
Marc Anthony, ex-husband of the bride
Of course, tabloids haven't been hunting down just brothers and close friends of the bride and groom; they've also been tracking their famous exes to see where they were during the nuptials. J.Lo's ex husband Marc Anthony, with whom she shares twins Max and Emme, was photographed in Miami. Based on an Instagram post from his fiancée, Nadia Ferreira, it seems the two of them spent the weekend lounging around on a boat. Fascinating.
Alex Rodriguez, ex-fiancé of the bride, noted brooder
Lopez's most recent fiancé pre-Affleck, Alex Rodriguez, shared a very awkward photo of himself this past weekend. The photo itself, of A-Rod lounging around in his office, is pretty unremarkable, though I do have questions as to why this man is comfortable putting his dirty boots right in front of his computer. What's interesting is his choice of outfit. As noted by some very observant fans, A-Rod appears to be wearing Ralph Lauren — the designer responsible for Lopez's custom wedding gown. Coincidence? Probably, but given his past Instagram behavior, we can't be sure.
Jennifer Garner, ex-wife of the groom and woman who deserves better
Jennifer Garner, a woman who shares three children with Affleck — all of whom attended the wedding — and has nothing to do with this event, was spotted shopping at Sam's Club in West Virginia with her dad and boyfriend, John Miller. "Page Six" reported that the actress was invited to the wedding; TMZ said it was unable to confirm. But either way, I say let her live in peace. This is a woman whose ex-husband had an affair with their nanny, got the world's most hideous back tattoo after their divorce, and accidentally implied that he would still be drinking if he were married to her, even after she was photographed driving him to rehab as their divorce was finalized. If she wants to skip on his plantation wedding for a shopping trip, then more power to her.