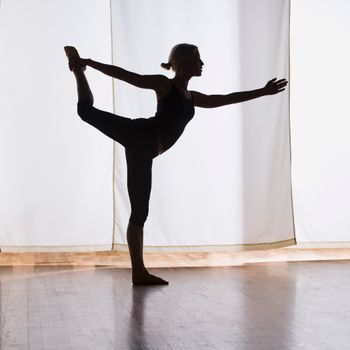 Photo: Erik Isakson/Getty Images/Tetra images RF
On Wednesday, August 24, the Department of Justice announced that three leaders of Yoga to the People, the defunct chain of yoga studios that once provided free classes, had been arrested for tax fraud. Founder Gregory Gumucio and two of his associates, Michael Anderson and Haven Soliman, were each charged with one count of conspiracy to defraud the IRS and five counts of tax evasion.
Yoga to the People has been shuttered since July 2020, after former employees and students started sharing allegations of racism, body shaming, toxic culture, and sexual misconduct on an Instagram account called YttP Shadow Work. Many accusations revolved around Gumucio, who, according to these accounts, was a controlling and manipulative womanizer running a cultlike organization built largely on free labor.
Now Gumucio has been accused of running a yearslong scam under the guise of a donations-based yoga studio. According to a press release from the U.S. Attorney's Office, Gumucio, Anderson, and Soliman all failed to file individual or business tax returns for their YttP income, sometimes forging these documents for third parties like apartment or loan applications. They allegedly didn't pay any income taxes from the more than $20 million they made off of YttP between 2013 and 2020. The complaint details a wide range of sketchy business practices including paying employees in cash and off the books, refusing to provide employees with tax documentation, and using the business' accounts to pay for personal expenses like travel, horseback riding, and NFL season tickets. The complaint describes "stacking parties" at Gumucio's New York City apartment, where studio managers would allegedly bring cash donations from yoga students and count them.
The U.S. Attorney's Office claims that Gumucio convinced people to provide free labor like "teaching unpaid classes, stacking cash, cleaning yoga studios, depositing cash into bank accounts, etc." In the complaint, a special agent described YttP as "a more than decade-long cash cow that relied on a sophisticated network of tens of millions of dollars in unreported income and free labor to fund the leaders' lavish lifestyles" — a far cry from the community-based, democratized utopia the studio portrayed itself to be.
Not much is known about Anderson and Soliman, though they were definitely members of the YttP leadership — a since-deleted page for one of Gumucio's other shuttered studios, Hot Yoga on Pearl, describes a woman named Haven (presumably Soliman) as his wife, and Anderson is listed on several business records bearing some variation of YttP's name. Gumucio, Anderson, and Soliman each face up to 30 years in prison if found guilty.