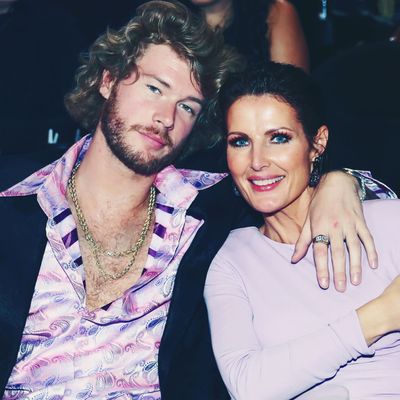 Photo: Johnny Nunez/Getty Images for MTV/Paramount Global
Last night, Yung Gravy took Addison Rae's mom to the VMAs. If you don't know what any of these words mean, consider yourself blessed and save yourself from learning more. We, on the other hand, have unfortunately learned all about this niche TikTok drama against our will.
Mr. Gravy, a 26-year-old rapper whose real name is Matthew Hauri, made out with Sheri Nicole Easterling, mother of TikTok darling Addison Rae, on the red carpet of last night's event in coordinating lavender outfits. The duo got together after weeks of online flirtation following Easterling's split from Addison's father, Monty Lopez, upon reports surfacing of Lopez's infidelity with a 25-year-old influencer.
Yung Gravy, best known for his song "Betty (Get Money)," teased that he was planning on taking Easterling as his date last month and told "Page Six," "I hit on her first, I knew of her and I thought she was fine." He also noted that he was "into MILFs" and that Easterling, 43, is "kinda the queen of MILFs." Wow, romance is not dead.
Since catching wind of the flirtation, Lopez has been taking to TikTok to share his grief in the form of a series of loosely threatening videos. In one, Lopez warns Gravy, "Watch your mouth when you're slapping your gums, bro." In another, he flexes his muscles while shirtless and grits his teeth, overlaying the video with texts that read, "When @younggravy won't accept a boxing match!" Then, standing to reveal his "Lopez" stomach tattoo, a text overlay reads, "Run whiteboy Run."
Lopez has been posting these veiled threats against the rapper for weeks on end despite the 20-year age gap and numerous children that separate the two of them. Last night, via Instagram and once again shirtless, Lopez thanked Gravy for "taking the leftovers." We'd very much like to erase this narrative from our minds.
Addison no longer follows Lopez on Instagram.