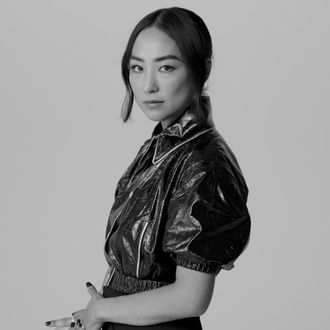 Photo: Courtesy of Tribeca
Calling from the set of season three of The Morning Show, Greta Lee was finally on her twice-delayed lunch break. The actress, currently starring in both this Apple TV series and Netflix's Russian Doll, wasn't rushing to craft services, though: Luckily, she told me, she'd been snacking all day.
Instead, Lee spent some of her downtime talking to the Cut about the beloved clothing she inherited from family members, discussing how she thinks it would be "hilarious and also very depressing" if she and co-star Natasha Lyonne time-traveled to Depression-era Dust Bowl America, and sharing something she's passionate about: supporting women in the film industry.
Lee has long been an advocate for women filmmakers, which can be seen in her support of the Tribeca Chanel Through Her Lens program. Chanel and Tribeca's partnership spans 15 years, and the multiday mentorship conference runs from September 20 to 22 this year with a leadership committee that includes Patty Jenkins, Annette Bening, and Karyn Kusama. It provides industry support, artistic-development support, and funding to emerging female and nonbinary filmmakers, bringing in leaders from around the globe to hold workshops, classes, and peer-to-peer sessions.
Today, Lee lent us her voice to help announce the eighth installment of Through Her Lens. Check out the video below as well as our Q&A with Lee.
Can you tell me about your support for the Through Her Lens program? Why is it important to you?
It is a nexus of several things I really enjoy: women, film, and Chanel.
They represent such different worlds for me personally. The women in my life and previous generations of women in my family have all shared a love of Chanel. My great-grandmother had saved every penny to own Chanel. My mother gifted me a small red quilted Chanel bag as a wedding gift. At the time, I don't think I could really appreciate the full meaning behind it, but now I've gotten a little more context for what that really means for her and someone like her: this idea that, as a woman, as a mother of multiple children, as a wife, and moving through multiple spaces, moving to different countries, the idea of taking pride in yourself. It was her way of saying "I love you" and "Carry the women who have come before you with you" and "Be proud of yourself." It sounds kind of intense, but it represents this bigger thing for me.
What do you think is the greatest barrier to entry for women in film?
It's probably the things that are barriers for women, period. Including literally their periods. The obstacles that can come with family planning, being a caretaker, having children while navigating a career, pay inequity, how to figure out the resources to sustain yourself and your family. As an artist, it took me some time to understand and appreciate that Oh, there are certain things that are really important. It makes something like pay and equity not just a broader abstract political idea but an understanding that I need certain things in order to show up and be the best version of myself I need to be to do my job.
In addition to being a very successful woman in film, you've worked with some other incredible women in the industry. You're on set with some of them right now. What have you learned from working with them? 
I think the through-line with some of these women, like Reese Witherspoon, like Jen Aniston, like Natasha Lyonne, and Leslye Headland, is how much of a necessity community is in championing other women. And these women are real entrepreneurial powerhouses. They take up space. They say what they mean and mean what they say, and that really goes a long way.
You're also incredibly fashionable. What's one go-to piece of clothing in your closet?
That's funny because this is gonna be the least-fashionable answer: track pants. I have a collection of track pants that is very special to me, and it really runs the gamut from high-end to pants that were previously owned by my grandfather.