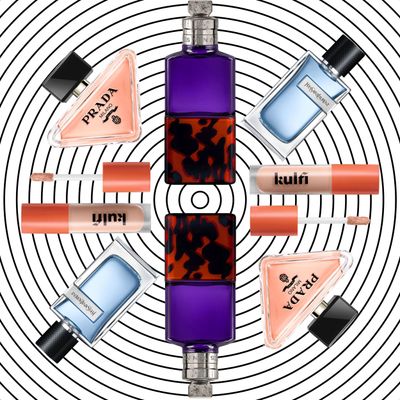 Photo-Illustration: by The Cut; Photos: Retailers
I tried all 17 of these beauty launches and here is what I learned: For some reason, all beauty brands must've gotten the memo that August was all about fragrance and concealer because there was a new one almost every week. Me? I'm still on my #BlushGirlSummer.
The best thing about all of these launches is that they're great for the season transition that we're about to experience — floral fragrances with the perfect amount of warmth, full-coverage concealers to replace foundations for lazy fall days, and even some travel products if you prefer to travel after the summer rush.
Fragrance
I wore Prada Candy throughout all of my college years. It was sweet and it got me lots of compliments. So when I saw that Prada was officially foraying into beauty and launching a new fragrance, I was eager to get my hands on it. When I first sprayed it I got a whiff of nostalgia with the floral notes, but once it settled into my skin the warmth came through a bit. For a more mature scent I'll probably layer it with another musky and ambrette scent. But if you love feminine florals, you'll love this new addition to the Prada family.
When I found out Dries Van Noten was launching a fragrance I knew the packaging would be reminiscent of his designs. And I was right. Each bottle is designed to attract the wearer to the bottle that they'd enjoy the scent of most. Unsurprisingly, I fell in love with a rich-purple bottle designed with a tortoiseshell print. It's intense with potent suede notes but balanced with soft jasmine and amber.
Baccarat Rouge 540 has gone viral on TikTok. So how do you top that? Maison Francis Kurkdijan tried with their latest scent, a musky floral. I've been wearing it to the gym, which may sound odd, but I really enjoy how fresh it smells after a long workout.
I'm not exaggerating when I say it's the best cologne I've smelled in a really long time. I gave it to my male friend and asked him to wear it; with one spray the whole car smelled like lavender and incense.
As a full disclaimer, I am a Kay Ali stan and love almost everything they launch. This new scent is no different.
Aerin's OG Rose de Grasse scent is light and rosy, a fresh everyday scent. This version smells a lot creamier.
Concealers
Sephora Collection's Best Skin Ever foundation is dubbed one of the best-kept secrets in the beauty industry. I had to try the concealer myself, and did so during one of my longest and hottest days this summer. It never budged through my sweat — in fact, my skin felt more hydrated with it on. Since then, it's replaced foundation for me on days where I want full coverage, but not the cakey-ness of full coverage.
This concealer was made with Southeast Asian skin tones in mind after the founder struggled to find concealers that matched hers. At a launch dinner almost everyone who I saw trying it was thoroughly impressed with the golden finish it left on their skin. Plus: It fills a void in the industry for Southeast Asian women who've had the same struggles. A win for us all.
The lightweight, creamy Bobbi Brown concealer melts into the skin almost instantly. I don't have super-dark under eyes, but after some long summer nights I looked tired, and this was the product I turned to to wake my face up.
The Charlotte Tilbury concealer is a makeup and skin-care hybrid, intended to be both a concealer and eye cream. The smoothness or blendability sold it to me. Plus: If you like to wear highlight, there's none needed with this concealer. It glows.
Too Faced's Born This Way foundation is hydrating and buildable; a little goes a long way. It's been great covering my hyperpigmentation.
Ariana Grande's r.e.m. beauty concealer is packaged like an eye cream. While it has a great blurring effect on the skin, I loved it most for its contour abilities. This product actually made me eager to try more of her products and so far I have nothing bad to say about it.
There Were Other Good Launches Too, Though
So long to boring refillable product bottles in the travel section of CVS. These sustainable and reusable bottles were created for us to travel in style. I already have my hair products in them for my upcoming trip.
Fenty Skin's treatment lip oil is hydrating and leaves my lips cushiony smooth. It also has a sheer application that pairs well with nude lip liner. Plus: The cherry scent brings me back to the 99 cent cherry lip balms the beauty supply used to sell.
Another new product that TikTok loves. I normally don't have enlarged pores, but I noticed that this product quickly blurs the texture of skin and minimizes pores. With hyaluronic acid and niacinamide, it's a game changer for the complexion.
Who doesn't love Dyson's airwrap? They launched a new color this month, an intense violet with metallic pink. It's now not only one of the best tools on the market, but the prettiest.
For more from the Cut Shop team, follow us on Instagram and Twitter, where we share our best new finds, favorite styling tricks, and more.