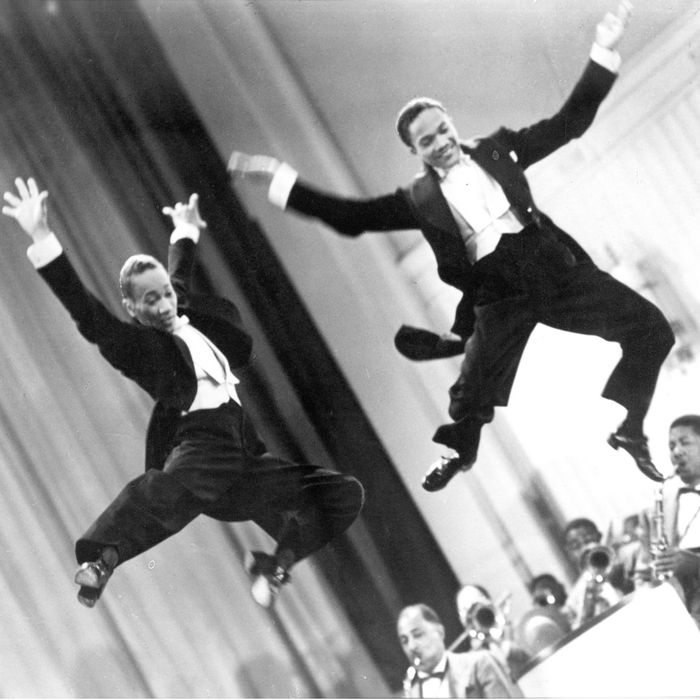 Photo: Courtesy Margaret Herrick Library, ©Twentieth Century Fox
Hollywood history is often presented in black-and-white. At the Academy Museum of Motion Pictures' groundbreaking exhibition Regeneration: Black Cinema 1898-1971, on view until April 2023, new meaning is brought to the concept of remembering "history in color." Yes, we all know that Hollywood's black-and-white films featured brilliant costumes that dazzled. But how many of us know that Black Americans were involved at all levels of filmmaking? We remember icons of the silver screen like Dorothy Dandridge and Sidney Poitier, but how many can say they were equally as aware of the fact that there were over 30 Black production companies across 15 states in the 20th century, employing Black folks in positions ranging from producers to lighting technicians to camera operators to editors? In Regeneration, curators Rhea Combs and Doris Berger have embarked on a journey to present this oft-untold history of Hollywood, addressing our misreading of the past, particularly when it comes to American cinema.
The results are plentiful and across several levels of moving images and cinematic art. The Academy Museum's entire fourth floor is dedicated to Regeneration, giving the show prime real estate in the institution. The exhibition opens with a kiss — from William Selig's 1898 short film Something Good – Negro Kiss, juxtaposed with Glenn Ligon's large-scale neon sign piece called Double America 2 (2014). In another room, a reel with eight Soundies — three-minute musicals that were the precursor to modern-day music videos — starring Black performers are presented on a Panoram (a visual jukebox of sorts, popular at bars in the 1940s). Curators Combs and Berger have dedicated an entire wall to glamour shots of Black silver-screen legends, from Sammy Davis Jr. and Duke Ellington to Diahann Carroll and Lena Horne. And their outfits, from films like Porgy and Bess and Stormy Weather are luminous, splendid in their color that registered as muted shades on black-and-white film in the 1940s and 1950s.
As the exhibition makes clear, the spirit of indie film, or thinking outside of the Hollywood studio system, was born out of necessity for Black American artists. Jacqueline Stewart, director and president of the Academy Museum, hopes this exhibition will finally introduce audiences to less widely known independent filmmakers. "There is a specific kind of appeal that I hope it has, for those of us who see a really personal connection to these artists, and we know there are fans of a lot of these stars and the mainstream appeal that many of them have," she said. "If the stories of Lena Horne and Bill Robinson draw folks in to learn something about Oscar Micheaux, Spencer Williams, and Madeline Anderson, it's all worth it."
I am often vexed by and have a cynical attitude toward conversations around "representation," and I am skeptical whenever pieces of culture that are brought out of the margins and into the mainstream. How could I not be, when the term and well-intentioned meaning behind it has been co-opted and twisted beyond recognition? But walking through Regeneration's seven galleries, I was filled with an overwhelming mix of pride, joy, and frustration. I was fighting the urge to want to own some of the race film posters for myself, as I am grateful that they are on view in a museum where more people will see them and learn about them, while also recognizing how much I was feeling connected to my own culture at that moment.
When I arrived in the gallery dedicated to music and film — the Academy Museum provided a handful of journalists with a trip to L.A. for the exhibition — I turned to a friend, another Black writer also present for the show, and we briefly exchanged thoughts on how emotional we were feeling to bear witness to the extensive and essential research on display, and how maddening it is to know that so many people, including myself, did not know all of this crucial history. "We really invented everything," we said. It's a cliché, but it's kind of true — at least in the sense that Black artists have laid the groundwork for American popular culture in so many more ways than most people are even aware of, and have yet to receive enough credit for their work. So much care and diligence went into the curation of this exhibition, and at that moment, filmmaker Ava DuVernay's words from earlier that morning rang true, too: Regeneration is "a miracle of deep love."
"This exhibition showcases the generations of Black artists whose shoulders we stand on … their very presence onscreen and behind the camera was an act of revolution; a cultural, political, and emotional victory that has echoed through generations; a triumph that transformed the way that we, as Black people, saw ourselves, and the way that we were seen," DuVernay said in her opening remarks of the exhibition's press preview. "Our humanity has always been known, even when we were told otherwise. You don't give your children to women who are less than human, savages, animals, to be nursed and fed. We've always been known despite the stories and myths constructed to distort our truth, but on screen a magic occurs. And at its most magnificent, it is a mirror to what is and what can be — that is the miracle of cinema. And the liberating news about Regeneration, is that this is an exhibit about that miracle, a miracle of deep love. The love of these pioneering black filmmakers, the love that they have for their people. The love that Black audiences have for images of themselves, and the love for film that we all share."
Also present at the press preview was filmmaker Charles Burnett, director of esteemed classics such as Killer of Sheep, To Sleep With Anger, and Selma, Lord, Selma, who called the exhibition "a total surprise." Director Oscar Micheaux's first film, The Homesteader, was released in 1919, but Regeneration predates that by about 21 years, confirming that Black people were present for the birth of film in its novelty era beginning in the 1890s. (And of course, contemporary films like Jordan Peele's Nope seek to correct the misconception that Black people weren't involved in early cinema history as well, with a nod toward ​​Louis Le Prince's Roundhay Garden Scene, a 2.11-second-long clip that is the earliest surviving motion picture, featuring a Black jockey on a horse.) "If I knew about this … I would have a different notion and, probably, approach to film," Burnett said. "I think I would've had a foundation to start with, instead of reinventing the wheel."
That morning, members of the press filed into the bright green (I playfully referred to them as "Bottega green" seats) in the Academy's Ted Mann theater, and watched a clip of the Nicholas Brothers — a pair of tap-dancing siblings who influenced Fred Astaire — perform an elaborate choreographed routine involving jump-splits down a flight of stairs in Andrew L. Stone's 1943 film Stormy Weather, on a 22-foot-tall screen. It's a scene I've seen several times before on YouTube, recirculated on Tumblr and then later Twitter, on various Instagram accounts dedicated to Classic Hollywood. But to see it on such a big screen was marvelous. Hearing the live reactions of audience members was new for me, too. I had seen this scene before on such a small, singular scale, often by myself. Walking through the exhibition was a lot like the experience of watching the Nicholas Brothers clip. After that morning, I felt I was witnessing an unknown segment of Black history be appreciated as it was intended to be experienced — with a group of people who respect the urgency of Black artistry, and in a crisp, properly restored format.
As DuVernay put it, Regeneration's curators "illustrate a long hidden fact: that we Black folks have always been present in American film, right from the start. Present not as caricatures and stereotypes, but as creators and producers and innovators and eager audiences. For the first time, we can now see the grand suite of Black American filmmaking and cinematic artistry in all its richness and daring and defiance and exuberance. We should have seen it long before now, but this is the day it begins."
The Academy of Motion Picture Arts and Sciences also stores and preserves film objects, from paper to celluloid film, found in various conditions at the Margaret Herrick Library. Dawn Jaros, head of library conservation, oversaw the conservation of 73 pieces for Regeneration, including papers, lobby cards, posters, photographs and documents. Her team worked on the restoration of the 1941 film The Blood of Jesus, starring Spencer Williams Jr. and Cathryn Caviness, for 93 hours, removing stains and deterioration from pieces of tape.
"The Icon Wall is a documentation of people who are committed to their own artistic expression and trying to figure out a way to be artists at a time when that was incredibly difficult to do. The opportunities weren't there, the resources weren't there for the most part," Stewart said. "But it's also obvious to me that these are people who were thinking about the community and the next generations. They were laying this groundwork for things that they could not even visualize for themselves. And that is based in love."
"It was also important to make sure that we included women. When you think of 'Black Hollywood,' there may be a couple known entities, but in many instances it's the male figure, the actor, that gets the place of pride," Combs continued. "We wanted to highlight people like Ruby Dee, for instance, who was not only an actor and activist, but in addition, a screenwriter. That notion of creating complex, multifaceted approaches to the ways we discussed these people, and that was supported by what we found in the archive, but foregrounding women as well was an important element for us."
The curators' decision to place visual art from Glenn Ligon and Kara Walker in conversation with film clips and objects "makes a connection between history and the contemporary moment," Stewart said. "When you see Double America, and you're looking at Saint Suttle and Gertie Brown, it's like, 'Oh, my gosh, people have no idea that there were any Black people on film in the late 19th century!' It makes you wonder what else was going on? What else, in terms of Black life and culture and art making, was going on in 1898 that we didn't know about before?"
"The archive is so critical to the work that we're doing. Being able to see these letters, this material culture, the correspondence that highlights the Lincoln Motion Picture Company, for instance, in conversation with Oscar Micheaux before he even started his company. They're sort of negotiating a deal, they're talking about profit margins. The letterhead that shows these prominent, independent film companies, are real markers of the evidence of the vibrancy and dedication to Black film production," Combs said. "I find those works to be just as powerful as the glorious posters that remain as evidence, since we've lost many of the films themselves through time. These are markers for us to know about the commitment Black entrepreneurs, Black creatives, folks dedicated to producing in front of and behind the camera."
"We know more about the history of being blacklisted in the United States. But that he was also already followed by the right wing and Nazis in Germany in 1937 is heartbreaking to see and adds a whole other dimension to Robeson's story," Berger said.
"When you juxtapose that with his writing from the Negro Digest, where he is asking what is the role and the function of the Black artist, he's very clear about this activist element, you see that and say, Wow, the power of an actor or performer committing to acts of social justice can have reverberations all the way across the Atlantic to Germany, where they're following you," Combs continued. "It adds another perspective to the importance of the work."
"I went to Stanford, my sister went to Spelman. And it always seemed to me that we needed to be in every type of institution," Stewart explained. "We've got to make inroads in these places that have excluded us. And we have to keep our cultural institutions and traditions alive, our independent modes. I think that what we're presenting here is like all of these pathways, and showing that Black people have been doing work in all of these areas. It gives you, like Charles Burnett was saying, this different sense of possibility. You can be a radical independent. You can be someone who works within the system and try to change it from within. We see all those trajectories here."