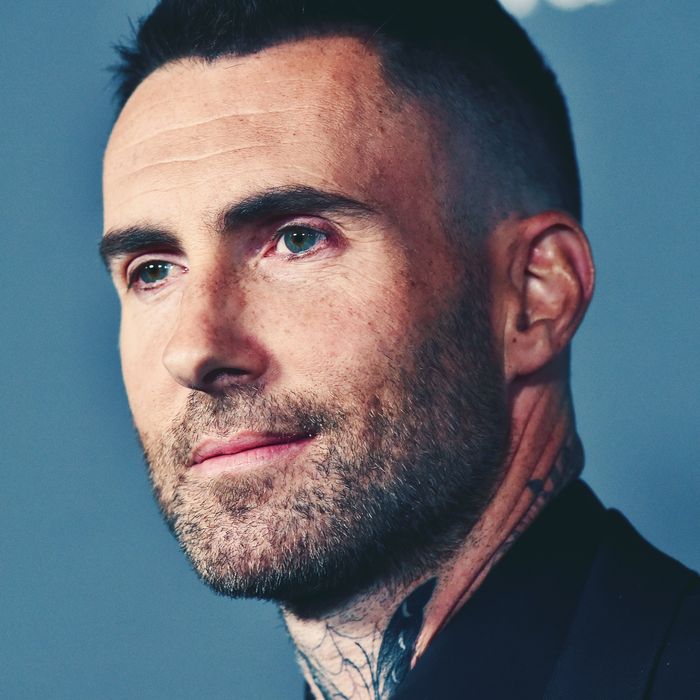 He was the one who sent all those cringey texts, after all.
Photo: Axelle/Bauer-Griffin/FilmMagic
This week, a stream of leaked messages confirmed what many have long suspected: Adam Levine is an incredibly embarrassing guy. According to Instagram model Sumner Stroh, the Maroon 5 front man recently crashed into her DMs with what he called a "serious" request. "I'm having another baby and if it's a boy I really wanna name it Sumner. You okay with that? DEAD serious," he appears to have written from his verified account on June 1, per a screenshot Stroh posted to TikTok. Levine capped off his ask with a shrugging emoji, breezing past what Stroh described as a yearlong affair that wrapped up months before. Meanwhile, Levine has been married to model Behati Prinsloo since 2014. They already have two kids together, and earlier this month, gossip magazines confirmed a third on the way.
Assuming Stroh's screenshots tell the truth, then not only did Levine cheat, but he also attempted to barge back into his secret girlfriend's life by dangling namesake status, seemingly around the time his wife found out she was pregnant. An objectively weird and disrespectful move, if in fact Levine was doing all of this behind Prinsloo's back. And while the prevailing reaction went something like what is wrong with this man, Stroh has also seen her share of ire for her role in the production.
Levine has denied having any physical affairs, though most of the complaints about Stroh tacitly accept that he cheated. Her detractors take issue with the way she framed the apparently recent relationship: Currently in her early 20s, Stroh said she was "young" and new to L.A. when she and Levine, 43, got together. In hindsight, because of the age gap and her naïveté, she feels he "exploited" and "manipulated" her. Stroh doesn't sound particularly remorseful in this first video, and lays out the situation in a reasonably matter-of-fact manner that allows the absurdity of Levine's big question to really shine. But her demeanor and her word choice inflamed certain viewers, who accused her of courting sympathy while dodging blame.
"Naa I don't buy it, she is playing the victim, the only victim here is Levine's wife," one viewer commented. "The word for what you're feeling is guilt," another wrote. "You weren't the victim here." "But … you knew he was married?!" Some suggested that she should have sent the evidence directly to Prinsloo, quietly and in private; instead, others added, she went the attention-seeking route, cashing in on cringey texts to build clout while humiliating another woman in the process. According to Stroh, though, she only went public with the texts because a friend with whom she'd shared the screenshots attempted to sell them to a tabloid. Rather than trying to make money off the story, Stroh tried to get ahead of it. But that explanation has not been enough to counter the most tiresome argument against Stroh. "It's like, we don't feel sorry for you. You knew this man was married, OK? And you participated," a 90210 actress summarized in a TikTok of her own. "This chick is giving women a very bad name. I think that as women we need to do better. Men are gross. We know that. They're always going to be dogs, but as women we need to do better and not get wrapped up in this bullshit."
Speaking of the gross man, where is he in all of this? "A lot is being said about me right now and I want to clear the air," Levine wrote in an Instagram Story, explicitly denying any affairs. "I used poor judgement in speaking with anyone other than my wife in ANY kind of flirtatious manner." Though "in certain instances it became inappropriate" and "crossed the line," he continued, "I have addressed that and taken proactive steps to remedy this with my family … I take full responsibility."
As to that baby-name thing: no comment. The whole mea culpa is light on specifics, relying on the word "responsibility" to stand in for an acknowledgment of which lines he crossed and how many times. But since Stroh made her initial post, four more women have submitted their own receipts. A string of acutely unsexy sexts suggests he cryptically warned a comedian named Maryka that he "may need to see the booty," having persistently badgered her about her butt. He allegedly told another "hot chick" that he "shouldn't be talking" to her before plowing ahead with his weird flirting. A fitness influencer said Levine found her via his Instagram Discover page, and only stopped texting her after she "told him he was going to get caught DMing girls like me." Levine's former yoga instructor claims he once texted her, "I want to spend the day with you naked," and that her then-boyfriend broke her wrist in a "rage" after seeing the message on her phone. Levine, she said, "ignored" the injury, "never apologized, removed me from the upcoming tour, and iced me out."
In a follow-up TikTok responding to the blowback and apologizing to Prinsloo, Stroh said that she "believed their marriage was over" — something that, based on the other DMs, he appears to have intimated to multiple women. But it doesn't really matter what Stroh knew; expecting her to pick up Levine's slack — to ignore his advances and to keep them off the radar because guys are just that way — doesn't solve the problem because the problem is him. She didn't send these DMs. She isn't married. She hasn't been using her Explore page to sexually pester strangers while expecting a child with a partner who seemingly knows nothing about it. And whatever issues a person might take with Stroh's delivery, the difference in their circumstances isn't totally meaningless in this equation. Levine is an established celebrity at least two decades her senior, whereas she says she had just graduated college when the alleged relationship began. Going public with the scandal means that many people who know Stroh's name know it for this reason, whereas Levine has a preexisting career making pop ballads that play relentlessly in grocery stores and occupying a big chair on The Voice.
Whether or not Levine had the affair Stroh claims he did, and whether or not he planned to act on any of his outreach, when a famous man hits on considerably less famous women from his blue-check account, he banks on his name recognition to get him a response. The whole approach (and it is a popular one) rests on imbalance. Levine's is ridiculous and strange; it's not on par with musings about cannibalism (Armie Hammer, allegedly) or grooming teens (Ansel Elgort and James Franco, also allegedly), but it probably still comes from a sense of entitlement. Ultimately, this is a bed he made himself, feathered with thoughts about wanting to buy a steak dinner for one woman's ass. Please let's not lose sight of that; it is so deranged.