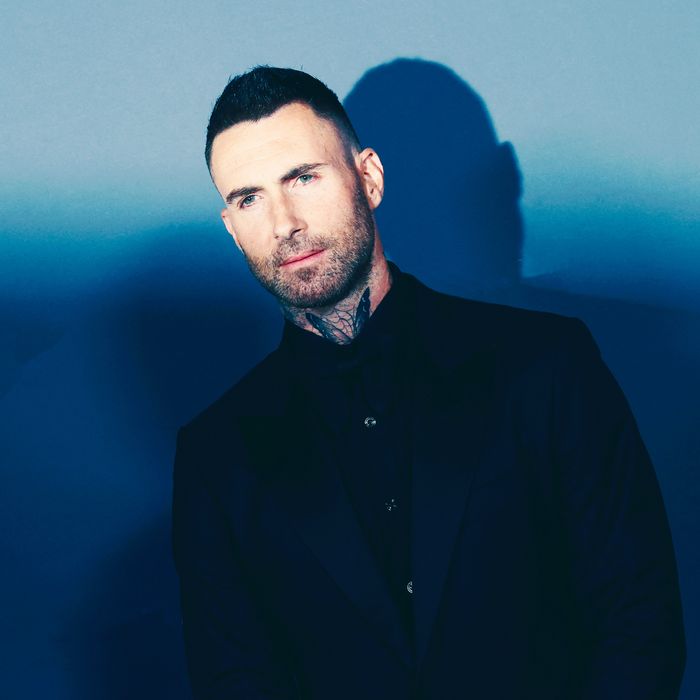 Photo: MICHAEL TRAN/AFP via Getty Images
It is never not embarrassing to have your private messages viewed by the general public, and it's even worse when those messages are sexual in nature. Case in point: Adam Levine's "flirty" DMs, which make a good case for never attempting to type out your horniest thoughts.
Levine is currently embroiled in a scandal involving several screenshots posted by women who say he sent them flirty texts. (Levine is married to Victoria's Secret model Behati Prinsloo, with whom he shares two children and is expecting a third.) One of the women, Sumner Stroh, claims she and Levine had a yearlong affair, and she shared a screenshot in which Levine appears to be asking if he can name his baby after her. Levine denied having an affair in an Instagram apology but admitted that he "used poor judgment in speaking with anyone other than my wife in ANY kind of flirtatious manner." However, he did not deny or apologize for the content of his entirely unsexy sexts, so I have no choice but to discuss them at length.
It does not exactly come as a surprise that the front man of Maroon 5, a band whose oeuvre includes the lyrics "Where are the plans we made for two?," flirts like a teenage horndog. Going by publicly available information, famous men are generally terrible at flirting. The new king of England once suggested to his now-wife that he'd like to be her tampon. Before reconnecting with J.Lo, Ben Affleck was apparently sending hauntingly earnest videos to women he matched with on Raya. And I will never be able to unlearn that Jeff Bezos (or his Echo device) once wrote the words "alive girl" in a sexy message to Lauren Sanchez.
Levine, it turns out, rivals them all. Stroh, the first woman who posted purported DMs from him, provided a few samples from his repertoire, including the message "You are 50 times hotter in person. And so am I hahahah." Another, um, romantic dispatch came from influencer Alyson Rose, who claims that after she told Levine she listens to metal music, he replied, "Said no hot chicks ever other than you." Ah yes, it is so hard to find a hot chick who likes hard-core rock.
The magnum opus came from a woman named Maryka, whose Instagram Stories detailing her alleged exchanges with the singer circulated online. In one, he appears to have written, "Holy fucking fuck. The body of yours is absurd. How are you such an hourglass," accompanied by the hourglass emoji. Inventive! He allegedly deployed another underused emoji during a tangent that opens with "Watching your ass jiggle on that table will permanently scar me," before devolving into a skit about dating a butt:
Fuckkkkkk

I'd do anything for it

[spiral face emoji]

I'd buy it a steak dinner and whisper sweet nothings into it
Another alleged message to Maryka was so surreal that it has already been memed into oblivion:
I may need to see the booty

Fuckkkkkkkkkkkkkkkkkkkkkkkkk
An assault on romance, the English language, and my eyes. I never thought I'd feel this way, but maybe there's something to be said for a simple eggplant emoji after all.