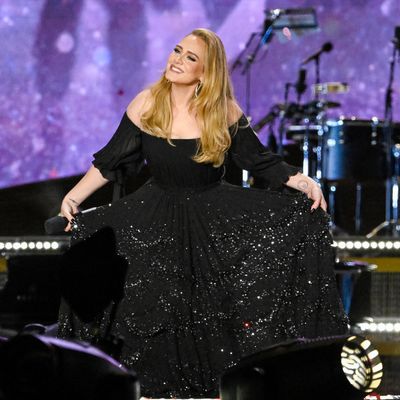 Photo: Gareth Cattermole/Gareth Cattermole/Getty Images for Adele
What do Adele, Paul McCartney, Ringo Starr, and Eminem have in common? As of Saturday night, they're all just one Tony Award away from achieving EGOT status. (That's artists who have won an Emmy, Grammy, Oscar, and Tony.)
The musicians all got one step closer to the coveted awards title at the Creative Arts Emmys. Adele won her Emmy for Outstanding Variety Special (Pre-Recorded) for One Night Only, McCartney and Starr won theirs for Outstanding Documentary or Nonfiction Series with The Beatles: Get Back, and Eminem took an Emmy home for Outstanding Variety Special (Live) for the Super Bowl LVI Halftime Show (where he performed his Oscar-winning song, "8 Mile). It's unclear whether or not any of these artists have any intentions of heading to Broadway, though clearly Eminem's "Lose Yourself" seems determined to find a way to win the rapper every award possible. If I had to guess, I'd say McCartney and Starr are most likely to make it to the EGOT. All they need is a jukebox musical à la Mamma Mia and they're set, though I could also see Adele's 30 making for one hell of a musical.
Of course, it's also possible for none of them to reach that final frontier. According to Gold Derby, 22 living people currently have EGOs, including Julie Andrews, Cher, Common, Ron Howard, Barbra Streisand, Kate Winslet, and Martin Scorsese. So, whatever happens, at least they know they're in good company.
Also inching closer to the EGOT is former President Barack Obama. He took home his first Emmy for Outstanding Narrator for his work on Netflix's Our Great National Parks. He is the second President to have an Emmy, but the first to technically win one. Dwight Eisenhower was given an Emmy prize in 1956 for his use of television. He is now an Oscar and Tony award away from joining the EGOT club. May the odds be ever in his favor.