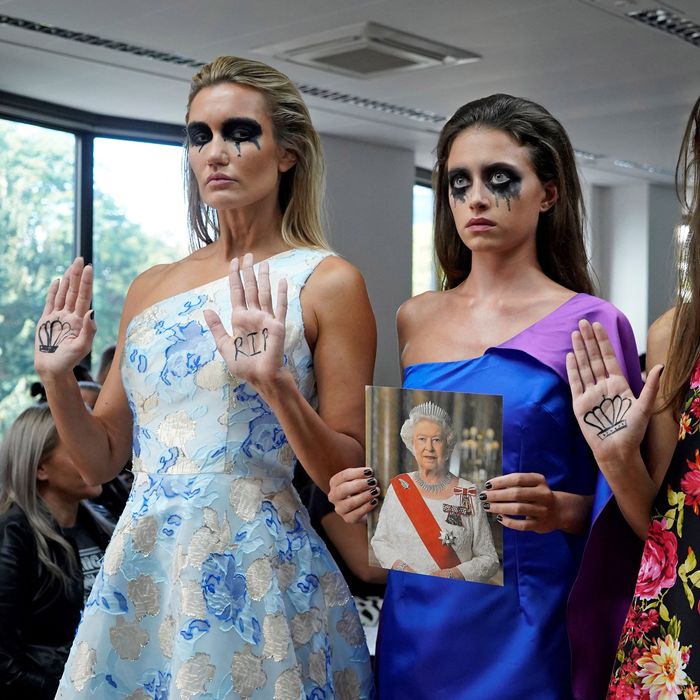 Photo: Niklas Halle'n/AFP via Getty Images
London Fashion Week was effectively canceled in the wake of Queen Elizabeth II's death on September 8. And then came a call between the British Fashion Council and designers a week ago. On that call, the London fashion community rallied together to move ahead with the planned week of events in a way that respected both the national mood and the industry planning, which in many cases was already too far down the line to turn back. As Jonathan Anderson, the established founder of JW Anderson and creative director of LVMH-owned Loewe, put it plainly, canceling could have damaging implications for younger, smaller brands.
The schedule of runway shows, events, and parties — which begin today — has been scaled back in response to the monarch's passing, but the show had no choice but to go on.
"What most people outside the industry don't realize is that Fashion Week is primarily a business event," says designer Rejina Pyo, who will go ahead with her show on Sunday morning. "It is a part of a global fashion calendar that is planned a year in advance and impossible to change at the last moment."
Some decided not to partake. Burberry, which was slated show a stone's throw from Buckingham Palace, canceled its headline slot on Saturday night. In a "mark of respect," it has now been rescheduled to September 26 with a new location. Belgian designer Raf Simons canceled his show as well. London's young designers often anticipate and ride on the pull of established names and advertisers.
London Fashion Week has long been an incubator for young talent with nonprofits like Fashion East contributing to its funding. Speaking off the record to the Cut, several young designers admitted that they've had to reconfigure their finances to put on a show after big-name sponsors have withdrawn support, needing quick and savvy thinking to ensure that they can continue to present collections as planned.
Daniel W. Fletcher, 30, is one of the first designers showing this week. The Central Saint Martins–trained designer, who placed second on Netflix's Next in Fashion, shared that his show will mark the moment with a sensitive tribute: "As someone who has experienced several important losses of my own in the last 12 months, I am acutely aware of how different people deal with grief," he tells the Cut. "The queen's death is a huge loss to a lot of people, especially for her family, so I want to be sensitive to this." Fletcher, whose work regularly references British culture and who has previously staged anti-Brexit protests during London Fashion Week, says he will "pay tribute to this person who has served our country for 70 years."
Twenty-six-year-old British American designer Harris Reed says that — having paid for the show already — canceling was simply not a viable option. "I think now is the time that we need to embrace the creativity that we have within the U.K. Fashion is a medium that makes people dream, but it has been a challenging few years," Reed explains. "I think sometimes people think fashion is frivolous, but for us, it's business. It's so integral to have these moments twice a year where you show the world who you are and sell the next chapter of your company through the show."
Like Fletcher, Reed, "in a deep level of respect," offered a tribute to the late queen in a final look that featured a bouquet of her majesty's favorite flowers: lily of the valley. But homage and direct references to the queen aren't the only approaches anticipated during the next few days.
London-based Asian American designer Chet Lo, who this season will make his first solo appearance on the London Fashion Week schedule after three seasons as part of talent incubator Fashion East, explains feeling "disappointment" when he heard that the big brands were canceling shows. "So many young designers, as well as myself, have poured so much time, energy, and capital into creating our shows, so it was very worrying that all of that effort may have been for nothing. The repercussions would be quite damaging to the brand if the show didn't go ahead," he said.
Lo understandably and rightfully doesn't feel the need to mark the passing explicitly within his collection. "Of course, we sympathize with the British nation and the massive changes happening in the country at this time, but my brand is incredibly focused on my heritage and my background," adds Lo. "My references are very different."
JW Anderson confirmed it would go ahead but will instead "be more intimate and private than ever before." "Now we must stand together and continue to create the incredible stories that this city is known for," the brand wrote.