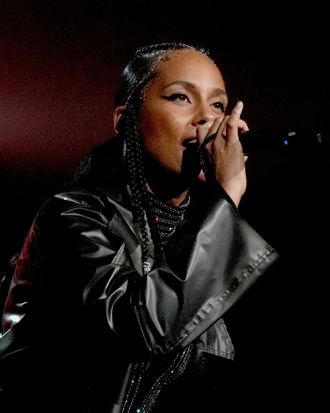 Photo: Kevin Mazur/Getty Images for AK
There is benevolent super-fandom and then there is fandom that transcends the basic dignities that hold society together. An example of the latter appears to have happened last month in Vancouver, Canada, where a fan grabbed Alicia Keys's face in the middle of "Empire State of Mind" and gave her a big, gross kiss on the cheek. Ew!!
On Tuesday, Hollywood Unlocked released footage of the incident on Instagram, which shows Keys walking along a row of fans and touching their hands while singing. One woman reached over the division containing the audience and grabbed Keys's face, pulling her in to kiss her on the cheek. Keys looked sufficiently uncomfortable and managed to pull away.
If it wasn't clear what Keys thought of this wildly invasive move, she commented on the post, writing, "Trust me, I was like what the FUCK!!!! Don't she know what time it is???" followed by a handful of clock and mind-blown emoji.
In conclusion, please have fun at concerts, but don't force musicians to be kissed. They are humans and do not want their face grabbed while performing New York City's greatest anthem. True fandom is giving your favorite celebs their personal space.