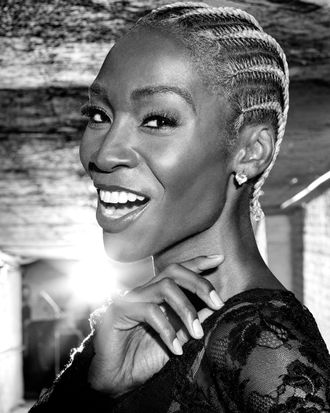 Angelica Ross, the divinely watchable actress who broke into the mainstream with her portrayal of Candy Ferocity on Pose, has just shattered a new ceiling. While Pose and American Horror Story made her the first trans actress to land two series-regular roles, this week she became the first trans lead in a Broadway show, starring as the murderous Roxie Hart in the long-running Chicago revival.
Barely 48 hours after first taking the stage, Ross spoke with the Cut on her day off from the show. She had a satisfied glow in her Versace bathrobe, though she said the demanding, dance-heavy role had already proved what her friends Erika Jayne and Brandy — both previous Roxies — had warned her about: It'd be as exhausting as it is rewarding. (For what it's worth, she is trying on Brandy's "billed belo-o-o-w" riff.) Surely, this fall on Broadway, the name on everybody's lips is going to be Angelica Ross.
What is your relationship to theater? Had you acted onstage before?
Somewhere in my vaults are my black-and-white headshots — the ones from back in the day when we would staple the résumés to the back — with 12 years of musical theater on it. I started with school plays, then graduated into the local theater space, and was in a local theater troupe doing mostly lead roles. I was Scrooge in Scrooge, Billy in Anything Goes, Tyrone in Fame, and Teen Angel in Grease. That one's funny because Billy Porter played him on Broadway, but I didn't realize it until I was on the set of Pose. It was kind of mind-blowing because I have my own story of being unseen and working really hard for the opportunities that I have, but it's always grounding to understand the challenges of those that came before you as well, that pioneered those spaces and those roles. I really appreciate Billy for that.
Who is Roxie Hart to you?
She has this moment where she says, "I love the audience, and they love me, and that's because none of us got enough love in our childhood." There are a lot of women in this world who are navigating these spaces alone and settling for situations because they're what they're supposed to want. A woman that wants a career or to be a star over family or marriage is not seen as a lady or worthy. I see that in Roxie's story. Even her husband, Amos, feels like a settled relationship. I love being able to bring my own insights to her. I'm not playing it as a trans role, but there are these layers that I bring to it.
Were you ever tempted to settle in your own life?
I was engaged to be married in 2006 or 2007, and I ended up giving the ring back in 2008. I called off the engagement because he just wasn't ready for me. When he proposed to me, he asked me to keep it a secret, so I asked him, "Well, what are you proposing? What kind of life are you proposing we live?" In order for that relationship to work, I would have had to dim my light so that people wouldn't know I was trans to protect his male ego. I would never have been the star that I am today. So I had to give that up. I'm not in a place where I want to settle.
You looked like you had so much fun performing "Me and My Baby," a song that not many people know because it's not in the film adaptation of Chicago. Do you enjoy those big, wackier moments?
At first, it was a nightmare because of the choreography, but it's becoming one of my favorite songs. There's a part toward the end where she's skipping back and forth across the stage, and I just get lost in it; I'm feeling the high at that point.
It's so odd because, even though I'm a star or famous or whatever, it's still hard to see yourself in the center. And in the moments where I've got these guys flanking me so I'm dead center … I mean, it's all part of Roxie's delusion and narcissism, but is it so bad for us to imagine ourselves being the center of our stories, being valued and celebrated?
Broadway has freed me up.  I'm no longer scared, and I honestly don't need the affirmation and applause. It's nice to get it when you get it, you know? But I'm now at this really solid place where I know my value; I know who I am. I shine from the inside out, not from the spotlight on me.
I read your comments in a recent New York Times piece about cross-dressing onstage. You expressed concerns over the character of Mary Sunshine, who is played by a male actor onstage. I noticed that she's now pulling off her own wig instead of being "outed" by another actor. What were those conversations like backstage?
We were in rehearsal one day, all onstage, having this conversation about what it means to have agency. I talked about the spectrum of transness. I am a woman and I'm a trans woman, but Mary Sunshine is not seen by the general public as trans. I had to educate them and say, but she is trans. Even RuPaul's Drag Race contestants who aren't transsexuals are still trans because they fit under an umbrella term of trans, which also includes terms like transvestite, a more technical term for a drag queen.
I'd told them how violent it felt for me to sit onstage and know that someone else is ripping her wig off, using the concept of gender to talk about the fact that things aren't always what they seem. That is true, and if our society was better, we'd have a more positive connotation around that sentiment; people aren't always what they seem to be, and if you actually get to know them and ask questions and learn who they are, you'll get even more. In our toxic society, that same sentiment could be a warning.
When we walked away from that, they agreed that we needed to evolve this. I said that it would land differently if her wig came off as a RuVeal. And the first night Mary Sunshine did it, people loved it, and I was happy because there were so many trans people in the audience. I think these small shifts make things better, and I'm hoping that the rest of Broadway continues to make shifts. I'd love to play Elphaba in Wicked. I fell in love with the book long before it was a musical, and people don't talk about the fact that Elphaba was born a hermaphrodite.
That's right — Gregory Maguire's novel is a lot more complex.
Elphaba was born with ambiguous genitalia, and she went through college sleeping with guys and having to deal with their reactions to her body. In the book, it wasn't as much of an issue that she was green — her father was red and animals are talking, so there was so much more diversity in that story. The musical just highlights that she becomes an advocate for animals, but there are layers already there. Whether we make it more intentional and known or just have me take on the role knowing that that's in the character, I think it could be a profound performance.
Alexandra Billings is playing Madame Morrible in Wicked, you're Roxie in Chicago, and it makes me wonder, who's next?
Absolutely. I've known Alexandra for a while, and she's just such a brilliant talent and a really amazing person. It really is such a treat for me to see people like myself finally get these opportunities that we deserve and that we work for.
This interview has been edited and condensed for clarity.
The 2002 film adaptation's version of Mary Sunshine, a nosy reporter character, is played by a cisgender woman.
A wig reveal in which a drag queen removes her wig herself, popularized by RuPaul's Drag Race.