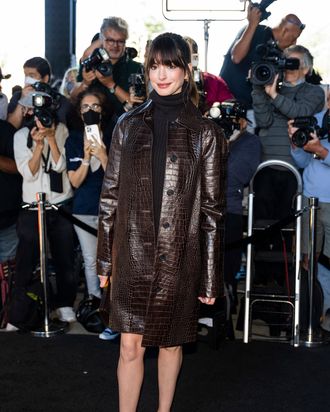 Anne Hathaway cosplaying as Andy Sachs while seated next to Anna Wintour at the Michael Kors show. I never thought we'd see the day. But as they say, life often imitates art.
Whoever created this seating chart, smooches to you for giving the fashion people their meme of the day. And kudos to whoever clearly tipped Hathaway off about her front-row seat next to Wintour. How else could she have prepped and styled a brown leather jacket nearly identical to the one she wore when she played an overworked fashion assistant in The Devil Wears Prada? She even gifted us a little across-the-forehead bangs moment just like Andy sported in the movie. (It seems Wintour didn't get the costuming memo.)
I wish I could've been a little fly on the wall during whatever conversation took place between the two of them. Was Wintour cordial and open with her seatmate? Or was she cold and put off by Hathaway's involvement in a movie that portrayed a top fashion editor, allegedly inspired by Wintour, as, well, the devil?
As iconic as the pairing was, a fellow fashion writer pointed out that seating Hathaway right behind Wintour, just as Andy hypothetically would've been seated behind Miranda in the movie, would've been a truly dynamic move.
And the fans came out. Gina Knight wrote under a post by Diet Prada: "So she didn't throw her phone in the fountain in the end?"