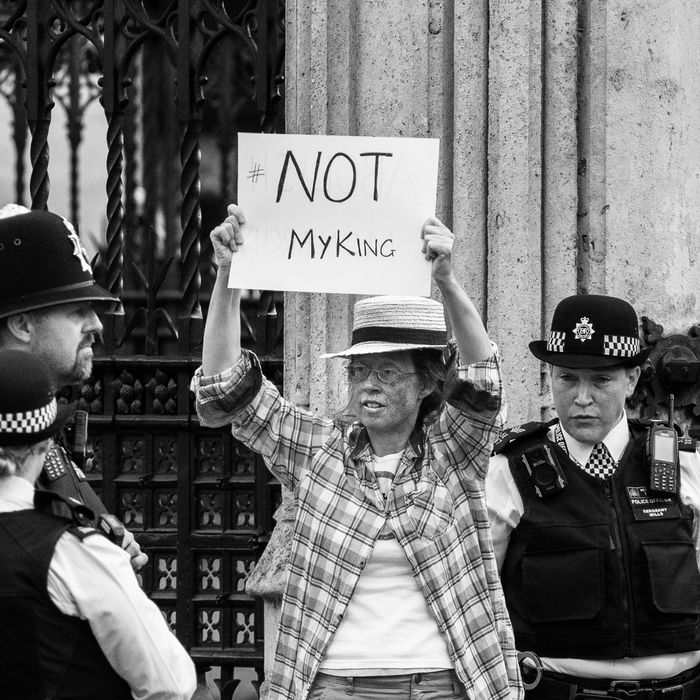 Photo: Chris J Ratcliffe/Getty Images
While the ascension of King Charles III to the throne has been met with ceremonies across the U.K., the news has also stirred up plenty of anti-monarchy sentiment. At least three anti-royalist protesters have been arrested for demonstrating during recent public events, raising scrutiny about the limits of free speech, Newsweek reports.
The first arrest took place in Scotland on Sunday during a six-hour procession in which the queen's coffin was moved from Balmoral Castle to Holyroodhouse in Edinburgh, drawing thousands of onlookers and some booing dissenters. Near a cathedral where the queen's body is set to lie Monday, a woman holding up a "Fuck Imperialism, Abolish Monarchy" sign was apprehended by police for an alleged breach of peace. The arrest elicited mixed reactions from the surrounding crowd, some of whom reportedly cheered on the woman's arrest, demanding she "have some respect," while others defended her right to free speech. Also on Sunday, 45-year-old history tutor Symon Hill was arrested in Oxford after shouting, "Who elected him?" during a county proclamation ceremony. After members of the crowd told him to "shut up," Hill said he replied, "A head of state has been imposed on us without our consent," before being approached by three security guards and eventually police, who arrested him for an alleged disturbance. "I didn't in any meaningful sense disrupt the ceremony," Hill later told The Guardian. "I find it really alarming that you can be arrested for expressing an opinion in public. I am feeling quite shaken." On Twitter, Hill called the incident an "outrageous assault on democracy," adding, "#NotMyKing."
Per The Guardian, police have since "de-arrested" Hill and are investigating him for a public-order offense. Yet at least one other protester was arrested Monday as the queen's coffin procession continued through Edinburgh, attended by a number of royal family members. A member of the crowd was arrested after shouting "You're a sick old man" at Prince Andrew, who earlier this year paid a $16 million sex-abuse settlement linked to his ties with Jeffrey Epstein.
Anti-monarchy sentiment extends well beyond the U.K. with the queen's death reinvigorating calls to abolish the monarchy and reexamine colonial ties in a number of Commonwealth countries — including several Caribbean and Pacific island nations, Australia, New Zealand, and Canada — who are reassessing whether they will recognize King Charles III as head of state or break with the British and become a republic, as Barbados did last year. "I do think there will be change," Areti Metuamate, a pro-republican activist and Indigenous Maori from New Zealand, told the The Wall Street Journal this weekend. "I think people will start to really think more about it now."
More on Queen Elizabeth II