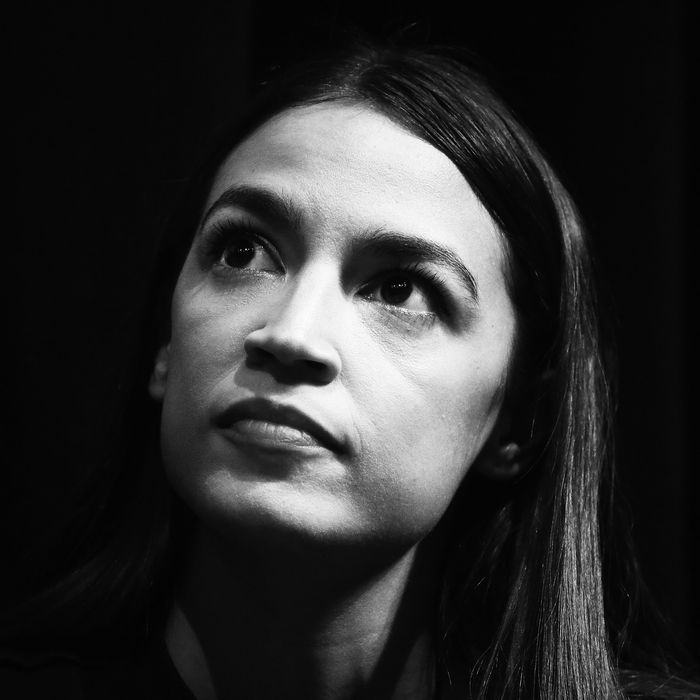 Alexandria Ocasio-Cortez
Photo: Mario Tama/Getty Images
Because the theme of September is America (at least according to certain magazines), and probably also because of the upcoming midterm elections, Alexandria Ocasio-Cortez is on the cover of GQ this month. In interviews conducted shortly after the Supreme Court's gutting of Roe v. Wade, the congresswoman discussed her decision not only to participate in protests but also to publicly revisit her experience with sexual assault.
"The most powerful and persuasive things a person can say on any given issue," she said, "is sharing their personal experience and personal story."
Which is why she spoke about this particular story at a June 26 abortion-rights rally in Manhattan's Union Square. During her early 20s, she told the crowd, she was raped. "I felt so alone that I had to take a pregnancy test in a public bathroom in midtown Manhattan," she said. "And when I sat there waiting for what the result would be, all I could think of was, Thank God I have at least a choice." In her GQ profile, she offered a few more details: "It was someone that I was dating that I was not sexually active with, who forced themselves upon me." And when she confronted him about it, he denied raping her — "a through line," she said, "with other women's experiences, friends that I've had, or just a pretending that what very clearly happened, did not happen."
"That, too, is also an assertion of power," AOC added, "and so this assertion of power and dominance over others is not limited to the actual physical fact, but how things are treated afterwards."
AOC first referenced the incident in the aftermath of the January 6 insurrection, responding to Republican colleagues who advised her to move past her "very close encounter" with insurrectionists, in which she said she felt like she "was going to die." At the time, she drew a parallel between the suggestion that she simply put the attack behind her and the response survivors often receive when they speak up about assault — "that it's not a big deal, that we should forget what's happened." Speaking to GQ, Ocasio-Cortez said, "I could not really adequately communicate what that experience was without giving people the context of what I had lived through and what was being echoed, because so much of it was about resonance and fear of a thing that was not theoretical but a fear of a thing that I had experienced." Reiterating a point she made when she shared her experience the first time, AOC also named acknowledgment and accountability as two real ways people can begin to process trauma: "Contending with the fact that we as people are capable of doing harm, but we are also capable of healing from harm."
Read the full interview here.