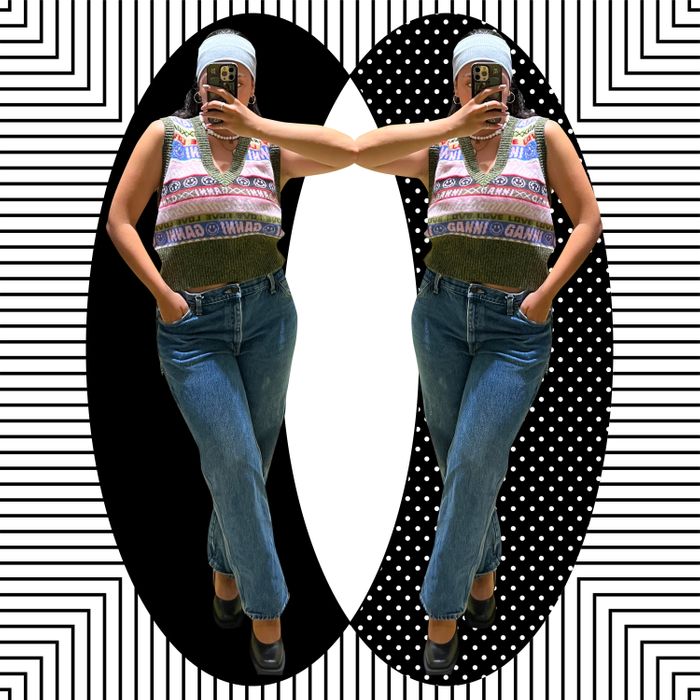 Photo-Illustration: by The Cut; Photos: Danya Issawi
There's always a time when you can't escape a brand. In recent years, that brand is Ganni. With Ditte Reffstrup as its creative director and founded by Nicolaj Reffstrup, it was around 2018 when the swarm of seersucker dresses, cowboy boots, and color-blocked sweaters flooded our feeds. Thus giving birth to what the Scandinavian label describes as #GanniGirls (a.k.a. someone who knows their worth and their personal style, who "has their eye on the prize").
We at the Cut Shop team have been gawking over the brand's trajectory for a while, whether through its collaborations with Juicy Couture, Boy Smells, and London-based label Ahluwalia or by snagging coveted pieces when the brand goes on sale from one of our favorite retailers like SSENSE, Net-A-Porter, Shopbop, or the Outnet. So to see if we are indeed true #GanniGirls, we reached out to Ganni and asked the brand to share some of its best sellers with us, then we went and tried them on to help you determine if you also want to be a #GanniGirl.
Size 8 | Size 10 | Size 4 |Takeaways
Size 8
How does it fit?
I sized up to a large and loved the fit. Sweater vests have a tendency to make me look Spongebob-esque and square, which just isn't my preference, but the thick band at the bottom was cinching and flattering to me.
Would you purchase it?
Yes. The price point is a bit high for a sweater vest, especially one that's not 100 percent wool (the fabric is a mix of 45 percent recycled wool and 20 percent recycled polyamide), but I loved how cozy I looked and felt.
Why? This vest is beyond versatile and an ideal transitional piece as we swing into autumn. It'd look nice paired with a flouncy white blouse or long-sleeved turtleneck or even on its own. She's a sweater vest that can do it all!
How does it fit?
I would size down for this, especially if you want it to be body-hugging. I was surprised by this dress — it's pretty forgiving with plenty of stretch.
Would you purchase it?
No. I saw it on the hanger and told myself "absolutely not," but once I put it on that quickly became "absolutely maybe." I might wear it once or twice to a party, but I wouldn't see this dress being a repeat star in my closet. And for the price, it's just not worth it for me.
How does it fit?
If you want a tighter fit, I would size down (or opt for the one my co-workers tried on), but frankly, with this dress, it depends on how you want it to lay. The sample I tried on was a bit large for me, but I liked the roominess I had.
Would you purchase it?
No. Although the 100 percent cotton is alluring to me and it was breezy as could be (perfect for sweltering subway stations in the summer), it just wasn't doing me any favors in terms of shape. Though if you're into the somewhat shapeless prairie-dress look, you'll like this. Personally, I don't see myself wearing it unless the weather turns and becomes unbearably hot and the only clothing I can bear to wear are dresses that don't touch my body (which, given the climate crisis, might happen). And since fall is already here, it might be too light to layer up.
How does it fit?
I sized up in this dress and am glad I did, but once again, there's plenty of stretch going on, which makes it a bit easier to fudge the sizing. The fit of this frock really surprised me. I thought I was going to look like a tube sock in this dress and … I surprisingly did not. In fact, I looked, dare I say, a little good. I wish the bodice hugged my midsection a bit more, but I was actually very into the dropped waistline, which I did not expect.
Would you purchase it?
For a lower price point, yes. But since I'm not head-over-heels in love with it and the fit is a bit out of my comfort zone, I can't justify spending nearly half a grand (WTF) on a dress I won't wear at least ten times. However, if a friend told me, "Hey, I don't want this dress anymore, do you?" I would respond with a resounding "Sure!" I think this is a perfect dress for day or night and extremely versatile.
Size 10
How does it fit?
I didn't like how it fit because of where it falls on the lower waist. Because of my body type, it was a little boxy on me, and sometimes I like boxy fits, but for this particular piece, I didn't. I think the boxy fit would work well if I had a trench coat or something that cinched my waist.
Would you purchase it?
No, only because I've never really been a sweater-vest girl. If I absolutely had to wear it, I'd probably style it with a button-up underneath or layer it with something that'll cinch my waist, or I could just get it tailored to be more cropped.
I'm obsessed with the print though and would really consider their cardigan option.
How does it fit?
This was another one that surprised me with the great fit. I also sized down in this because the material was bunching up too much, but once I got the right size, it hit every curve and fit great with the exception of the sleeves, which kept falling down a bit.
Would you purchase it?
No, it's not my style. I'd probably buy it if the hem wasn't ruffled and wear it with shoes that would bring a pop of color.
.

Software Poplin Midi Dress
How does it fit?
It was a perfect ten-out-of-ten fit. I was pleasantly surprised.
Would you purchase it?
Yes, if I needed an LBD that was different from my normal style (which would be a body-con or blazer-like dress.) I'd consider wearing it for work with high stilettos since I don't normally wear dresses that hit the calf where this does. That would make me feel a bit chicer in the dress.
How does it fit?
It fits really well, especially if you're like me and like form-fitting pieces. It perfectly hugs the body down to the mid-thigh before it flares out. And normally I don't do ruffled hems, but something about this one was a bit more flattering to me.
Would you purchase it?
This is probably the only dress out of everything I tried on that I would buy. That surprised me because, again, it's not something I'd normally wear. I'd probably wear it with black shoes for a monochrome look and an updo and red lip.
Size 4
How does it fit?
I opted for the size 36, which is a U.S. 4, and it fits perfectly to wear on its own or layered over a button-down shirt or graphic tee. Not too tight, not too baggy.
Would you purchase it?
Yes. 100 percent. A sweater vest is the perfect transitional-weather piece. Cozy enough to protect your torso from chilly winds but airy enough to not get too sweaty while walking around the city or waiting for the subway. At $215, the price tag is quite steep, but considering all the ways you can wear it, it's worth it.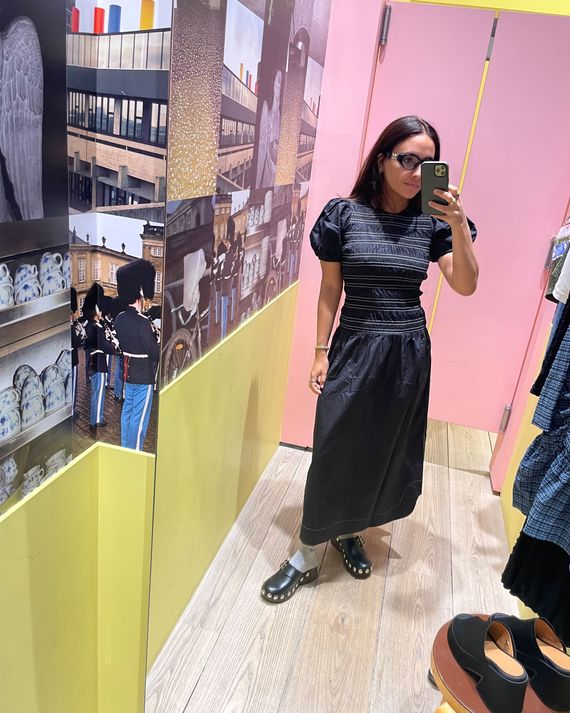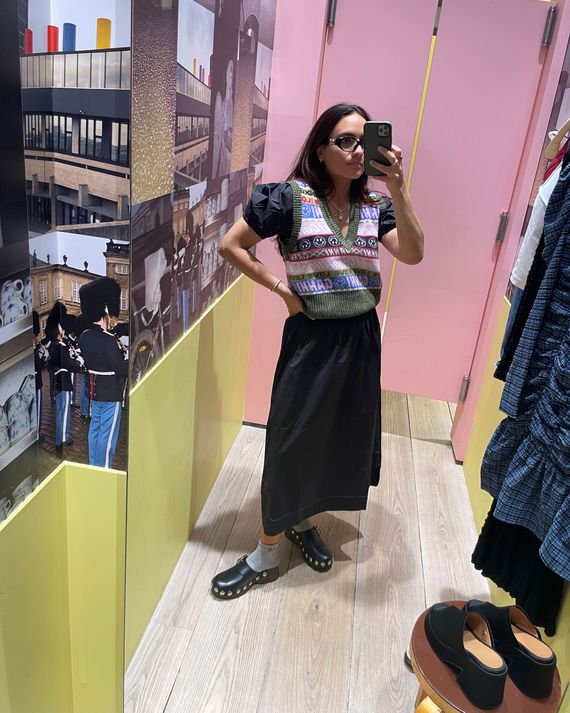 How does it fit?
Amazing! While I might not be a fan of bodycon dresses, I do love a poplin dress, and this silhouette perfectly meshes both. According to the sales associate at the brand's Soho location, this dress is a best seller in every collection — to no one's surprise, since it's the classic Ganni dress. It has contrast stitching, puffy sleeves, and smocking. Another plus: The smocking makes it perfect to layer sweater vests (as seen above) without worrying if the fabric of your dress will make you look too frumpy. Plus you can also wear the dress with the backside to the front. That's what I did so my chest would be exposed with the V-neck sweater. The more you know!
Would you purchase it?
Yes, alongside the sweater. I've seen the dress go on sale at other retailers like Nordstrom and SSENSE, but now that I know it looks so flattering and it's so versatile, I would pull the trigger on this purchase since I know I will wear it at events, dinners, brunches, vibing, etc.
How does it fit?
Quite odd. I stuck to my size 36 (U.S. 4), which zipped up easily and was very form-fitting around the waist, but that one shoulder kept sliding down. I mean, it could be a cute off-the-shoulder moment, but it wasn't for me.
Would you purchase it?
No. A smaller size would be too tight for me. I can see how (and why) Ganni capitalized on all their best-selling silhouettes, fabrics, and print with this one. You have the seersucker fabric, checkered print, and ruffles, but it's a bit too much for my style. If I had to wear it my way, I would style it to the office over a white tank, some trousers, and a pair of pointy kitten heels.
How does it fit?
I don't do bodycon dresses. However, I was pleasantly surprised by this one. It hugs the body perfectly and the ruching allows enough fabric so you don't feel overly compressed. I'd say it's true to size, especially since you can adjust how tight you want it to be thanks to the string around the neck.
Would you purchase it?
If it was on sale, yes! This dress is way out of my comfort zone, but at a more reasonable price, I would love to wear it to upcoming holiday events.
.

Takeaways
1. There's something for every style at Ganni. You just have to know what you're willing to invest in.
2. If you're looking for puffy dresses, statement prints, and versatile options, this is your stop.
3. Sizing is a bit inconsistent since the silhouettes differ quite a lot. We suggest hopping by one of their stores and checking them out IRL. Their return policy is just three simple steps and is free of charge.
4. They are available at so many other retailers, so always do a quick Google search on the specific item you want. You never know who is going to have your size discounted, making the purchase 100 times more worth it.
For more from the Cut Shop team, follow us on Instagram and Twitter, where we share our best new finds, favorite styling tricks, and more.