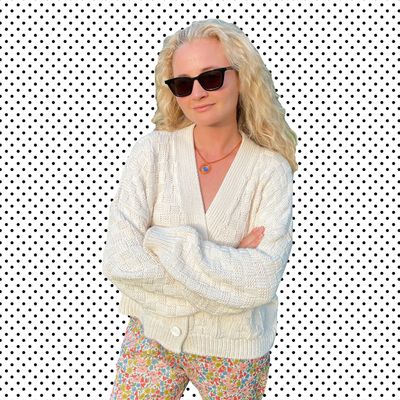 Photo-Illustration: The Cut; Photo: Harling Ross Anton
I was aware of the Spanish brand Babaà long before I acquired one of its sweaters myself. Not because of any particular marketing tactics or campaigns, but because any time a sweater happened to catch my eye (whether in person or in a social-media post), it would almost always turn out to be a Babaà knit. This happened so often I eventually started to recognize the brand's signature characteristics and could easily pick them out in a crowd: thick, high-quality yarn; classic silhouettes that felt vintage and fresh at the same time; an elegant drape, hanging on the body just so; and, most important, a thoughtful array of distinctive colors that were vivid without seeming overtly "rainbow" or corny.
The style I now own, which has become an unequivocal object of affection, is cardigan no3. Despite my enchantment with Babaà's brighter shades, I opted for a neutral oatmeal-colored cardigan. Babaà calls this color "natural," as it is the natural shade of the cotton itself, unbleached and undyed. The natural shade is now sold out, but cardigan no.3 is still available in bittersweet and strawberry shake. It's one of the brand's more statement-y styles due to a unique checkered weave that I loved as soon as I saw it. The texture of the knit is one of a number of special details that stood out to me, along with the pockets, the dropped shoulders, the ultrawide button placket, the 100 percent cotton yarn, and the cropped length.
While the delicious cotton yarn that feels like heaven against my bare arms is certainly one of the biggest reasons why I wear this sweater more than any other, the cropped length — and the way it hangs on my torso — might be its most versatile trait. I'm not very tall, so the crop is subtle on me, but the fact that it doesn't reach past my hips makes it really fun to style proportionally. It reigns supreme as my go-to "desk sweater" — the one I keep at all times on the back of the chair where I work.
Babaà's founder and designer Marta Bahillo's passion for knitwear began in childhood, when she and her mother wore sweaters knitted by her grandmother, and continued into adulthood, when she studied textile design in Dublin. "I even got married in a sweater," she said.
She was delighted when I brought up the brand's distinctive color palette and confessed that she thinks about color "a lot." One artisan in particular is her partner in obsession, a man around her own age who is a second-generation employee at the factory where Babaà produces its own dyes. "I called him once on a Saturday morning because the navy he sent me didn't have enough light in it," she said. "He laughed at me, but he's also just as passionate as I am. We talk about color together constantly."
This meticulous and highly personal approach characterizes every aspect of Babaà's production, from custom-making its own yarn locally in Spain to using special lamps to spot any imperfections in the last stage of quality control. The biggest challenge with all of this, Bahillo told me, is cost. "We never negotiate with our factories," she said. "They know what they need to pay their artisans a fair wage, so when they name their price, we don't question it. These are people with families just like mine. We take that responsibility very seriously, but it's challenging. With fast fashion, the more stuff you make, the cheaper it gets, but for us it's the opposite."
This reality is reflected in Babaà's high price points. Its sweaters typically range from $210 to $295. Unlike many luxury purchases, though, Babaà knits have a compelling, rough-and-tumble quality, like something a fisherman might wear for a day's work at sea. Given how often I wear mine, I often marvel at how brand-new it still looks. Relative to my other well-loved-and-worn knits, it's basically pristine. There has been no pilling or snags or other perceptible changes in the yarn, and, most significantly, it has held its shape beautifully.
Stella Blackmon, a photographer and friend of mine who has shot campaigns for Babaà, got her first piece eight years ago and still wears it in multiple contexts, "to pull on after swimming in the river, for mornings puttering around the house, or to pack for every single trip there is to take." She said the cotton has only gotten softer despite the everyday wear.
"Every piece somehow feels like it could have been your great-grandmother's and something you want to wear until you become a great grandmother," Stella told me.
I couldn't agree more. I wouldn't be surprised at all if I'm still wearing mine when I'm old and gray. I might even loan it out to a hypothetical great-grandchild on occasion, as long as they promise to take good care of it.
For more from the Cut Shop team, follow us on Instagram and Twitter, where we share our best new finds, favorite styling tricks, and more.