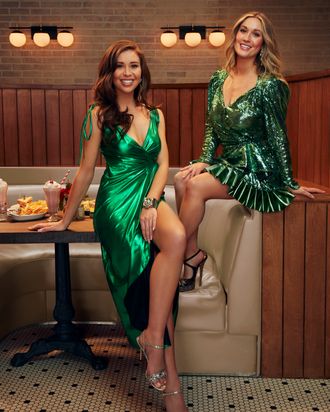 Photo: Gizelle Hernandez/ABC
On last night's episode of The Bachelorette(s), we learned more about the remaining male contestants than we have all season. This was not necessarily a good thing. Throughout the episode, which covered the second half of an epic Fantasy Suites week, the guys stopped being polite and started getting real, with varying results.
Though it looked like Bachelorette Gabby Windey could be going home alone at the end of the first Fantasy Suites episode, she finally got together with her perfect match, Erich, a 29-year-old real-estate analyst from New Jersey, on this one. They confessed their love for each other and wandered off into the Mexican sunset (to be continued next week, of course). But before she could find her happy ending with Erich, Gabby had to deal with Jason, her runner-up who apparently decided in the final days of filming to come clean about his belief that the Bachelorette is essentially a scam.
"It's hard for me to feel at ease with the cameras and microphones and stuff," he said during a wooden, awkward dinner at the resort. When Gabby pressed him about whether or not he'd be ready for an engagement, he balked: "I'm more of a realist." Eventually, Gabby and Jason decided to hit the Fantasy Suite so they could talk more off-camera, but that went poorly, too, according to Gabby. She accused Jason of leading her on — making her think he was all in on the Bachelorette journey when he was actually a normal person who would never get engaged on TV even if you paid him. Gabby told a producer she thought Jason might "play along," but he for sure did not, and he left. (How did the producers let a guy so skeptical of the show slide into the top three? A question for another day.)
And Jason wasn't the only guy to break the fourth wall last night. Over on Bachelorette Rachel's side of the resort, runner-up Zach had a lot to say about what went down in the Fantasy Suite, and none of it was romantic. Zach left his overnight date and went straight to host Jesse Palmer (still here!) to tell him about a disturbing conversation he had with Rachel off-camera. "Things were immediately different when we were in the Fantasy Suite," said Zach, holding back tears. "When the cameras were away and it was just her and I talking, I felt like she was not showing her true self and was very un-authentic sometimes."
Grammatical errors aside, Zach eventually explained to Jesse that Rachel told him he was too young for an engagement. (For the record, Rachel is 26 and Zach is 25.) Host Jesse didn't seem to know what to do with this information. Plenty of contestants have tattled on each other to the host before, but I don't think we've ever seen a male finalist tattle on the Bachelorette about something she said off-camera. He advised Zach to talk to Rachel again, and Zach decided the right thing to do would be to confront her at the rose ceremony.
The drama, of course, continued from there. When Rachel arrived at the rose ceremony in a stunning red dress, host Jesse told her Gabby would not be attending. Dun dun dun. Of course, this was just because Gabby only had one guy left (Erich), but Jesse didn't elaborate. As Rachel prepared to hand out two roses to Aven, Tino, and/or Zach, Zach interrupted and asked to speak to Rachel in a pretty desperate tone of voice. The other guys were understandably annoyed.
I thought we might finally get to see an interesting conversation about the artifice of the show and whether or not two people can really have the same relationship on-camera and off, but the editors and producers reeled it in just in time. Instead of showing Zach and Rachel's confrontation, they cut to host Jesse, in a pared-down studio, telling the audience that the remainder of the season is SO DRAMATIC that they had to take a pause. Zach and Rachel's spectacle will have to wait for next week.
The remaining men are not done questioning the structure of the show it seems: In the teaser for next week's episode, we see both Erich and Tino get extremely cold feet about proposing to Gabby and Rachel on national television. "There's no way this works out," says a crying Tino to a producer. "Please just get me out of this, get me out of this!"
Oh dear. Will any contestant be man enough to set aside his better judgment and make a lifelong commitment to a woman he's been dating non-exclusively for two months? We — and Neil Lane — can only pray.