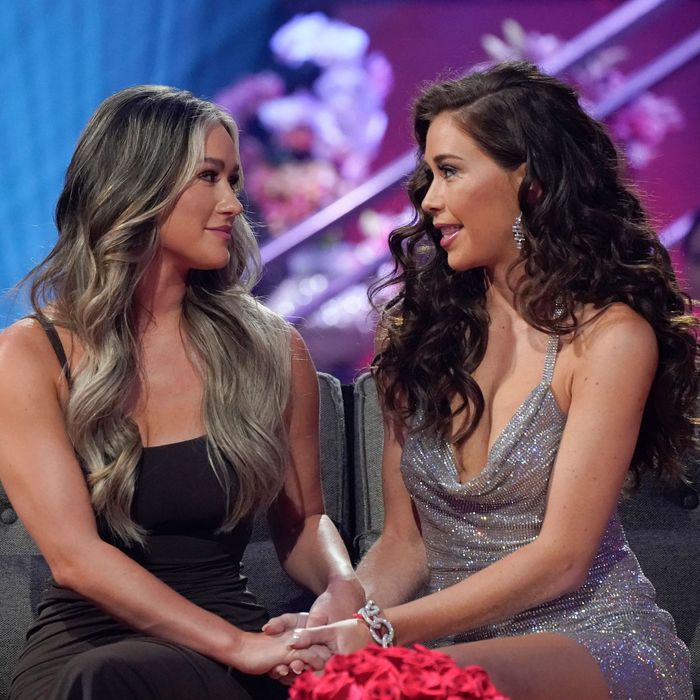 This historic season of The Bachelorette(s) is coming two a close. As you well know by now, there are TWO Bachelorettes: 26-year-old flight instructor Rachel Recchia and 31-year-old ICU nurse Gabby Windey. And if the producers have anything to say about it, there will be TWO proposals at the end of this, whether or not Gabby and Rachel and their chosen partners are actually ready to be engaged.
On last night's episode, which was part one of the live, two-part finale, Gabby and Rachel introduced their top contenders to their families. After awkwardly breaking up with Zach, a 25-year-old "tech executive," during the rose ceremony, Rachel was left with Aven, a 28-year-old "sales executive," and Tino, a general contractor. Gabby, meanwhile, had only one man to introduce to her family: Erich, a 29-year-old real-estate analyst. These couples are down to the wire now, and the producers are pushing them to commit.
The biggest drama of the episode occurred during Rachel's family visit with Aven, who seems way too normal for this show. According to Rachel, Aven said during their Fantasy Suite date last week that he was ready for an engagement. But he told Rachel's BFFs during the family visit that he wanted to make sure a proposal would be right for both of them before whipping out a Neil Lane diamond. Cue the tears from Rachel as soon as her friends ran back and told her this simply devastating news.
This conflict encapsulates what is most insane about this show: Anything less than making a lifelong commitment at the end of it is seen as a total failure. Throughout the season, Rachel — more so than her free-spirited counterpart, Gabby — has tried to play the role of the Bachelorette to a perfect T, hitting all the traditional tropes of the show. It was clear during her conversation with Aven that his waffling about a proposal was completely unacceptable to her because she was the Bachelorette, and Bachelorettes get engaged. "I'm not coming out of this, like, not engaged," she said seriously. Later, during Rachel and Aven's official breakup conversation, she reiterated her position. "I want to be engaged, I want someone who's sure about me, and I'm not willing to sacrifice that at the end of the day," she said in between sobs. While Aven repeated again and again that he wanted to be with Rachel long-term outside the show, it wasn't enough. She sent him home.
Gabby, too, had proposal drama. After introducing Erich to her family and reiterating her love for him, the two got together for one last date. It's clear the producers encouraged Gabby to ask about an engagement, and unfortunately Erich did not provide the answer she was expecting. "I truly love you, and I do want to spend the rest of my life with you, but I don't want to rush anything or there to be any expectations that wouldn't be natural to us." Duh, duh, duh.
As Erich soft-launched the idea of not getting engaged during the finale, Gabby started to panic and brought him out onto the balcony of his hotel room for a more private conversation. Producers filmed them through the window anyway, of course. Erich explained that he thought it made sense to date after the show before getting engaged and questioned the wisdom of blindly following the narrative of the series. "I really want us to work, and I feel like all odds are against that," he said.
Gabby, unfortunately, melted down, running into the hall to complain to a producer that the proposal thing just wasn't working out. "This is actually crazy. I don't want to do this anymore," she said through tears. "I don't want anyone to be forced. Like, I'm so sick of this."
The episode ended, of course, without any resolution. Instead, host Jesse Palmer (still around!) had both Gabby and Rachel smile through these terrifying memories live in the studio before punting the rest of the drama to next week's finale part two. Based on the teaser for that final episode, Rachel is not assured to get a proposal from Tino, either: In a voice-over, we hear her say, "I have never felt this blindsided and betrayed. I'm done." Oh boy. The sad thing is it seems like both Rachel and Tino and Gabby and Erich are good matches with a decent chance of surviving outside the show. Will producers' desire for picture-perfect proposals go ahead and ruin these fledgling relationships anyway? We will have to tune in next week to find out.