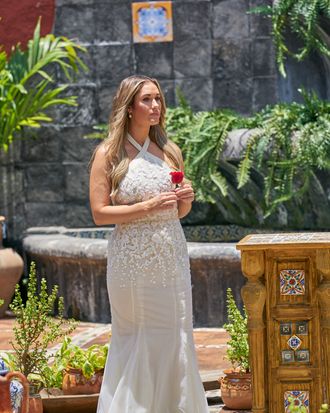 Well, the producers got the two proposals they wanted at the end of this historic season of The Bachelorette(s). Unfortunately, only one of them lasted until the "After the Final Rose" special. We watched the breakdown of the other in real time for what seemed like hours, and that was just the beginning of the three-hour finale extravaganza. With surprise appearances by past contestants, scandalous text messages blown up onscreen, and a weird at-home voting element, the finale felt closer to an episode of Jerry Springer than the franchise dedicated to finding love.
First up, we watched Bachelorette Rachel Recchia's doomed journey to the altar. In Mexico, the 26-year-old flight instructor was head over heels for Tino, a 27-year-old general contractor, but watching the footage back in the live studio, her face was stony and cold. As she and the producers wanted, Tino got down on one knee and proposed with a surprisingly unfussy Neil Lane diamond ring. (Typically, the leads get big, chunky platinum settings, but this was a solitaire emerald cut on a thin gold band — nice!) Rachel and Tino then literally rode off on a white horse as if they were in a Taylor Swift video.
In the live studio, Rachel could not keep it together, so host Jesse Palmer (the MVP of the night!) quickly transitioned to asking her what happened after the cameras went down. Nothing good, it turns out. Rachel said that she and Tino were having a hard time when the show started airing — she said the words difficult and difficulties approximately 17 times — and that he cheated on her. Then producers flashed to a confrontation the two had in a random Airbnb in Los Angeles, which was naturally filmed for the show. The footage was some of the darkest we've seen in recent Bachelor history. Clearly, Tino did not want to participate — he was concerned about coming off as the bad guy, and he basically did.
For what seemed like hours, Rachel and Tino went back and forth about why he cheated, whether it was "just one kiss" as he claimed ("Yeah, right," Rachel said), and if they could salvage their clearly broken relationship. Tino brought a little notebook detailing the couple's previous fights and kept walking off to ask the producers if he could leave. At one point, he attempted to take his mic off and cried to a producer, "Get me out of this! Just tell her to break up with me!" Eventually, Rachel did, dramatically handing him the ring back. Phew, I thought, when this interminable fight was over. But then the producers made us watch it again.
Host Jesse invited Tino onto the couch with Rachel in the live studio, where they proceeded to have the same exact fight. It was excruciating. Tino literally got booed as he walked in, and the back-and-forth only ended when Jesse said Rachel could have the last word. She responded, "What you did is just absolutely inexcusable, and I don't know. I don't really have words right now."
Then, in a move reminiscent of daytime TV, Jesse welcomed a past contestant onto the stage — Aven! The guy Rachel sent home in Mexico for not being ready to propose. He took a smiling Rachel backstage while Tino sat there dumbfounded. It was a strange, awkward end to a somewhat nonsensical story. Hopefully Rachel is happy?
The bright spot of the evening was watching Bachelorette Gabby Windey get engaged to Erich, a 29-year-old real-estate analyst. In comparison to Rachel and Tino, the two seem to genuinely love and respect each other. And Erich also chose an unfussy solitaire diamond on a gold band — at least both these guys have taste. The proposal was a sweet, mostly unscripted moment that Jesse promptly stomped all over in the live studio.
After bringing Gabby and Erich out to discuss their relationship, Jesse went straight to the recent headlines about Erich's ex-girlfriend, who has claimed that Erich thought the show was fake and that he was dating her up to the minute he left for the Bachelorette mansion. These kinds of stories come out every season because most people do think the show is fake and continue to date like normal people until they leave. To further stoke the conflict, Jesse had screenshots of text messages Erich sent this woman blown up onscreen and forced Erich to respond to them. He was gracious and apologetic, and Gabby noted that he had discussed the issue with her long before it went public. I wish those two the best, and I'm annoyed that producers decided to turn their basically nondramatic love story into a scandal. At least Gabby gets to be on Dancing With the Stars.
The third hour — yes, third hour — of the finale was dedicated to the franchise's new Bachelor, Zach. The same Zach who fell in love with Rachel and ultimately left the show after he accused her of being fake during their Fantasy Suite date. (You may remember him as having the actor Patrick Warburton for an uncle.) Zach seemed extremely nervous, so hopefully he works that out before his season starts filming. To get the audience excited about him, Jesse brought out five women from his season in mock-limo entrances and then had the at-home viewing audience vote for one to receive "America's first-impression rose." They will just do anything now, including line up women as if they're in a beauty pageant and ask people to pick their favorite.
What did we learn this season? The "two Bachelorette" format was fun in the beginning, but it became untenable as Gabby and Rachel's stories diverged. As a result, the finale felt emotionally uneven, and it's hard to say if either woman got a happy ending. My best to Zach as he starts his journey alone.