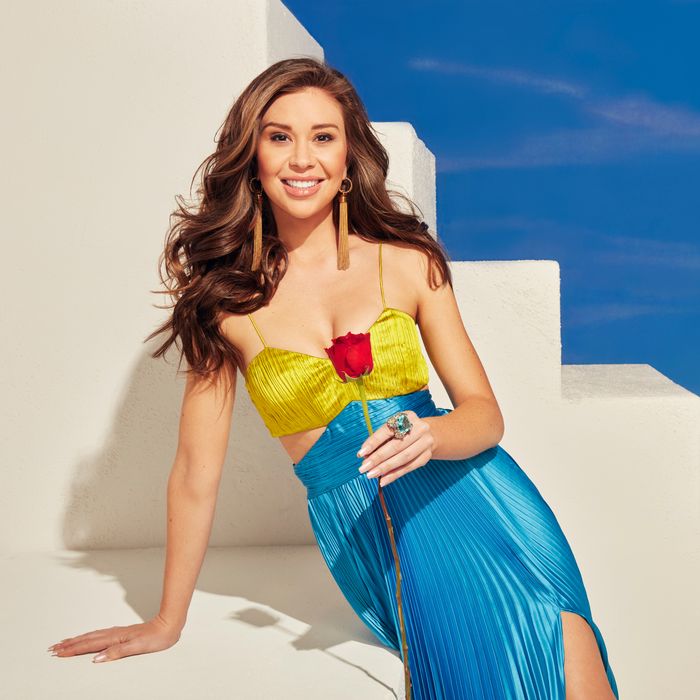 Photo: Gizelle Hernandez/ABC
On this historic season of The Bachelorette(s), which has featured not one but two bachelorettes, one of them has objectively had a tougher time of it. Rachel Recchia, a 26-year-old flight instructor, has cried several times and threatened to quit the program several more, but in comparison to Gabby Windey, a 31-year-old ICU nurse, Rachel's "journey" has been smooth sailing. Rachel has progressed through the various steps of Bachelorette World right on schedule, culminating in last night's reveal that she is in love with her front-runner, Tino, a 27-year-old general contractor from California. Gabby, on the other hand, has grappled with much deeper questions throughout the season — like whether her "broken family" background will prevent her from finding true love and if she is emotionally capable of becoming a mother. Last night's episode ended in tears for her.
It all started optimistically enough: Gabby and Rachel met at a resort in the Riviera Maya for the all-important Fantasy Suite dates. Both had three men to choose from — and possibly sleep with — at the start. Rachel was considering the aforementioned Tino, Aven, and Zach, and Gabby had her front-runner, Erich, as well as Johnny and Jason. We didn't get to see all six dates last night, because the producers have split up this epic week of adult sleepovers into two episodes (we'll have to watch again tonight to get the full experience).
Rachel's dates went just fine. She first chartered a boat with Aven, a 28-year-old sales executive who last week took Rachel to visit his parents in Salem, Massachusetts. The boat had a hot tub on the deck, which is something we shockingly have never seen before on The Bachelorette (that I can recall). Aven is not and has never been a front-runner, but Rachel brought him to the Fantasy Suite anyway and let the cameras catch them cuddling in bed the next morning. "Aven is the full package," she told the camera later, giggling like a schoolgirl. Good for her.
After Aven, Rachel embarked on her Fantasy Suite date with Tino, which went even better: Both confessed their love for each other on-camera before they even got to the hotel room. "I really do see Tino at the end," Rachel said. "I love Rachel. This is the best night ever," Tino concurred. This seems like a done deal, though I'm sure the producers will try to make Tino as jealous as possible when Rachel embarks on her third Fantasy Suite date with Zach on tonight's episode.
Gabby's week of dates was much more fraught. Her connection with her front-runner, Erich (a 29-year-old real-estate analyst from New Jersey), is strong, but he made it clear that he is not comfortable with her sleeping with the other guys. This conflict always comes up in one way or another during Fantasy Suite week, because Fantasy Suite week is a ridiculous concept for a show seemingly dedicated to fostering long-term monogamous relationships. Unfortunately, Gabby now has to deal with Erich's (arguably justified) feelings of jealousy. After her altogether positive date with him, he summoned her to a bridge with a date card — clearly the work of producers — to impress on her once again that he's not comfortable with the idea of her being with the other guys.
She was emotionally wrecked by the gesture, which I imagine is what the producers wanted. "This feels like the end for me," she told the camera through tears. The problem: Erich is really the only guy left who wants a serious relationship with Gabby. Johnny left before he could get to the Fantasy Suite, because he couldn't honestly tell Gabby that he was ready for an engagement — with her or anyone else. (Quote of the night: As she walked away to get on a romantic boat ride by herself, he sighed, "There goes my lady.") And Jason revealed to host Jesse Palmer (He made it to Mexico!) that he is not ready for an engagement and not even falling in love with Gabby.
So why did the producers encourage Erich to force the monogamy issue with Gabby? They know he's winning by default anyway. But now, Gabby gets to feel bad about how much Erich likes her instead of being happy that the person she likes the most wants to make a lifelong commitment to her.
We have another Fantasy Suite episode tonight when, God willing, Gabby's happy ending could be salvaged. But the teaser for the episode does not look good: We see host Jesse telling Rachel that Gabby will not be participating in the rose ceremony, then we see Gabby sobbing as she rides off in a golf cart.
This simply will not do. My hope is that the producers find a way to make Gabby happy again, but my fear is that they will come up with a reason to make Rachel just as miserable. To be continued!