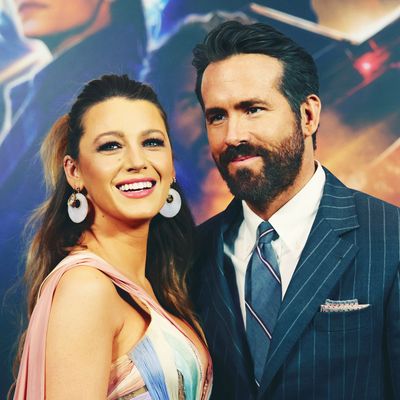 Photo: Dia Dipasupil/FilmMagic
It looks like Blake Lively and Ryan Reynolds will be welcoming another baby soon. Where most celebrities these days take to Twitter or a magazine cover, Lively took the old-fashioned route to announce her pregnancy: She appeared at the tenth-annual Forbes Power Women's Summit on Thursday in a sequined dress, platform heels, and a very visible bump.
This will be the couple's fourth child. They have three daughters: 7-year-old James, 5-year-old Inez, and 2-year-old Betty. Even though this unborn fetus has already been to a Forbes summit, they'll have a lot to live up to considering their siblings are all prominently featured in one of Taylor Swift's most hotly debated songs.
Even if this child doesn't make it onto Swift's new album, the future is bright. Maybe they'll be cast in the 17th Gossip Girl reboot?