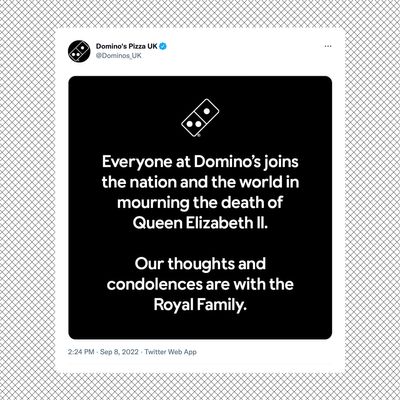 Photo: @Domino's_UK/Twitter
When Queen Elizabeth II died yesterday at 96, Playmobil tweeted out a depiction of a queen figurine outfitted in chunky jewelry, a lace dress, and a hapless painted smile. The image was composed in a tasteful gray monochrome — a somber flourish.
In the scramble to issue dignified statements, brands generated reams and reams of similarly bizarre content. In a particularly chaotic day on the internet, social media was awash with posts that mashed the surreal, cartoonish quality of modern capitalism with the absurdity of the oldest, grandest symbol of colonial wealth and power. The strangeness of royal pomp — with all the velvet, fur, glittery sticks covered in jewels, and silver and gold hats — was compounded by the strangeness of a puerile consumer landscape.
The Crazy Frog, a cartoon character known in the U.K. for its use in the marketing campaign of a viral ringtone from the mid-aughts, tweeted simply, "R.I.P. The Queen 🕯️." Shrek's Adventure!, a family-friendly attraction in London, went with "Shrek's Adventure! London joins millions of mourners around the UK and the world in paying tribute to HM Queen Elizabeth II. United in our loss — we give thanks for a life of extraordinary service to this country, the Commonwealth and the wider world," the "!" of the title burdening the announcement with a jocular tone.
The play Hamilton used a brushed-gold square that looked like a wedding invitation. Domino's Pizza shared condolences on a staid black tile, while Cash Converters, a chain of U.K. pawn shops, took things a step further by declaring the grief of "everyone associated" with its service and announcing a posting hiatus. A McDonald's statement referred ominously to its "system" of employees as if they were a uniform hive — a sentiment that seems out of sync with the reality of the McDonald's workforce in the U.K., which is largely made up of immigrants from countries historically impoverished by the British Empire and working for a pittance in the middle of a staggering cost-of-living crisis.
Some posts had a more knowing, tongue-in-cheek vibe. The lingerie brand and sex-toy provider Ann Summers shared a photo of a young queen with "Thank you Your Majesty" scrawled beneath it in the style of one of those generic, framed black-and-white photos of the Eiffel Tower or the New York skyline. CrossFit U.K. posted a "Queen Elizabeth II" routine that included a one-minute rest in silence between rounds of "muscle ups" and "ring dips." (It had originally been designed for the Platinum Jubilee but was reposted "to celebrate her life.")
But most of them read as frantic attempts to gauge and appease the public mood. There is a hostage-note quality to the announcements, which declare that an overwhelming, all-consuming grief has possessed every member of staff as if some terrible punishment would be meted out if all bases weren't haphazardly covered.
The posts are reminiscent of a very different recent outpouring of grief, when Black Lives Matter protests erupted after the murder of George Floyd and influencers, brands, and everyone with a social-media presence rushed to post their anti-racism reading lists and bell hooks quotes. (The one from Domino's Pizza U.K. yesterday even seemed to use the same template as the company's BLM post in 2020.) The widespread celebration of a foundational pillar of colonialism from many of the same institutions and people such a short time later shows how hollow much of this was, if it wasn't obvious already.
When I moved from Belfast to England at 18, I was surprised to find that the royal family wasn't really seen as political there. Back home, they were inseparable from sectarianism; whichever side you were on, royals were associated with the annual July 12 bonfires and Orange Order marches, in which celebrants commemorate the colonial history of Northern Ireland by burning posters of Catholic politicians. Meanwhile, in England, they're thought of as a twee "Keep calm and carry on" fixture of public life, somehow existing outside the systems they form the backbone of. I am still surprised by that, just as I'm surprised that, despite the proliferation of progressive social views around the world over the past few decades, Domino's Pizza is still hurriedly firing off a statement proclaiming its terrible melancholy lest its customers storm the gates bearing torches.
But maybe this is changing. Everywhere else on social media, the mood was irreverent and humorous, sending up the bizarre rituals of hereditary leadership and the institution the queen symbolizes. It was this context, perhaps, that made the brand posts look so absurd.