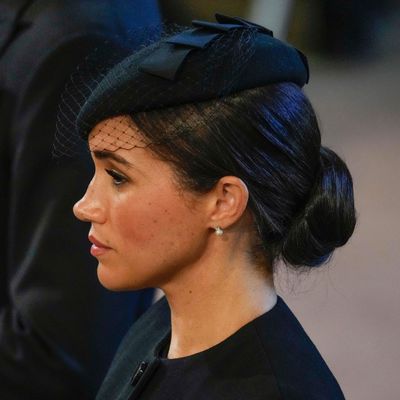 Photo: Gregorio Borgia/Pool/AFP via Getty Images
Ever since Prince Harry and Meghan Markle stepped down from their royal responsibilities, the only thing more inescapable than bean drama in England is all the silly reasons "people" are "mad" at Meghan. The period of national mourning over Queen Elizabeth II's death has proven no exception. From the moment news broke that the queen was critically ill and that the royal family was en route to Balmoral Castle to be with her, Meghan became the subject of obsessive speculation. In those first few hours, her critics were mostly concerned with her decision not to join the family at the queen's side. While some reports claimed Harry was told his wife wasn't welcome, other British media outlets attacked Meghan for choosing to stay back, all while praising William's wife, Kate, for … choosing to stay back. (Kate was said to have stayed home to care for their children on their first day of school.)
After the queen's death, Meghan joined Harry in England (a presumably painful and difficult decision considering how she has described her time there) and spent the weekend appearing at various royal engagements. Unsurprisingly, her entirely neutral presence at these events has offered many new opportunities for people to take issue with totally normal human behavior. It didn't take long for the hashtag #GoHomeMeghanMarkle to trend on Twitter alongside accusations that Meghan was pretending to mourn for attention after causing the queen so much pain, even as she and Harry joined William and Kate for a walkabout outside Windsor Castle. (It was the first time the couples have appeared together in over two years.)
For what it's worth, Meghan and Harry seemed to be on fairly good terms with the queen; the couple told Oprah in 2021 that they were still chatting with her regularly, even while Charles was ignoring Harry's calls, and Meghan said the queen "has always been wonderful" to her. The queen released an official statement at the time saying that "Harry, Meghan, and Archie will always be much loved family members." But why would that stop anyone from getting pissy for no reason? Below, every other ridiculous reason people have found to criticize Meghan since the queen's death.
Saying hello. While Meghan was shaking hands with mourners gathered outside Windsor Castle last Saturday, several women refused to engage with her, looking down to avoid eye contact and ignoring Meghan's hand when she reached out for a handshake. The women got plenty of support on Twitter, where one user called the person who rejected her handshake her "spirit animal."
Having flowers. Another point of scrutiny while Meghan greeted the public was her decision to hang on to a bouquet of flowers that had been handed to her by a fan in the crowd. One video shows a royal aide trying to take the flowers over to the rest of the queen's tributes on Meghan's behalf, and she seems to kindly tell him she wants to do it herself. In another video taken shortly after this exchange, a new aide takes bouquets from both Meghan and Harry after a brief exchange in which Meghan seems to be reiterating that she wanted to hold the flowers herself.
Apparently, protocol dictates that royals aren't supposed to hold bouquets, which could contain small bombs or other weapons inside. That didn't stop people from calling the mix-up "awkward" and accusing her of wanting to place the flowers down herself for a photo op.
Wearing a dress. In the most, um, creative takeaway from the same appearance outside Windsor Castle, a handful of conspiracy theorists have become convinced that a crease on Meghan's dress was actually a microphone she wore to help her turn the queen's funeral into content for her podcast and/or Netflix deal. Do they think she doesn't have enough material?
Holding Harry's hand. At a service marking the beginning of the queen's lying in state, Harry and Meghan held hands, which was, per Twitter, "inappropriate," "disrespectful," and "a disgrace." While it's true that PDA is generally looked down upon in the royal family, Princess Anne's daughter, Zara Tindall, also held hands with her husband, Mike, at the exact same event — something no one seems to have had an issue with. Hmmm!