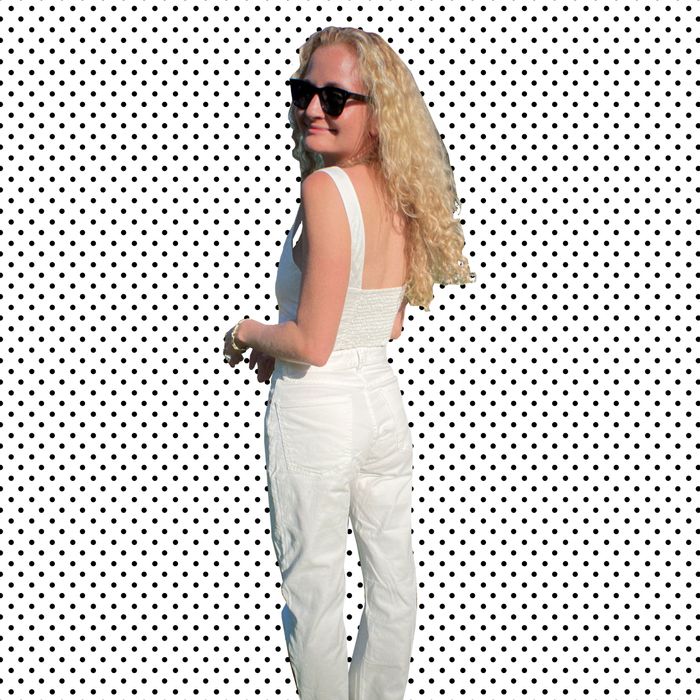 Photo-Illustration: The Cut; Photo: Harling Ross Anton
I've been writing about fashion long enough to observe distinct denim trends —bootcut, skinny, Levi's vintage, high-waist wide-leg, patchwork, boyfriend, cropped kick-flare, straight-leg jeans, and trouser, to name the main ones that come to mind. The deluge of social-media proliferation that accompanied each one eventually compounded into the "pick your fighter" denim era we're living in now, where we're awash in so many options it's pretty much impossible for a single style to reign supreme.
However, the overwhelming number of options makes finding a perfect pair of jeans more difficult (which is why I've been known to literally chase after women on the sidewalk if I see them wearing jeans I like and asking where they're from). It gives new meaning to the phrase "finding a needle in a haystack," and thus when you do happen to discover a viable contender, the laws of internet-shopping ethics require you to call attention to them immediately.
Enter Buck Mason's Ridge Twill Rider Pant. In the Sharpie-scrawled words of Keira Knightley's husband's best friend in Love Actually: To me, they are perfect. They check every single one of my persnickety denim boxes, which include:
Button fly

Straight legs that taper slightly at the bottom

High waist but not too high

Structured but not rigid

Large back pockets

Not too lightweight

Vintage feel but still modern (Basically, I don't want them to look overly retro. I want them to look timeless.)
I have them in "natural," which is the ideal shade of off-white. They routinely win Oscars for their performances in my wardrobe, as Best Actor in simpler outfits and Best Supporting Actor in more complex ones. In my mind this is what every great pair of jeans should be able to do — transition seamlessly into whatever role you need them to play.
They remind me of various vintage jeans I've tried on over the years — which, according to Buck Mason's new head of women's design Tess Sullivan, was no coincidence. "I went vintage shopping in Brooklyn and found the ultimate vintage straight-leg jean of my dreams," she told me. "It became the foundation of the Rider Pant. The details, pocket shapes, construction, and fit were all derived from vintage."
Sullivan shared that the Rider Pant is made from 11.4 oz. 3x1 cotton twill, which is just under what would be considered mid-weight, "with just enough stretch to make the jean comfortable while still maintaining the look and feel of a more rigid denim." I can confirm they are comfortable enough to sit in all day and eat three square meals in, and snacks!
This past spring was the first time Buck Mason launched a full women's collection. The only imperfect thing about its otherwise perfect jeans is how limited the sizing currently is — as of now, they only go up to a 32, but Sullivan said that it plans on making its size offering more inclusive as the brand continues to grow. I'm excited to watch that happen as I continue keeping my eyes peeled for whatever game-changing closet staples it comes up with next.
In the meantime, I'll be waiting for someone to chase after me on the sidewalk and ask me where my jeans are from.
For more from the Cut Shop team, follow us on Instagram and Twitter, where we share our best new finds, favorite styling tricks, and more.